No ambulance, body towed on stretcher
The CCL employee, Rameshwar Ram, was returning home from duty around midnight along National Highway 33 when a truck hit him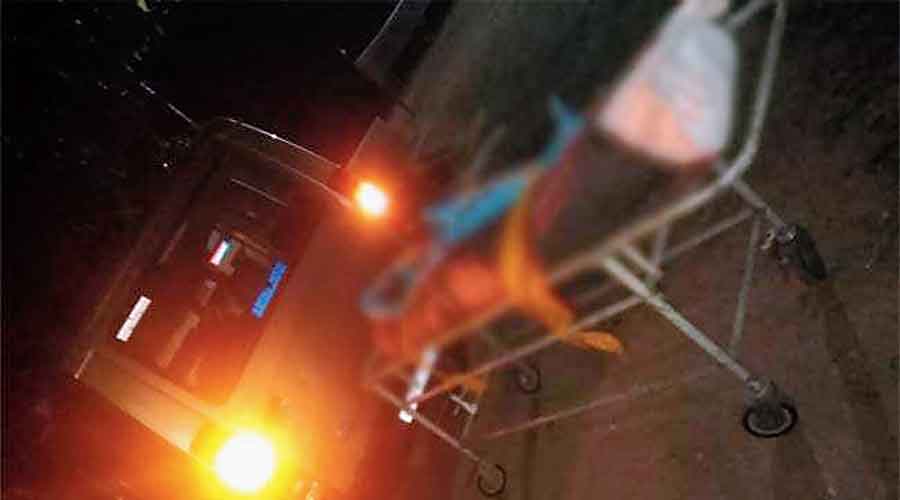 The body of the accident victim being towed in a strecher attached to the police vehicle at Ramgarh in Jharkhand.
Bhola Prasad
---
Jamshedpur
|
Published 07.01.21, 12:35 AM
|
---
Policemen had to tow the body of a road accident victim on a stretcher for over 1.5km from a health centre to the police station in Jharkhand's Ramgarh district in the early hours of Wednesday.
According to report, a Central Coalfields Limited (CCL) employee, Rameshwar Ram, was returning home from duty around midnight along National Highway 33 when a truck hit him while he was trying to cross a roundabout near Government Middle School in Mandu, killing him on the spot.
After the mishap, Mandu police took his body to the Community Health Centre in Mandu where the doctors declared him brought dead. However, the health centre could not provide an ambulance for taking the body to the police station for completing the formalities and then taking it for post-mortem to Ramgarh Sadar Hospital, around 20km from where the incident took place. The area is around 70km north of state capital Ranchi.
After waiting for several minutes, the police personnel took the stretcher on which the body was laid and tied it to their vehicle (an SUV) and towed it to the police station, over 1.5km from the health centre, during the night to the surprise of all locals.
The body was shifted to the Sadar Hospital in Ramgarh on Wednesday morning in an ambulance for post-mortem.
Ramgarh superintendent of police Prabhat Kumar said he had learned about the incident. "I have come to know about the issue and ordered a probe to be carried out by Ramgarh subdivisional police officer Anuj Oraon on the factors which led to such an inhumane incident," he said.
Police officers, on the condition of anonymity, claimed that they had no alternative but to use a stretcher to tow the body which was in a very bad shape.
"The body was in a very bad shape after the mishap and we requested for an ambulance several times but the doctor on duty expressed helplessness. We could have carried the body in our jeep had it been in a better condition. We had no alternative but to tow it on the stretcher to our police station," said a policeman.
Several attempts to contact Ramgarh civil surgeon Dr Neelam Choudhary on her phone went unanswered.