Niti Aayog vice-chairman Rajiv Kumar visited Dhanbad on Tuesday to review the ongoing evacuation of people from 595 underground-fire-hit areas in Jharia to safer places.
Kumar visited the district to discuss ways to speed up shifting of the affected people to safe places. a
He inspected the rehabilitation colony, the residential quarters for the fire-hit people being built by the Jharia Rehabilitation & Development Authority (JRDA) at Belgarhia, 6km from Jharia.
The senior bureaucrat also visited the Bharat Coking Coal Ltd (BCCL) underground Moonidih colliery where he took a ride on the mono rail.
In a brief interaction with the media on the sidelines of his visit, Kumar said: "We will also find out the ways to accelerate the process of rehabilitation under the Jharia master plan."
He added that he was also here to understand the mining process and would discuss ways to increase coal production to minimise imports.
The chairman-cum-managing director (CMD) of BCCL Shekhar Sharan, CMD of Central Coalfields Gopal Singh and BCCL director (personnel) R.S. Mahapatra accompanied Kumar, among others.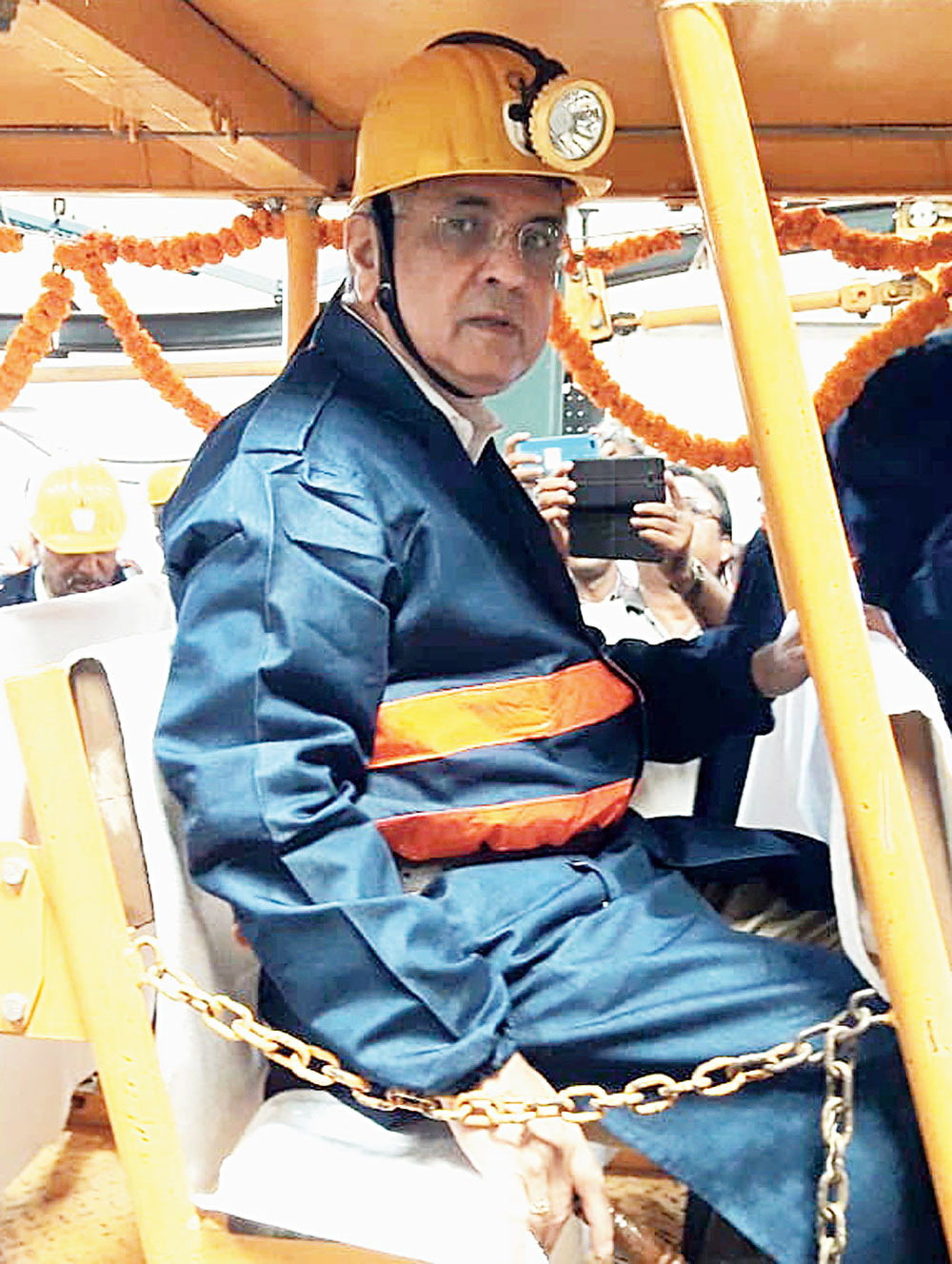 Niti Aayog vice-chairman Rajiv Kumar rides the nation's first Monorail Man Riding System in Dhanbad on Tuesday Picture by Gautam Dey
From Monidih, Kumar visited the North Tisra & South Tisra Projects of Lodna area of the BCCL to inspect coal production work, which falls under the Jharia coalfields.
Then, he went to Belgarhia to see the upcoming residential quarters.
In the evening, Kumar also held a meeting at the BCCL headquarters with BCCL and CCL officials, Dhanbad DC Anjaneyulu Dodde and other bureaucrats on ways to speed up the demographic survey and rehabilitation of affected people in Jharia.
Kumar told district officials to intensify campaigns, in association with the JRDA and BCCL, to win the confidence of people and accelerate the demographic survey.
His visit follows a May 29 coal ministry meeting in Delhi where serious concerns were raised over the slow pace of the demographic survey of people living in the fire-affected sites of Jharia.
Chaired by coal secretary Sumanta Chaudhary, representatives at that meeting pointed out that without the survey, it was impossible to segregate legal land/house owners in and encroachers on the fire-hit areas.
Though all fire-hit residents will be shifted to safer places, compensation packages will be different for legal owners and encroachers.
So far, only a fraction of residents — 3,500 families out of an estimated 1 lakh families living in the 595 fire-hit Jharia sites — have been rehabilitated at the newly built quarters in Belgarhia.
Coal secretary Chaudhary had also instructed the Dhanbad district administration and JRDA officials to complete the survey within a month in 28 sites where people had been resisting the survey fearing forced rehabilitation.