Ten persons, including an armyman and three children, died when their SUV collided head-on with a truck on NH-33 at a point in Ramgarh district, 40km from the capital, before daybreak on Saturday.
Nine of the deceased were of a family whose branches stay in the capital's Hesag and Dhurwa areas. They were returning from performing a boy's mundan ceremony at Arrah in Bihar when the fatal collision occurred, the child and his parents also among the nine fatal victims. The 10th casualty was their driver.
The mishap took place before 4am when the SUV with the family was heading towards Ranchi while the truck was going towards Hazaribagh from Ranchi, said Ramgarh SP Nidhi Dwivedi.
"The SUV swerved in the wrong direction to hit the truck from the opposite end. Generally this happens if the driver dozes off while driving. The way vehicles got mangled on impact suggests both were speeding," SP Dwivedi said.
The truck driver seemed to have escaped, a resident from mishap site Painti on the highway under Kuju thana, said.
The resident said owing to the timing perhaps no eyewitness of the accident came forward. "It appears the only eyewitness of the mishap is the truck driver. But he seems to have escaped leaving his badly damaged truck on the spot. Police came to know about the mishap through passers-by who saw the badly mangled vehicles and the bodies inside the SUV," a resident said.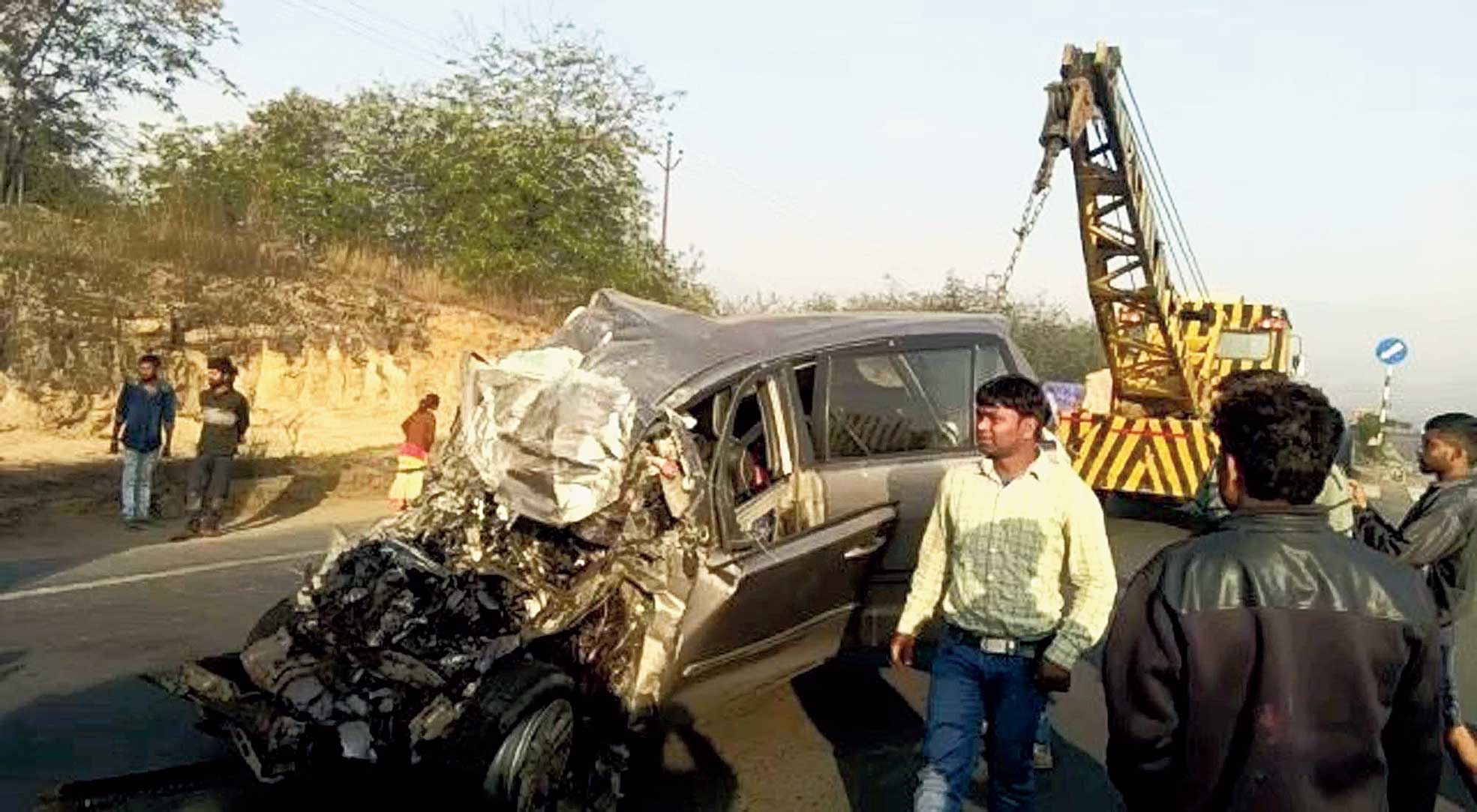 A crane on duty. PTI
Police received information at 4.15am and rushed to the site in 10 minutes. Using cranes and gas cutters, it took the police over four hours to recover all the 10 bodies and send them for post-mortem at Ramgarh Sadar Hospital, the resident said.
The deceased were Satyanarayan Singh (73), a retired railway employee residing near St Charles School in Hesag, Jagannathpur; his son Ajit Kumar Singh (28); elder son-in-law Subodh Kumar Singh (36), and daughter Rinku Singh (34), with granddaughters Kali (13) and Ruhi (7), younger son-in-law Mantu Kumar Singh (32) and daughter Saroj Singh (30), grandson Raunak (4), whose mundan had been performed; as well as driver Anchal Pandey (33).
A neighbour in Dhurwa said that as Mantu was in the army, his wife Saroj and son Raunak stayed with Satyanarayan in Hesag itself. Subodh, Rinku and their two daughters stayed separately in Dhurwa. "It was a happy family. We could not have imagined all got wiped out," the neighbour said.