New rail link connecting Ranchi with Patna, with travel time cut by 2 hours
A thrilling journey between state capital and Ramgarh, thanks to three long tunnels amidst green valleys

---
Hazaribagh, Ramgarh
|
Published 09.10.20, 07:01 PM
|
---
Work on the 200km Ranchi-Koderma rail stretch via Hazaribagh is running on a fast-track with railway officials confirming a New Year's Day deadline when trains from the state capital can directly go to Patna, the capital of Bihar, cutting travel time by two hours.
Officials said the foundation for this ambitious project was laid in 1999 by then Prime Minister Atal Bihari Vajpayee on the initiative of MP Yashwant Sinha, a heavyweight leader and union minister at the time.
The Hazaribagh-Koderma stretch was inaugurated by prime minister Narendra Modi on February 20, 2015. He later inaugurated the Barkakana-Hazaribagh link also. 
At present, the Ranchi-Patna journey takes 13 hours.
The 200km-long Ranchi-Hazaribagh-Koderma stretch took 20 years to make, with a budget of Rs.3000 crore.
Once completed, trains from Ranchi will not have to go through Bengal to reach Koderma from Bokaro, or Gomoh to reach Patna.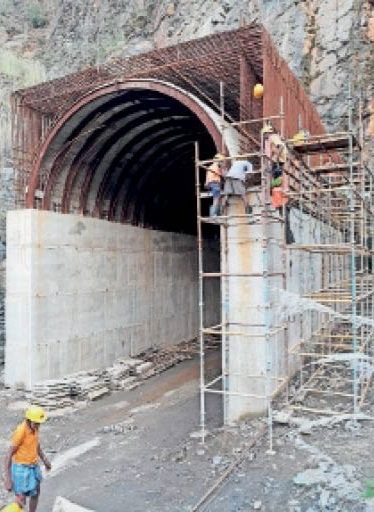 They said 90 per cent of the work has been done and they are hopeful of completing the work by December.
A senior railway officer said the route was in demand. Once started, it has the potential to become an important line due to its geographical importance.
He didn't rule out the possibility of trains coming from Delhi and other places to use this link to go to Ranchi. He said the Koderma station was selected as a destination hub on this stretch.
Perhaps the most interesting part of the journey between Ranchi and Ramgarh will be the thrill of three long tunnels amidst greenery and valleys.
Two of these tunnels are of 600m long and third one is of 1080m.
Goods trains can also take the new link to go to Odisha and other northern states.
A railway officer said said last-minute work is going on between the Sanki and Tatisilwai stations.
"After inauguration, it will become one of the busiest stretches," he added.
At present, many important trains from Ranchi are taking longer distance routes to reach Koderma via Bengal, he said.