1,500 attend mega anniversary bash
New projects, new schemes mark Hemant govt's anniversary bash
'I promise this state will not have to beg before anyone after five years if everyone cooperates and works towards a common goal'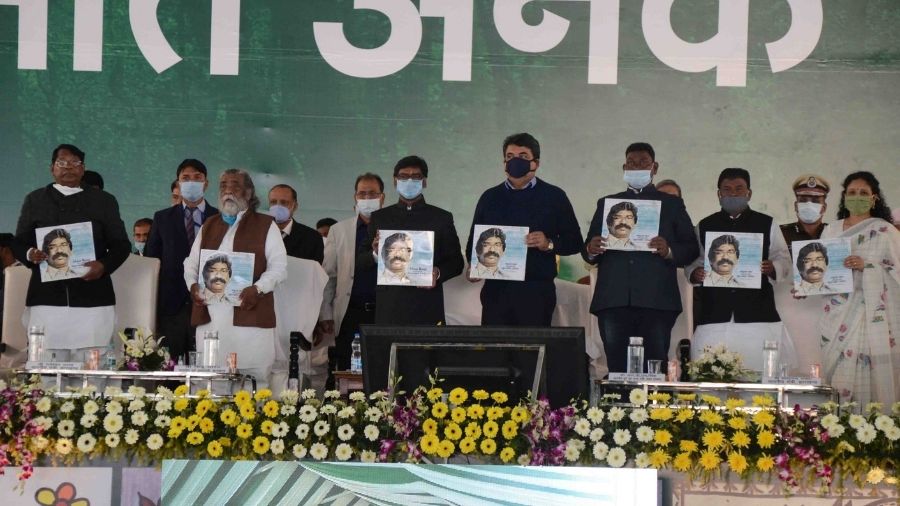 ---
|
Ranchi
|
Published 29.12.20, 08:13 PM
---
Project launches, announcements of welfare schemes and a stirring speech by chief minister Hemant Soren wherein he promised fast-paced development so that Jharkhand would not have to beg for funds after he completed his five-year term marked the JMM-led coalition government's mega bash to celebrate its first year in office on Tuesday.
"I promise that this state will not have to beg before anyone after five years if everyone cooperates and works towards a common goal. Be it World Bank or Government of India, we won't have to beg before anyone for anything, if I get enough cooperation from everyone," Hemant said, promising to speed up development so that Jharkhand is self-sustainable in the next five years.
At a gala function held at the sprawling Morabadi ground here with over 1,500 people in attendance _ mostly seated at an arm's length from each other _ Hemant showcased his government's success stories, reflecting on how despite battling the Covid-19 pandemic and a severe financial crunch, the government was able to fulfil some of the poll promises in its first year in office.
Hitting out at the previous BJP government, he said, "We were given an empty treasury when we formed the government. We were left with a crumbling health infrastructure to battle the Covid-19 pandemic. But we didn't panic. Today, with zero testing facilities, we managed to ensure all districts and block levels have testing and treatment facilities. We also didn't panic when our MLAs and ministers got infected, one of them (Haji Hussain) even died. Today, Jharkhand's Covid management is being hailed by everyone… we are among the top states with low morality and high recovery."
Hemant noted how Jharkhand was the first state to bring back migrants during the lockdown and fed lakhs of people for months. "We had to rework our strategies for resources, reform taxation to generate our own funds. We also ensured that we keep our promise of allowing farm loan waivers," he said, reiterating that the focus in the coming years would be on becoming self-sufficient in all respects.
"Beyond mines, we have enough resources to develop—like tourism, sports, animal husbandry and so on. There are many states who are developed without mining. We can also do so," he said.
Addressing the challenges of employment, he said, "Jharkhand Public Service Commission (JPSC) will begin recruitment from January. Focus for the coming year will be on education, tribal upliftment, jobs and fulfilling other necessities, besides working towards exploring our areas of strength like tourism and providing the right market linkages to minor mineral forest produce."
State finance minister Rameshwar Oraon hailed the passing of the Assembly resolution for a separate Sarna code as one of the biggest achievements of the government towards tribal welfare.
The sound of nagadas and traditional trumpets welcomed the gathering at Morabadi ground where security was tight to ensure compliance of basic Covid safety guidelines. As the crowd, including beneficiaries of schemes, sat under the giant hangers set up at the venue and waited for the chief minister, folk artist Nandlal Nayak's troupe put up a dance performance.
The function was scheduled to begin at 12.30pm, but Hemant arrived about half an hour late as he had gone to Raj Bhavan to call on governor Droupadi Murmu to greet her on the occasion.
Among the VIPs who were present on the dais were former JMM supremo Shibu Soren, Hemant's wife Kalpana, ministers Rameshwar Oraon, Badal Patralekh, Satyanand Bhokta and Congress Jharkhand affairs in-charge R.P.N. Singh.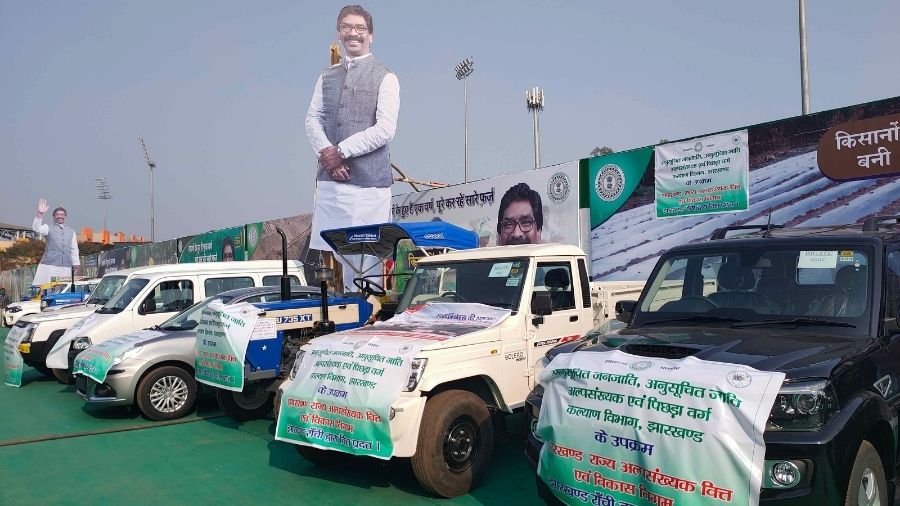 Launched: ready projects worth Rs 1,710.26 crore
A command control and communication centre for effective traffic management and surveillance in Ranchi Smart City (Rs 164.85 crore)
Jharkhand Urban Planning and Management Institute in Ranchi (Rs 114.88 cr)
Electronic Manufacturing Cluster in Adityapur (Rs 186 cr)
50,000-litre capacity dairy plant in Deoghar (Rs 34 cr)
Collectorate building in Hazaribagh (Rs 40 cr)
Launched: 10 new schemes worth Rs 965.50 crore
The Jharkhand State Agricultural Debt Waiver Scheme has been introduced to ensure security and sustenance of about 38 lakh farmers who cultivate approximately 38 hectares of land.
The scheme will help farmers whose livelihood often comes under threat due to weather conditions or unforeseen circumstances like COVID-19. Its wide ambit includes both raiyat and non-raiyat farmers who hail from Jharkhand and are linked to a certain banks through Kisan Credit Card (KCC).
Under this scheme, loans disbursed until March 31, 2020 will be waived for arrears of up to Rs 50,000. To ensure transparency, the chosen mode of implementation of the scheme is direct benefit transfer (DBT). One member per family can avail benefits of the scheme for which he/she needs to put in an application at Re 1 and submit a ration card as identity proof.
Marang Gomke Jaipal Singh Munda Transnational Scholarship Scheme will provide an opportunity every year to 10 young students from scheduled castes, scheduled tribes, minorities and backward classes of the state to pursue their education in selected institutions of Great Britain and Northern Ireland.
The Jharkhand Corporate Social Responsibility Policy (CSR)-2020 will focus on all-round development of backward areas of health, education, nutrition, employment and promotion of sports.
Jharkhand Fasal Rahat Yojana/Scheme (JFRY) will enable farmers to avail of financial assistance in case of crop damage caused due to natural disasters or accidents.
JharSewa Campaign was launched to ensure timely execution of 331 services under the Public Service Guarantee Act. It also serves as an interface for citizens to avail various citizen-centric services from respective government departments. The goal is to reach a state of "zero pendency" in terms of request for services.
A helpline number (Dial *181) was started to provide any kind of assistance requested by women across the state at any given point of time. It will be able to provide immediate assistance, or guidance, to women who find themselves trapped in an uncomfortable situation. The number will also provide information on various government schemes and programmes.
As many as 27 schools of excellence will be set up in the state. The total cost for this project is over Rs 120.70 crore. In a bid to ensure accessible education to everyone in the state, at least one intermediate-level school has been assigned to every district of the state.
Jharkhand State Food Security Scheme will cover 15 lakh people not covered by the National Food Security Act. They will receive 5kg rice at Re 1 per kg. A separate ration card will be issued in the name of the female head of every family. The preference will be ascribed to primitive tribal families, widows, the abandoned, those suffering from incurable diseases and the elderly who are living with them.
Chief Minister Livestock Development Scheme will focus on increasing production of animal husbandry products like milk, meat and eggs to augment household incomes.
Universal Welfare for the Elderly Scheme caters to all senior citizens of the state who will receive Rs 1,000 per month as pension.
Foundation stones: new projects worth Rs 1,529 cr
Among the new projects that were initiated are the phase-II of Ranchi urban drinking water scheme (Rs 752.38 crore), Ranchi zone-1 sewerage drainage project (Rs 209.05 crore), Eco-tourism circuit in Dalma, Chandil, Getalsud, Betla, Mirchai and Netarhat (Rs 52 crore), 27 schools of excellence (Rs 120 crore).