Netaji Subhas University launched
Upgraded avatar of a business management institute, NSU is the 2nd private varsity in Kolhan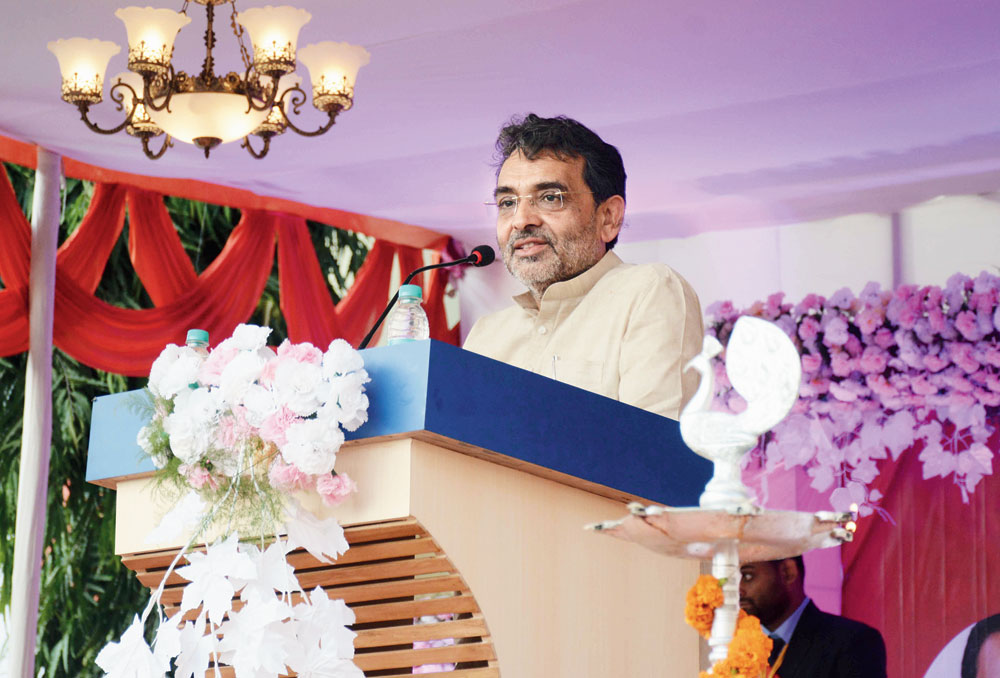 knowledge hub: Minister of state for HRD Upendra Kushwaha speaks after inaugurating the varsity in Pokhari near Jamshedpur on Tuesday.
Picture by Bhola Prasad
---
Published 23.10.18, 06:25 PM
|
---
Netaji Subhas University (NSU), formerly Netaji Subhas Institute of Business Management, was inaugurated at Pokhari on the outskirts of the steel city on Tuesday, making it the second private university in Kolhan after Arka Jain University.
Union minister of state for human resource development Upendra Kushwaha did the honours.
The inaugural ceremony started with a tribal welcome of guests, including Kushwaha, former director of state higher education Abu Imran, Jam-shedpur MP Bidyut Baran Mahto, Potka MLA Menaka Sardar, Kolhan University vice chancellor Shukla Mahanty, city SP Prabhat Kumar and other dignitaries. Chancellor of Netaji Subhas University Ma-dan Mohan Singh was also present.
Kushwaha unveiled the foundation stone of NSU and released balloons to mark the inauguration.
The university already has 7 acres and has identified 16 acres nearby for expansion. Starting with the 2018-19 academic session, the private varsity kicked off with MBA, BBA, BCA and hotel management with 280 students and 25 faculty members.
Kushwaha emphasised value education and building life skills. Citing incidents on how IAS officers too have committed suicide, the minister said education was not just about acquiring degrees and jobs but also learning to combating the challenges of life.
"It is a pity to see how even top Indian universities cannot secure good ranks in global listings. The need is to concentrate more on research that brings out solutions for simple problems and stress on value education. The government is trying to provide financial aid and autonomy to selected universities to try and make them world-class institutions," the minister said.
He pointed out India's glorious academic heritage of Vikramshila and Nalanda.
Kushwaha also asked MP Bidyut Baran Mahto to send a proposal of a Kendriya Vidy-alaya in Potka, which the MP has been demanding for long.
Imran, currently with the revenue department, in his speech pointed out courses needed to be geared according to job market trends. Highlighting the need for courses on data analytics, he said "market-oriented courses" would help students get jobs easily.