Naxals use arrow IEDs while attacking an under-construction CRPF camp
Police and paramilitary forces are carrying out anti-insurgency operation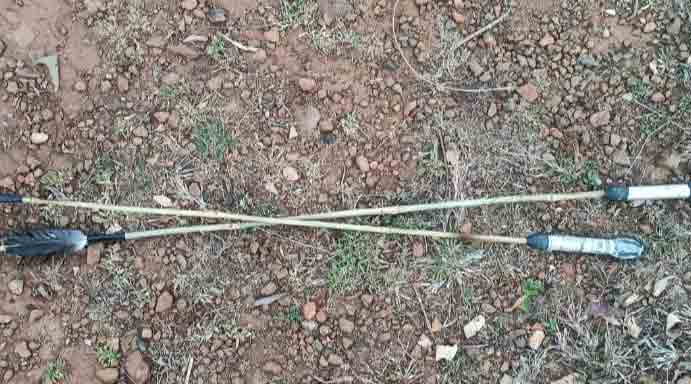 Arrow IEDs seized by police in West Singhbhum
File Picture
---
Jamshedpur
|
Published 05.04.22, 04:25 PM
|
---
CPI-Maoist rebels used arrow IED (improvised explosive device) while launching attack on an under -construction CRPF camp under Toklo thana areas in West Singhbhum district late on Monday night. The naxals resorted to using the arrow IED for making their present felt in the run up to 24-hour Jharkhand bandh on Tuesday. 
Though the rebel squad belonging to naxal commander Anal Da had shot arrow IED beside opening fire at the CRPF camp, the IEDs could hardly cause any damage. The rebels had fled the scene after the CRPF personnel retaliated by firing back. During a search operation carried out jointly by the CRPF and district police, today, the police found three unused arrow IEDs from the encountered site. 
"The naxals had shot two arrow IEDs which blasted but failed to make any impact as the IEDs dropped much ahead of the camp. The rebels wanted to destroy the under-constructed camp being set up near Vernia village in Toklo," said West Singhbhum superintendent of police Ajay Linda while talking to The Telegraph Online.
Later during the combing operation, the police recovered three unused arrow IEDs which were disposed off by pressing a bomb disposal team. 
Elaborating on the new explosive device, Linda said the naxals rarely use such device.  "An arrow IED is shot from a bow and meant to cause huge fire at any infrastructure. Such device is made of explosives of very low intensity and has a range of maximum 100 metres, " said the superintendent of police. 
Linda pointed out the naxals failed to inflict any harm at the under-construction camp as while shooting the arrow IED, they had kept themselves at more distance than it was necessary.  Significantly, the naxal outfit has given the bandh call in protest against the arrest of senior naxal leader Kanchan Da in Assam recently. 
Police and paramilitary forces are carrying out anti-insurgency operation across Kolhan, including on the NH-33 and also in railway network of the region.