National Opposition cheers as Hemant Soren takes oath
A show of anti-BJP unity in which the bonhomie was evident and enveloped even traditional arch-rivals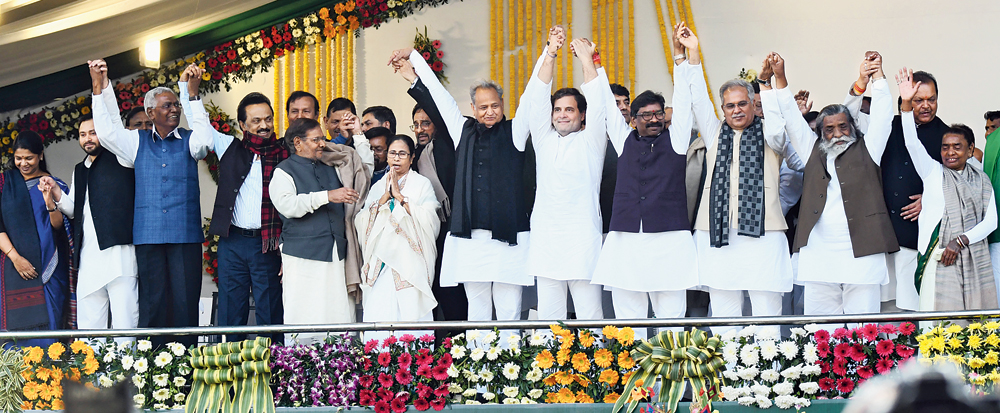 ---
|
Ranchi
|
Published 29.12.19, 09:40 PM
---
JMM leader Hemant Soren was sworn in as the 11th Jharkhand chief minister on Sunday in a ceremony at the Morabadi ground here attended by a slew of national Opposition leaders in a show of anti-BJP unity in which the bonhomie was evident and enveloped even traditional arch-rivals.
Bengal chief minister Mamata Banerjee, whose Trinamul ousted the 34-year-old Left Front government in that state in 2011, chatted smilingly with CPI general-secretary D. Raja for around five minutes. Hemant escorted Mamata and Rahul Gandhi on stage, and the new chief minister took the Congress leader around the stage holding his hand.
Governor Droupadi Murmu administered the oath of office to Hemant, 44, who was attired in a white kurta-pyjama ensemble and a bundi.
Also present were Rajasthan and Chhattisgarh chief ministers Ashok Gehlot and Bhupesh Baghel, CPM general-secretary Sitaram Yechury, DMK leader M.K. Stalin and his sister Kanimozhi, the RJD's Tejashwi Prasad Yadav, JVM chief Babulal Marandi, senior Bihar socialist leader Sharad Yadav, and CPI senior leader Atul Kumar Anjan.
Priyanka Gandhi Vadra was also expected to come but she got held up in Uttar Pradesh, said Congress spokesperson Alok Dubey.
"Priyankaji is busy taking up the cudgels for those oppressed by the Uttar Pradesh government for their participation in the anti-CAA (Citizenship Amendment Act) protests," Dubey said, referring to Priyanka's run-in with the UP police on Saturday.
Hemant's parents, JMM patriarch Shibu Soren and his wife Rupi Soren, were seen smiling often, specially when the new chief minister came on stage to claps and cheers from the over-5,000-strong crowd.
Hemant's predecessor Raghubar Das, who sat quietly in the front row of the dais between Congress Jharkhand in-charge R.P.N. Singh and Left leader D. Raja, created a ripple. It is unusual in Jharkhand politics for a vanquished rival to be present at the oath-taking ceremony of the new dispensation.
Das's former cabinet colleague Saryu Roy, who defeated him from Jamshedpur (East) seat as an Independent, was seated in the second row of the dais.
During the ceremony, Rameshwar Oraon and Alamgir Alam of the Congress, and Satyanand Bhokta of the RJD also took oath as ministers of the Hemant Soren government.
A large number of JMM and Congress supporters had come with party flags. People who did not get entry passes from the information and public relations department stood on the road and watching the proceedings beamed live on giant screens.
This is the second term for Hemant, who had been a deputy chief minister and chief minister earlier. The JMM-Congress-RJD alliance triumphed over the BJP, winning 47 seats in the 81-member Assembly. Four other MLAs, three from the JVM and one from the CPI(Marxist-Leninist) have also extended support to the three-party coalition.
JMM general-secretary Supriyo Bhattacharya said tribals and indigenous people had always stood against fascist and communal forces and with this win, "they once again showed how such forces can be defeated".
Senior Congress leader Alam, who became a minister in the Hemant Soren government, called Sunday's event "a message of unity from all political forces that stand against the wrong policies of the BJP". Jharkhand had set an example for India, Alam said.
"Secularism is the core value of all these parties. The presence of leaders of these political parties shows they have come to bless a government that stopped the BJP juggernaut," he added.
The BJP scoffed at the Opposition unity pitch.
"Just go back to the recent past when a similar show was staged in Karnataka," said BJP general-secretary Deepak Prakash. "The government there couldn't survive. The people of this country know the inner contradictions of political parties that want to survive by showing their unity against the BJP in an artificial manner."
Senior BJP leader and Bihar health minister Mangal Pandey fired off a tweet in Hindi, a rough English translation of which would be: "The chit fund from the east, the 2G scam from the south, fodder scam from north, National Herald from the Centre attended today's oath-taking ceremony in Jharkhand… whatever was lacking was made up by the coal scam with the presence of the father of the CM."