National chess federation comes up with initiative to help players during pandemic
'Checkmate Covid' to provide financial and medical support to the disadvantaged of all age groups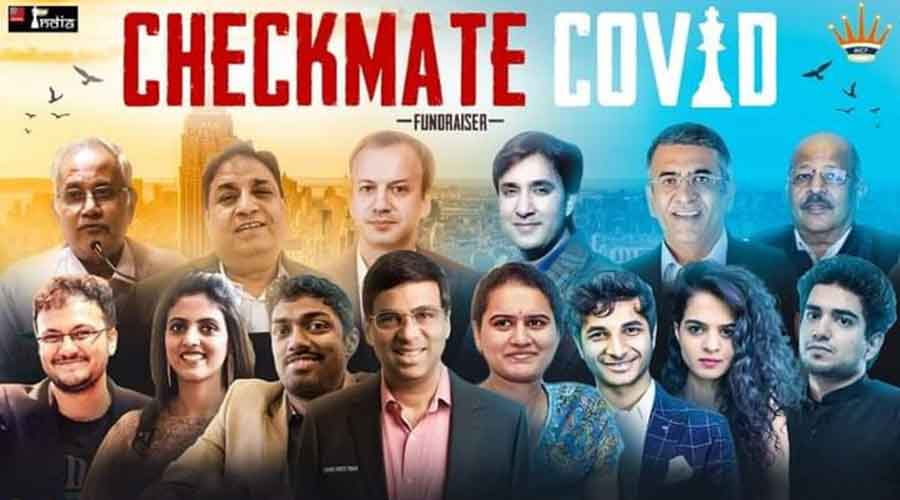 Poster of Checkmate Covid
Sourced by The Telegraph
---
Jamshedpur
|
Published 06.05.21, 09:05 PM
|
---
Jharkhand's chess community can look forward to getting a much-needed financial aid during the Covid-19 pandemic.
The All India Chess Federation has come up with an initiative called `Checkmate Covid', aimed at providing financial, medical, vaccination and emotional support to needy people of the chess community across the country.
Eligible persons of all age groups in the chess community will benefit under the project.
The project was inaugurated virtually on May 4. It was followed by a meeting in which AICF president Sanjay Kapoor, secretary Bharat Singh Chauhan, FIDE president Arkady Dvorkovich, Grandmaster Viswanathan Anand, five-time world champion GM Koneru Humpy, world rapid chess champion 2019 GM Vidit Gujarati, Indian captain of gold winning team at Chess Olympiad GM D Hanka and other eminent personalities were present.
All Jharkhand Chess Association secretary International Master Neeraj Kumar Mishra, international arbiter Jayant Kumar Bhuyan, FIDE arbiter Chandan Kumar Prasad and national arbiter Soukhin Kundu represented Jharkhand at the meeting.
According to Basant Khandelwal, the nodal officer of the project in Jharkhand, there will be a panel of doctors who will be available for online consultation if the chess community is in home quarantine.
"Over 500 AICF-registered chess players from Jharkhand will benefit under the project," Khandelwal said from Chaibasa to The Telegraph Online.
Shedding light on the eligibility criteria, Khandelwal, secretary of West Singhbhum District Chess Association, said, any person in the chess community with a FIDE ID number and registered with AICF for any of these three years (2018-19, 2019-20, 2020-21) are eligible to get financial aid.
Necessary application for financial aid can be routed through the nodal officer of the state with following details and supporting medical documents/bills. Ïn case of emergency, the same can be forwarded to AICF's dedicated email (checkmatecovid@aicf.in) with a copy to the nodal officer.
Khandelwal said financial status will be considered when it comes to receiving aid. "Besides name, FIDE ID number, AICF ID number, applicants will also have to provide details of his/her profession (government or private employee or having a business). The AICF will evaluate the financial status before releasing part or full aid," he informed.
However, the AICF will reimburse Rs 500 to those who get vaccinations at private centres.
According to him, the AICF is raising funds for the project. "A sum of around Rs 60 lakh has already been generated for the project. Those who want to contribute can donate online on https://prs.aicf.in/pay."
Jamshedpur-based international arbiter and coach at Tata Chess Centre Jayant Kumar Bhuyan appreciated AICF for coming up with the initiative. "The initiative has come at a difficult time which would go a long way in helping the chess community," he added.