Nabbed: Ambulance driver accused of raping mentally challenged woman
Sanjay Kumar Das was arrested from his friend's residence, where he had sought refuge; mobile tower location was used to spot him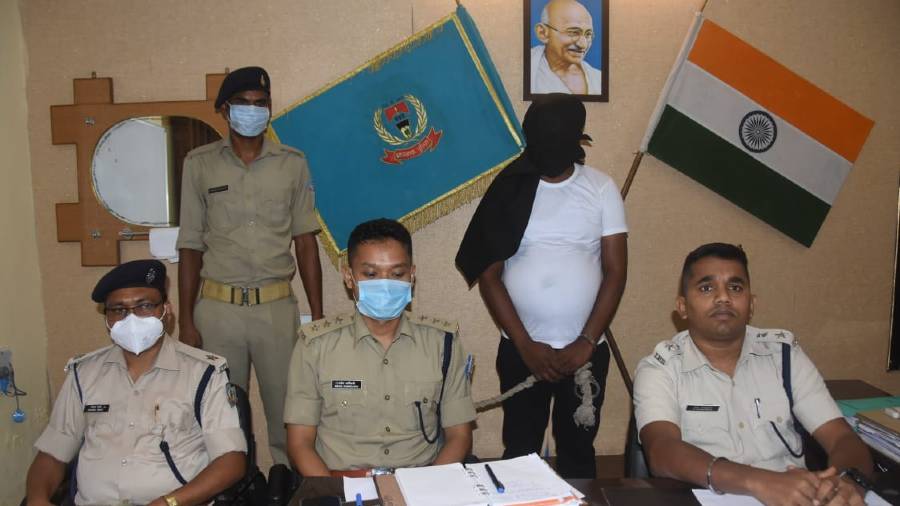 ---
Dhanbad
|
Published 13.07.21, 07:35 PM
|
---
Sanjay Kumar Das, the ambulance driver, accused of raping a mentally challenged woman patient of Sahid Nirmal Mahto Medical College and Hospital, was arrested today. Das was nabbed from his friend's residence in Bhuli area, where he had taken refuge. However, the police on the basis of mobile tower location combed the area to arrest him in the wee hours.
According to sources, Das had tried fleeing from the site by driving away the ambulance on spotting the police, only to be nabbed and produced before the court.
Earlier, the victim during the interaction with a counselor of the Mahila Kosang, Lopa Mudra Chakraborty, had narrated the incident of rape, following which the police formed a team to conduct raids.
Meanwhile, taking strong note of the incident, a high level team of both the district administration and police led by Kumar Tarachand, Additional District Magistrate (Law and Order), and others including the likes of, Surendra Kumar-Sub Divisional Officer and Manoj Swargiyar, Additional Superintendent of Police visited the site and reviewed the security arrangement and gave necessary instruction to the hospital administration.
The team, which held a marathon meeting with the hospital administration led by superintendent, Arun Kumar Chaudhary and Principal, Dr Shailendra Kumar took details of existing security arrangement of home guard personnel's deputation and also sought reasons for allowing private ambulances to be parked inside the hospital campus and details like number of eateries and tea stalls operating inside the hospital and more.
The team also instructed the hospital administration to immediately repair the broken boundary wall of the hospital to prevent the unauthorized entry of outsiders. They even asked them to have a system in place to ensure registration of all visitors.
Addressing the media, after the security review Kumar Tarachand said, "We have conducted a comprehensive review of the security arrangement of the hospital as per the instruction of Deputy Commissioner, Sandeep Kumar in the wake of yesterday's heinous incident and will submit a report."
He added, "We will strengthen the security arrangement in light of discussions held today with the hospital administration as per the instruction of Deputy Commissioner, Sandeep Kumar."
Sub-divisional officer, Dhanbad, Surendra Kumar, said, "We have taken into account all aspects of security issues including the presence of tea stalls and eateries inside the campus and parking of private ambulances parked inside the hospital campus, during the meeting and will improve the present state of affairs soon."
Meanwhile, R Ramkumar, City SP of Dhanbad confirmed the arrest of ambulance driver, Sanjay Kumar Das in connection with the rape and said that the accused has been sent to jail.