The Ranchi regional office of National Bank for Agriculture and Rural Development (Nabard) projected a credit potential of Rs 28,643.64 crore for priority sectors of Jharkhand during 2021-22 which was 6 per cent higher than Rs 27,020.81 crore that was projected for the current financial year 2020-21.
This was revealed in the state focus paper for 2021-22 released by chief minister Hemant Soren at a state credit seminar organised by Nabard at a Ranchi hotel on Thursday.
While Rs 11,183.07 crore that accounts for 39.04 per cent of the total projected credit for priority sectors has been earmarked for agriculture sector, Rs 12,669.20 crore (42.83%) has been suggested for MSME sector in the focus paper.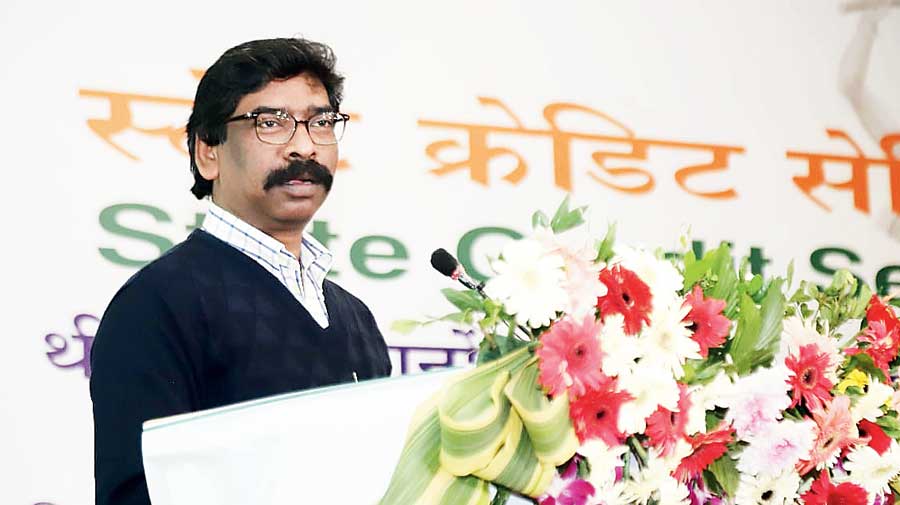 Soren addressing the seminar in Ranchi on Thursday. Telegraph picture
Of the total amount projected for agriculture sector, Rs 6.908.70 crore accounting for 61.78 per cent has been earmarked for crop loan while Rs 3,382.25 crore (30.24%) suggested for allied agriculture activities and Rs 495.15 crore (4.42%) for agricultural infrastructure and ancillary activities.
"Nabard has been playing an important role in giving financial assistance to the state and also advising it but more loans are required to be given to the farmers as low interest loans help them a lot in becoming self-reliant," Soren said after releasing the state focus paper.
Citing example of neighbouring Chhattisgarh, he said farmers were given loans worth Rs 7,000 crore in that state during 2019-20, which was much higher than the loans worth Rs 233 crore only given to 65,000 farmers of Jharkhand.
"Strengthening rural economy by helping farmers is like strengthening the roots of the society," Soren opined, adding improvement in farmers' economic condition would help securing a sustainable growth.
State's finance and planning secretary Himani Pandey stressed on improving investment in dairy and fisheries sectors.
"Since Jharkhand was formed in 2000, Nabard has given it financial assistance worth Rs 16,000 crore, helped build 15,000 km rural roads, irrigate 3 lakh hectares of cultivable land and construct bridges measuring about 1.5 lakh metres," informed Nabard chief general manager A.K. Padhi.
As a part of its credit planning function, Nabard has been preparing potential linked credit plans for all the districts of the state in consultation with stakeholders, he further said, adding the basic objective behind the exercise was to map credit potential in different sectors depending on availability of infrastructure and linkages, thrust areas, government policies and strengths and weaknesses of financial institutions.