Jharkhand: Few takers for Nabard schemes, says G.R. Chintala
The state has immense potential to grow in agriculture sector but the credit flow is abysmally low: Chairman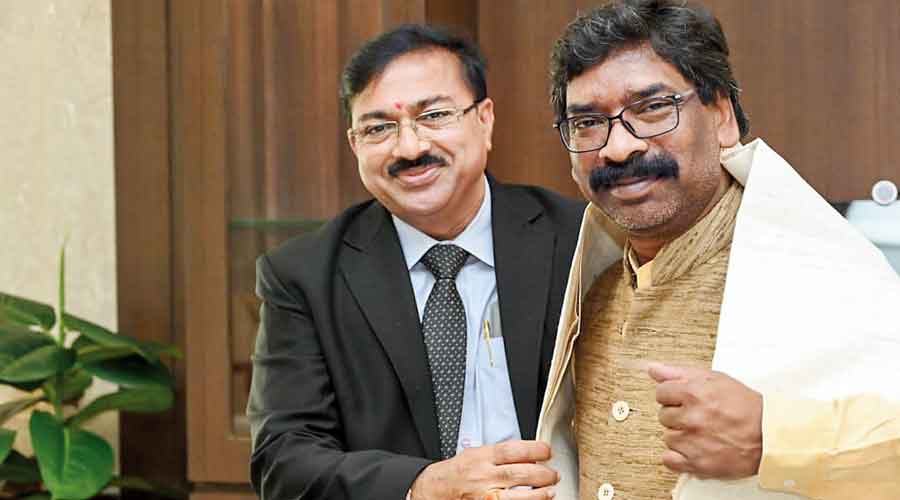 Nabard chairman GR Chintala with Jharkhand chief minister Hemant Soren in Ranchi on Thursday.
Manob Chowdhary
---
Ranchi
|
Published 06.03.22, 02:29 AM
|
---
The National Bank for Agriculture and Rural Development (Nabard) chairman G.R. Chintala is not happy with the response from the farmers' cooperatives in Jharkhand though the rural bank has several loan schemes to offer to them.
"We get lukewarm response despite offering loans at a very low interest rate," he told media persons at the rural bank's regional office in Ranchi on Saturday, the concluding day of his three-day maiden visit to Jharkhand.
Even the state cooperative bank was hardly interested in taking loan from Nabard though those in many other states take huge amount of loans every year, he informed. 
"Jharkhand has immense potential to grow in agriculture sector but the credit flow in the state is abysmally low," Chintala said, adding the problem lies in developing a suitable ecosystem.
The things would improve once the infrastructure development such as availability of warehouses takes place with the development interventions done by Nabard, he felt.
"The amounts released by Nabard from its Rural Infrastructure Development Fund (RIDF) is now being utilised well and a suitable infrastructure is expected to come up in the state after a few years," the rural bank chairman replied when asked if they were assessing the impact of loans released by Nabard.
Nabard releases funds to state governments from its RIDF for as many as 37 different activities such as promoting agriculture and allied activities, increasing rural connectivity by encouraging construction of roads and bridges and facilitating irrigation.
"Infrastructure development should be fast-tracked in the state for creating a vibrant ecosystem and both the state government and Nabard have important roles to play to make that happen," Chintala said when pointed out that chief minister Hemant Soren, during their meeting on Thursday, had requested Nabard to help in marketing local farmers' produce and allot more funds for infrastructure development.
"The agriculture sector in the state will look up once the desired infrastructure is ready," he explained, adding only about 22 per cent of the cultivable land in Jharkhand was properly irrigated at present.
"The vegetable production is good in Jharkhand but the growers' income is much less compared to other states," he further said, adding the local farmers did not have the required logistic support so that they could store the produce and export the same to distant places for getting a good return and the problem could be solved by constructing warehouses for which Nabard sanctions loans.
"The income of rural people can also be increased by promoting off-farm activities," Chintala said, adding he found the Sabars, a local tribe of Seraikela district, were making excellent buskets and other artefacts from grass but did not get enough buyers for want of a proper marketing facility that could enhance their income.
"We in Nabard try to promote self-help groups by bringing them under the Livelihood and Entrepreneurship Development Programme," the rural bank chairman said about the scheme it had launched after realising that skill development training alone had limited impact on livelihood creation among SHGs.