Multi-activity centre for elderly in Bokaro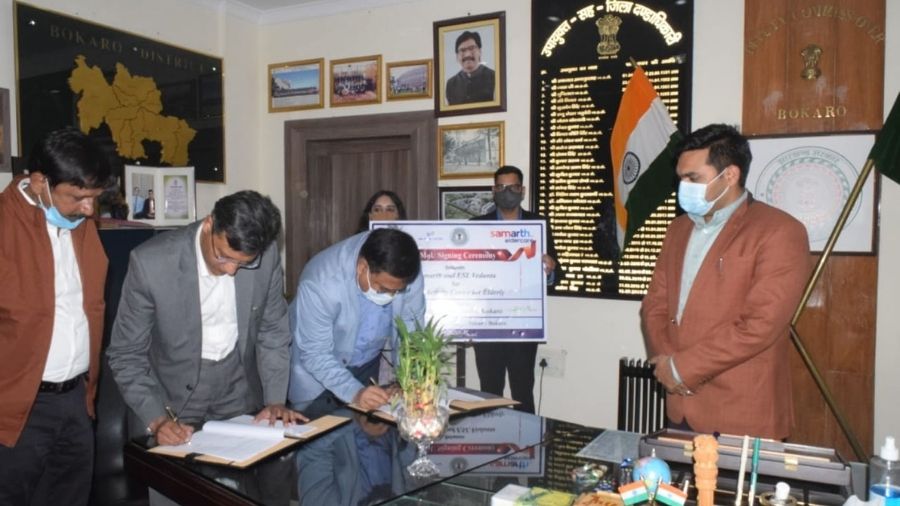 Memorandum of Understanding being signed
Gautam Dey
---
Dhanbad
|
Published 09.02.22, 10:31 PM
|
---
To create a conducive environment for elderly and for better health, involvement in various activities besides to ensure mental peace a Memorandum of Understanding (MoU) has been signed today between Vedanta Group Company and Samarth Community Forum under Corporate Social Responsibility (CSR) for the  operation of Multi Activity Center for the elderly in  Bokaro.
The MoU was signed on Wednesday at the district collectorate of Bokaro  by Ashish Ranjan, Head CoR, ER&PR of Electrosteel Steels Limited and Ashish Gupta, Director Samarth in presence of Bokaro Deputy Commissioner Kuldeep Chaudhary. 
Speaking during the occasion Chaudhary said, "The elders of the district would get great support in the Multi Activity Centre in maintaining good mental health through a range of activities including debates and discussion, reading etc and  they will  also get proper care and a better environment."
He asked the company representatives to ensure better functioning of the Multi Activity Center in order to fulfill its purpose. He further said that the Multi Activity Centre that will be operated from Rajendra Nagar  locality in Chira Chas area of Dhanbad will serve the objective of creating a conducive environment for the elderly and senior citizens by ensuring their better health through  involvement in various activities thereby providing them peace of mind.
Elaborating more he said Vedanta and Samarth will ensure together that the elderly are benefitted from various health care facilities along with periodic counseling in the Multi Activity Centre.
"The centre will be equipped with reading facilities of newspapers- magazines, audio-visual facilities etc" said Singh and added that centre will hold talks and discussion sessions by experts on a regular basis to engage them in various activities.
"Information on day-to-day use of technology, legal advice and information about various schemes run by the government will also be provided to the elderly to help them  stay updated" further said Chaudhary. 
 Apart from this, schemes for rehabilitation of abandoned senior citizens will also be linked with the centre
It may be mentioned here that the state government is already taking care of senior citizens through various schemes and programmes. The government has already issued a help line number 14567 Which is being operated by Samarth in the entire state.
Officer on Special Duty, Vivek Suman; District Public Relation Officer, Rahul Bharti, District Disaster Management Officer,  Kumar Shakti, Assistant Public Relations Officer  Avinash Kumar, DGM ER&PR ESL Sanjay Kumar and  besides Rajiv Dubey representative of Samarth were also present on the occasion.