Monsoon likely to be delayed across Jharkhand
Rains may hit Kerala on June 6, but could take another fortnight to reach the state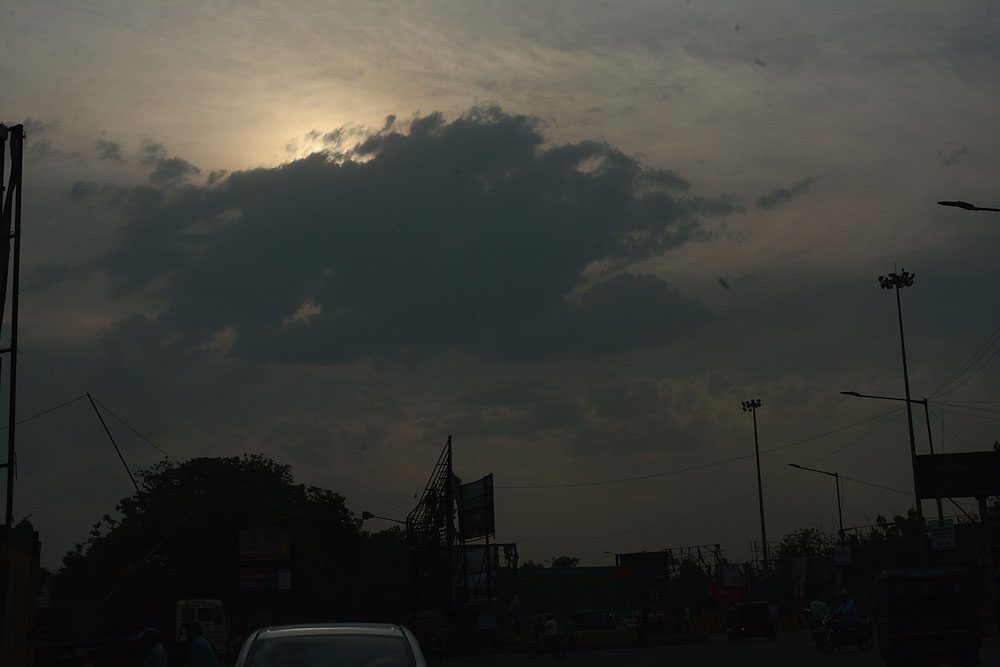 Cloud cover over Bistupur in Jamshedpur on Wednesday.
Picture by Bhola Prasad
---
Jamshedpur
|
Published 15.05.19, 06:58 PM
|
---
The southwest monsoon is likely to reach Jharkhand a little late this year, weathermen have indicated.
In its long range forecast, IMD said on Wednesday that the statistical model of the forecast suggested that the onset of the monsoon over Kerala would be slightly delayed.
"The onset of southwest monsoon is likely to take place over Kerala on June 6, give or take four (model error of ± 4) days," an IMD official told The Telegraph over telephone from New Delhi.
Usually southwest monsoon sets over Kerala on June 1, and takes another 10-12 days to reach Jharkhand. As per IMD's forecast, this year it is expected to be delayed by five days in Kerala.
On Tuesday, Skymet, a private weather forecasting agency, had declared that the monsoon was expected to hit the coast of Kerala on June 4 and deliver less than average rainfall this year.
Struggling to cope with the heat, the people of the state were hoping for timely arrival of monsoon. But, weathermen in Jharkhand had nothing encouraging to offer.
"We are keeping our fingers crossed. If the onset of monsoon is delayed in Kerala, it will also impact Jharkhand where it is also likely to get delayed. Under normal weather conditions, after hitting Kerala, it takes 10-12 days for the monsoon currents to reach Jharkhand and neighbouring Bengal. But if arrives late in Kerala it is bound to get delayed in Jharkhand too," said S. D. Kotal, director of IMD's Ranchi Met centre.
He add that if conditions remained favourable, and the surge was maintained, the monsoon could reach Jharkhand by the third week of June.
Satellite imagery, wind chart analysis and other parameters suggested on Wednesday that conditions were becoming favourable for the advancement of southwest monsoon over the southern part of Andaman Sea, Nicobar Islands and adjoining southeast Bay of Bengal during May 18-19.
Last year (2018), the southwest monsoon had reached the Kerala coast three days early on May 29. It reached Jharkhand on June 25, after a delay of 15 days, as the monsoon currents had become weak.
Data suggests that the arrival of the four month (June to September) season of rains has been delayed in Jharkhand for the last few years
Both IMD's Ranchi and Patna centres had predicted a gradual rise in day readings from Thursday due to dominating dry north-westerly winds.
"We are expecting mainly clear sky and dry conditions from tomorrow (Thursday) with an increase in maximum temperatures by 2-3°C in most parts of Jharkhand. We have also issued an alert of loo, a dry wind, in north-westerly and central Jharkhand after the next 24 hours," said a senior weather analyst at Patna.
The weather scientist, however, ruled out heat wave-like conditions for the next three-to-four days.
During the last two days, several parts of Jharkhand experienced showers and thunderstorm because of two systems. Weathermen in Ranchi said one of the systems was a trough stretching from east Uttar Pradesh to southwest Madhya Pradesh at 0.9 km above mean sea level. Another was a cyclonic circulation hovering over the state, bit that had now become weak.