Model set up of a terrifying future
Protesters set up a model of a detention camp as a visual marker in Wasseypur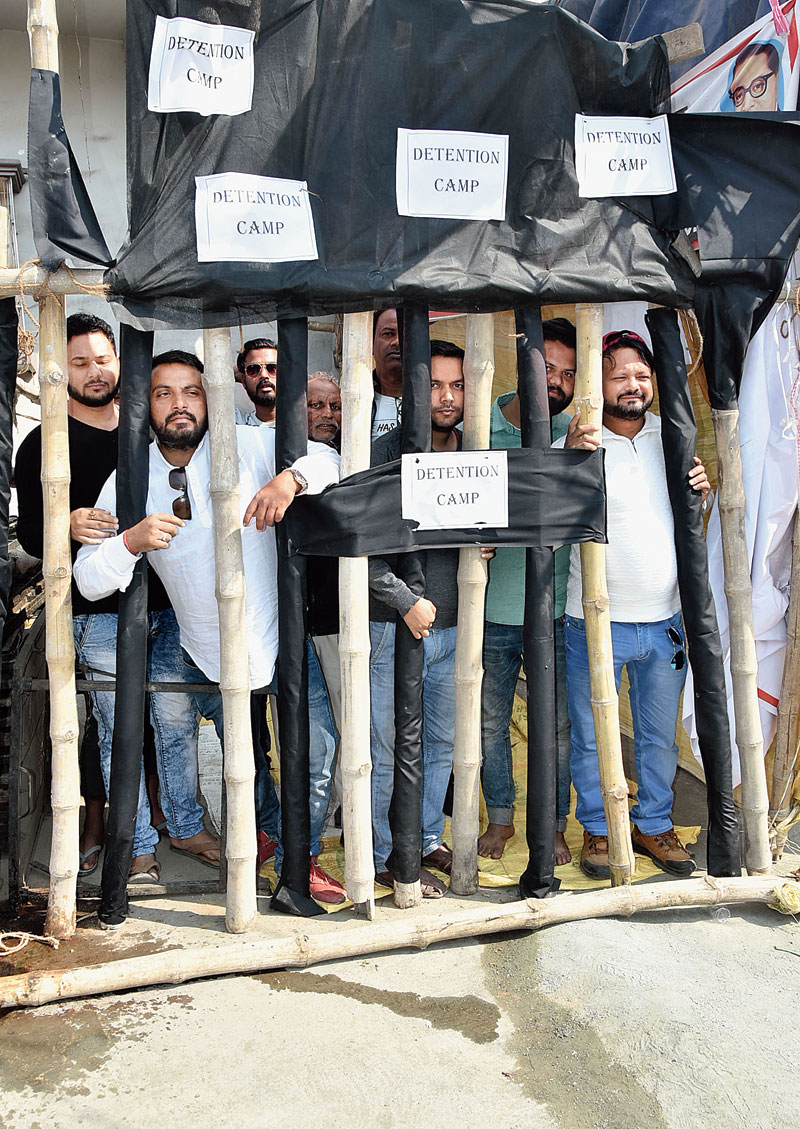 Youths of Wasseypur inside a model detention camp at Ara More in Dhanbad on Monday.
Picture by Gautam Dey
---
Dhanbad
|
Published 27.01.20, 06:31 PM
|
---
Wasseypur residents staging their indefinite dharna at Ara Mor since January 2 against the new citizenship matrix set up a model of a detention camp on Sunday evening as a visual marker of the scary times to come.
The small enclosure that's 6-foot-high and less than 40sqft in area has been set up using wooden logs and bamboo sticks.
Protester Kashif Ahmad, 50, who sells electronic gadgets in Wasseypur, said the model of the detention camp was their way of showing what was to come. "It is not related to any real camp although we have heard that camps have been set up for illegal immigrants at Assam," Ahmad said. "Our overall aim is to protest against the CAA-NRC-NPR, which has brought about a pre-Independence-like situation in the country," he added.
Anwar Ali, 30, a supplier of stone chips, and a CAA protester, said what was happening was sad. "The government is trying to fool people over emotional issues. But unemployment is at its worst since Independence. People don't have work and money. The new controversial laws are just a distraction from the core issues."
Added Sarwar Nishat, 49, a grocer in Wasseypur and a protester: "Policy-makers claim they will give citizenship to victims of religious persecution from Pakistan, Afghanistan and Bangladesh. Who can determine that the claims of all such refugees are genuine, and that some have not been sent by Pakistan to destabilise our country? Is the claim of every non-Muslim authentic?"
Elderly tailor Md Mithu Khalifa Idrishi, 63, from City Centre in Dhanbad, said he was just watching with pain that "no real development work had happened and the action is geared on renaming, cities, towns, streets, monuments, railway stations, etc, and now this (the citizenship laws)."
A young private tutor, Abu Talha, 28, in Wasseypur said India's constitution guaranteed the right to equality under Article 14 to every citizen but under the CAA people of one community can't claim citizenship. "This discrimination saddens us."