Model booths with festive feel in Jharkhand
Selfie corner wins hearts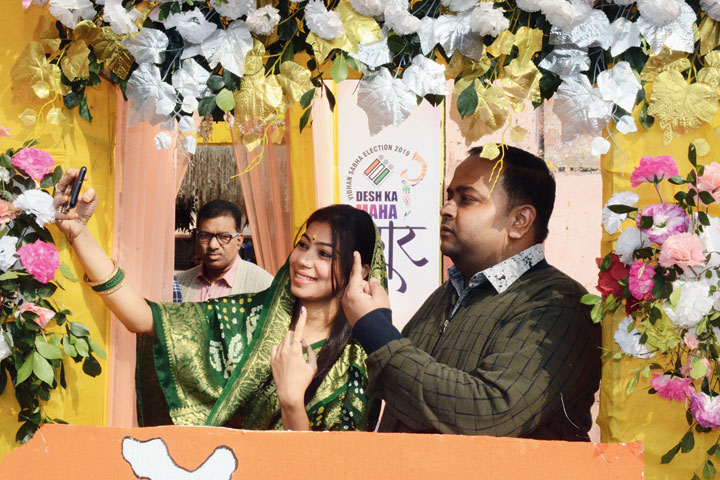 ---
---
Balloons and voting? Why not.
The second phase of Jharkhand's Great EVM Festival attracted many voters to 129 model booths in East Singhbhum district.
Voters, young and old, loved the balloon-and-flower decorations and Selfie Corners at the model booths.
Md Jawaid, a civil engineer with Dalmia Cement who voted in Rajendra Vidyalaya, Sakchi, under the Jamshedpur West seat, said the model booth "made the voting exercise a joyful festival".
"It was so well decked up," said Jawaid. "All around me, I saw positive vibes. Normally, a polling booth is rather boring. The model booth was festive and made one feel proud to participate in the great democratic process. Everyone loved the Selfie Corner."
But if he had a quibble, it was with the drinking water facility at the model booth.
"I could not have water at the booth because there were no glasses or paper cups near the three water jars," he said. "But the rest of the arrangements were fine," he added.
At nearby Rabindra Bhavan, also a model booth, elderly voters appreciated the chairs that they could sit on after they voted. "Model booths are a nice concept, best part is you can click good pictures that are ideal for social media. These arrangements motivate a voter," said Sreejani Das who voted at Rabindra Bhavan.
But there were a few snags. At the model booth at Vivekananda International School, Mango, voting was late by 90 minutes as the EVM acted up.
Apart from 129 model booths, the district also had 25 booths where all poll officers were women.