MLA demands probe into elephant death at Palamau Tiger Reserve
Saryu Roy suspects poaching, points to bullet wound on animal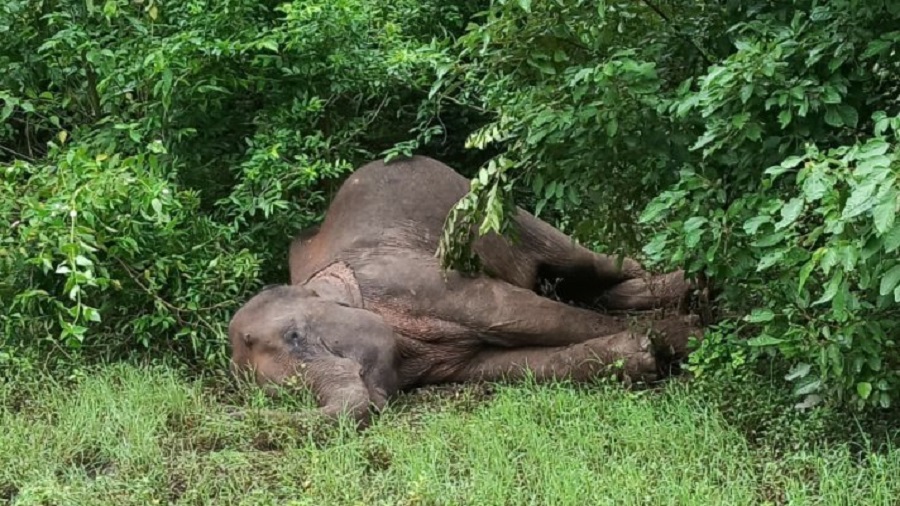 The dead elephant, discovered on July 14 at Palamau Tiger Reserve
Source MLA Saryu Roy's twitter handle
---
Ranchi
|
Published 20.07.20, 06:57 PM
|
---
The death of an elephant at Palamau Tiger Reserve last week, ascribed to liver failure in its autopsy report, could well be the handiwork of poachers, feels an MLA who has sought a high-level inquiry into the affairs of the nationally known tiger abode.
Jamshedpur East MLA Saryu Roy has written to chief minister Hemant Soren, saying that the death of the female adult elephant could be a case of poaching, pointing out that there is a bullet wound, possibly from a .303 rifle, on the elephant.
"I have learnt from local officials and sources in PTR that a wound was found on the elephant's head which seemed to be a bullet injury. The wound was so deep that during the inspection of its body a large portion of a stick went inside the head," Roy, a former minister and a seasoned environmentalist, said in his later dated July 19.
"It is rare," he added. "Usually an elephant's head is very strong and such wounds can only occur when hit by bullet. As per my understanding, the elephant may have been hit by .303 bullet."
Roy accused PTR officials of negligence and alleged they had attempted a cover-up by furnishing a half-baked post-mortem report done in haste. "The post-mortem done by a local vet in Latehar doesn't even talk about this wound and only says that the death was due to liver failure. The post-mortem must be probed," he said.
The carcass of the jumbo was discovered on July 14 in the Murkati area of Betla within the tiger reserve.
Roy said it wasn't the first instance of an animal dying under suspicious conditions in PTR. In February, a 16-year-old tigress was found dead in Betla. Thereafter, there were a series of bison deaths in April and May.
Roy suspects that all these were the handiwork of poachers. "I strongly feel that poachers have entered PTR and are systematically killing animals. The forest officials are either clueless or have failed to nab the culprits which is now forcing them to cover up after every death. It is high time a high-level probe is launched to uncover the truth to save PTR," the MLA demanded.