Missive to CM on road
NGO blames district administration and state agencies for mishap-prone Tata-Kandra road in a letter to Soren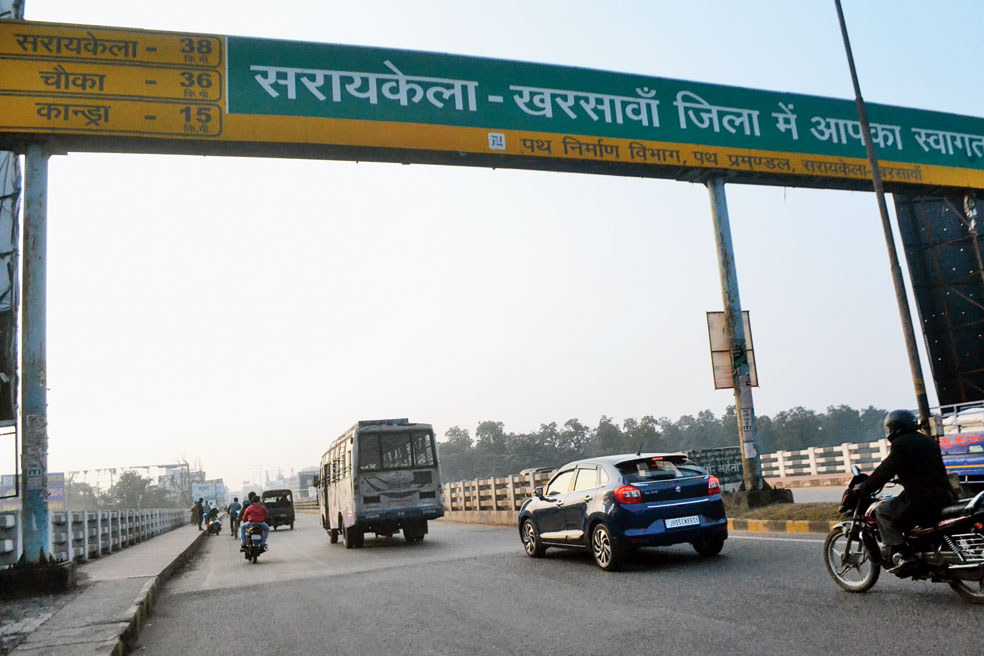 Tata-Kandra road near Kharkai bridge on Adityapur end on Friday
Picture by Animesh Sengupta
---
Jamshedpur
|
Published 10.01.20, 07:06 PM
|
---
A local NGO on Friday shot off a letter to chief minister Hemant Soren, drawing his attention to the mishap-prone Tata-Kandra four-lane road and blaming the district administration and state agencies for it.
In the letter, NGO Jan Kalyan Morcha has accused Seraikela-Kharsawan district administration, Jharkhand Industrial Area Development Authority- Adityapur (JAIDA-Adityapur) and Jharkhand Accelerated Road Development Corporation (JARDCL) for turning the 15km-long Tata-Kandra four-lane into a mishap magnet.
Tata-Kandra Road connects Bistupur with Adityapur over the Kharkai river.
The NGO said JARDCL did not complete the construction of services lanes at several points, forcing bikers and cyclists to take the main road and risk their lives.
The letter also drew attention to the defunct streetlights that plunge the four-lane into darkness after dusk.
Citing a notification issued by the Seraikela-Kharsawan district administration on October 27, 2007, Jan Kalyan Morcha said the movement of heavy vehicles such as trucks and trailers on the Kharkai bridge on Tata-Kandra Road had been restricted because of its location along a densely-populated area.
"But despite such an order, heavy vehicles continue to ply through the Kharkai bridge and police do not take any action against the operators of such vehicles." the letter states.
Highlighting the inefficiency of the state home department, the letter said no traffic police station was set up in Adityapur despite a notification in December 2017.
In the absence of adequate traffic cops, vehicular movement on Tata-Kandra Road remains uncontrolled, leading to frequent accidents, the NGO reasoned .
"We expect chief minister Hemant Soren to take necessary action to make the four-lane mishap-free," said Om Prakash, president of Jan Kalyan Morcha, on Friday.
If the administration fails to take the necessary measures within a month, the NGO will launch an agitation, he added.
Seraikela-Kharsawan superintendent of police Karthik S, said: " We have identified around a dozen spots on the Tata-Kandra Road that are mishap-prone. We are trying to ensure proper policing at those places."