Miracle sets in: Four trapped miners rescue themselves out of Parbatpur Colliery
The persons were lying stuck inside the mine for four days due to a roof collapse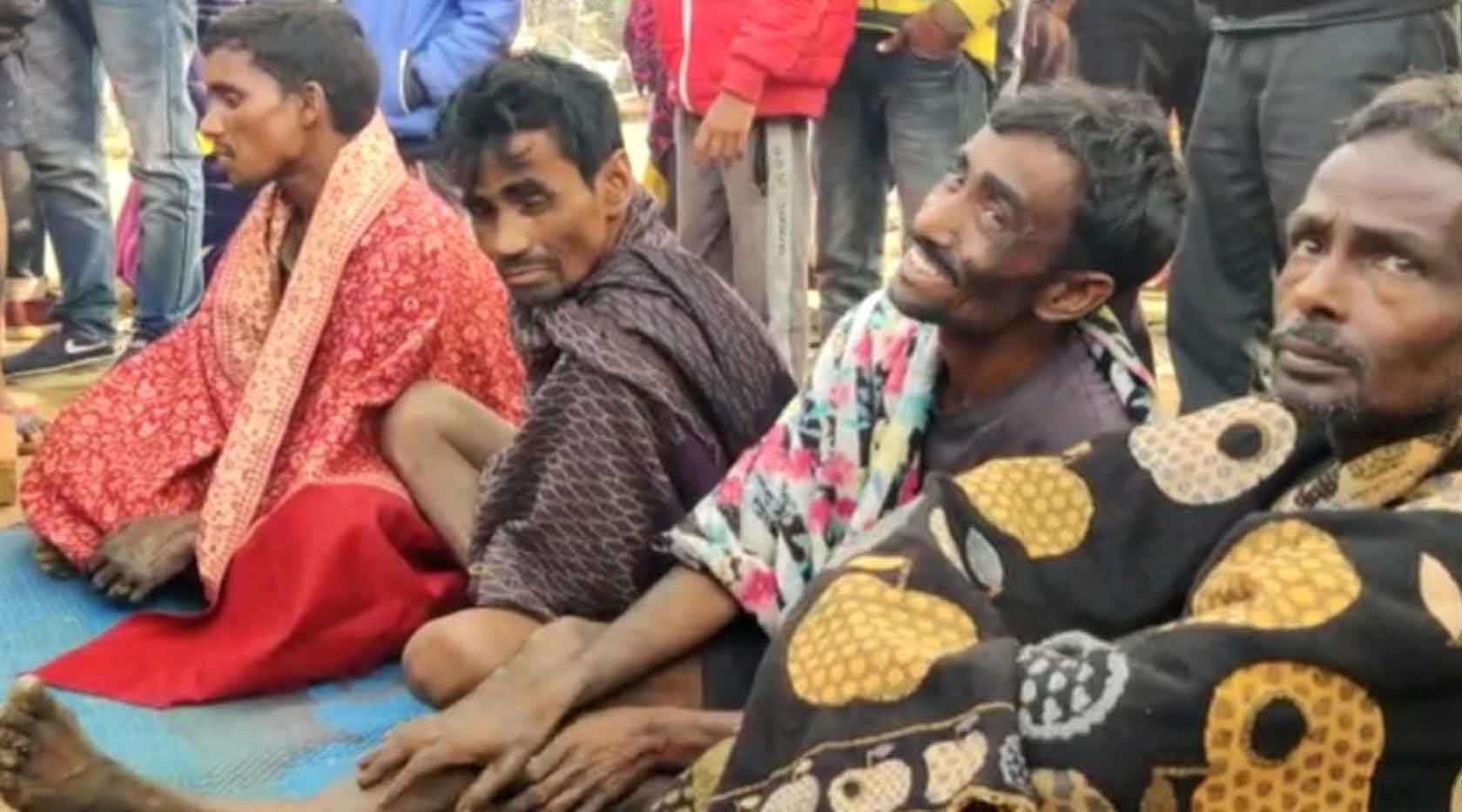 The four miners after their escape
Gautam Dey
---
Dhanbad
|
Published 29.11.21, 12:15 PM
|
---
It was celebration time for family members of the four miners from Tilatand village of Amalabad area of Bokaro who were lying trapped in a closed Parbatpur Colliery of Bharat Coking Coal Limited (BCCL) in Chandankiyari block of Bokaro since Friday (November 26). In what could be termed as a miraculous escape, the trapped finally managed to get out of the grave and return home during the wee hours. 
A medical team of the Bokaro district health department, which examined the four including, Lakshman Rajwar, Ravan Rajwar, Anadi Singh and Bharat Singh declared them fit. 
Amar Bauri, Chandankiyari MLA who reached the village this morning to meet the four termed termed their return as grace of God. "Nobody had any clue as to where they were. We were left with no option other than praying for their safety," he said. 
Vishal Singh, son of one of the rescued persons Anadi added, "It is great day not only for our family but also for the entire village and as we were greatly worried about the safety or our missing family member"
Bharat Singh, one of the trapped miners who safely returned home said, "We somehow saved our lives by drinking mine pit water and carry out search operation to get out of the mine with the help of battery operated torch light ever since we got trapped on November 26 at around 9 am due to a sudden roof collapse."
"We used our torch lights judicioulsy one by one because it was the only source," said Singh adding, "On Friday (November 26), Saturday (November 27) they tried their best to find the exit route from the side through which they entered but again on Sunday (November 28) they decided to locate some othetr route by clearing blulders and others and finally found the way out on Monday (November at around 2 am."
Notably, the four villagers got trapped in the colliery on Friday (November 26) at around 9 am when the roof collapsed. The rescue team of BCCL earlier reached the site on Saturday but failed to enter the mine and consequently a team of National Disaster Response Force also made it on Sunday evening at around 5 pm but could not begin rescue work due to bad light and was scheduled to enter the mine this morning before which the trapped miners managed to rescue themselves.