Minister dharna against 'police bias'
Incendiary songs, hai-hai slogans at thana in Ranchi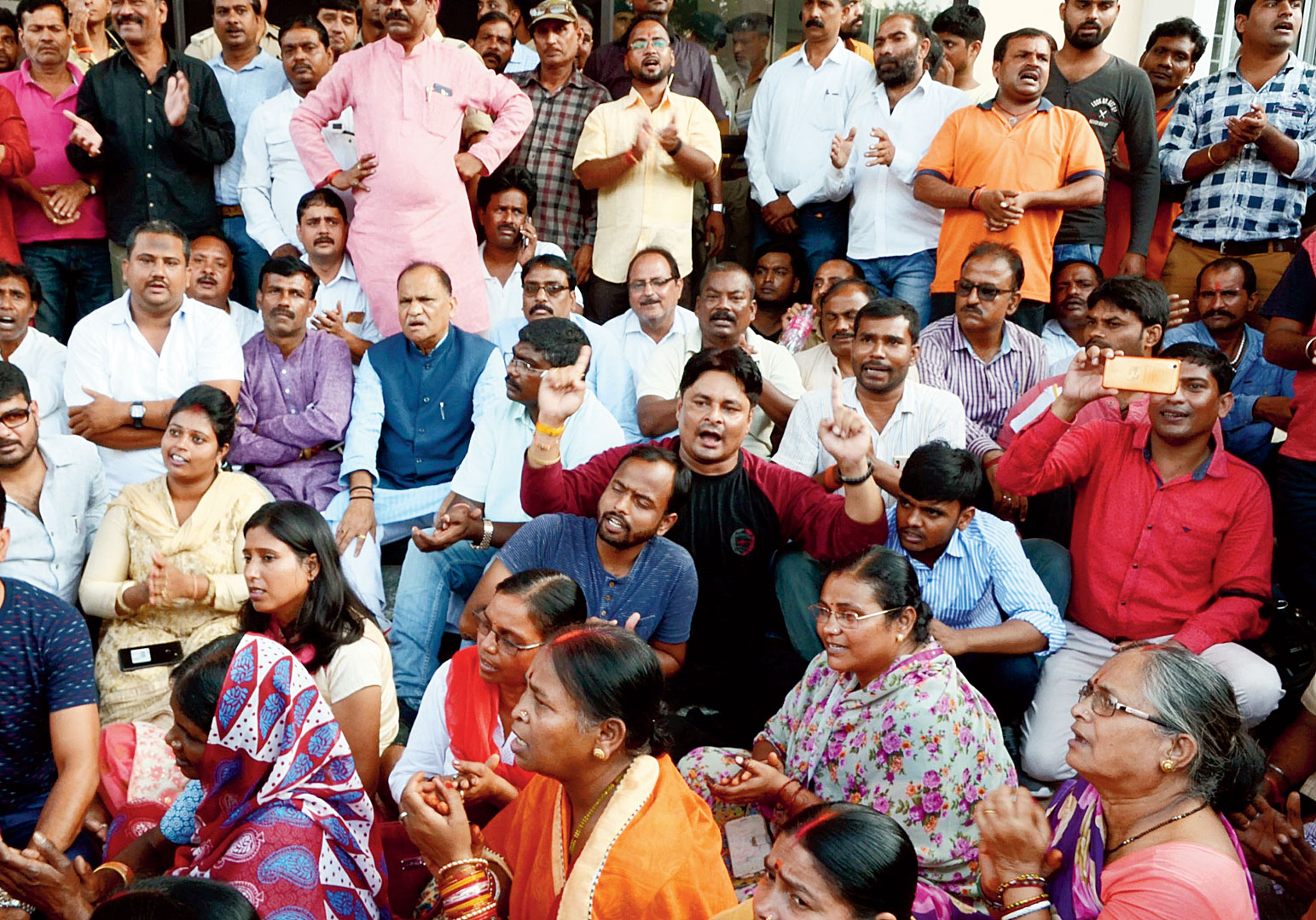 ---
|
Ranchi
|
Published 19.09.18, 07:01 PM
---
The state capital on Wednesday was witness to the unusual sight of a cabinet minister protesting at a thana entrance against what appeared to him as minority appeasement by Ranchi police.
From 3pm to 6.15pm, urban development minister and Ranchi MLA C.P. Singh, along with over 100 BJP members and a handful of ward councillors, protested at Kotwali thana against the detention of seven Hindus, including two women, who allegedly hurled stones in an inter-community clash earlier in a sequel to the alleged desecration of a Shiv temple by two youths at Sangram Chowk, Irgu Toli, on September 12.
Protesters shouted "hai hai" against Ranchi police and the district administration and sang incendiary songs in minister Singh's presence. The songs invoked Hindu pride through Rana Pratap, Guru Govind Singh and Shivaji and made derogatory references to the minority community.
Asked why he was agitating against the police despite being a cabinet minister, an angry Singh retorted he was a people's representative first and minister later.
"I will go where my workers go. I am a people's representative first, then a state minister. I will stay here till my party workers stay. Also, you must know that police do not dance to the tune of any government," he told the media.
Kotwali OC S.N. Mandal seemed confused. "Agitating at a police station is a crime under Section 342 of IPC but I don't know what to do here as the agitator is a cabinet minister," he said but did not speak much in the presence of his bosses SSP Anish Gupta and city SP Aman Kumar.
A resident of Irgu Toli, a crowded locality of one lakh comprising Hindus, Muslims and tribals, blamed police for not acting firmly against trouble-makers from September 12 onwards, when one Md Afsar was allegedly seen urinating near the Shiv temple.
On September 14, Afsar and his friend Md Jubaid allegedly threatened a youth, who had protested Afsar's act, with a gun. The youth, whose name police withheld for his safety, reported both incidents to the police.
On Tuesday, when a group of residents protested against Sukhdeonagar police for not registering a case against Afsar and Jubaid, police promised arrests within 24 hours. When that did not happen, protesters on Wednesday morning hit the streets, asking Irgu Toli traders to close shops.
Tensions flared again, as both communities pelted stones. But when seven persons were detained at nearby Kotwali thana and there were no Muslim among them, BJP supporters claimed police were biased and contacted minister Singh.
Till 7.30pm, no FIR had been filed at Kotwali thana. At Irgu Toli, over 100 district police personnel have been deployed for patrolling.