Migrants who have returned to Jharkhand want to stay back
From fashion designers to fitters, there's been an influx of skilled labour. Can the Hemant govt create opportunities?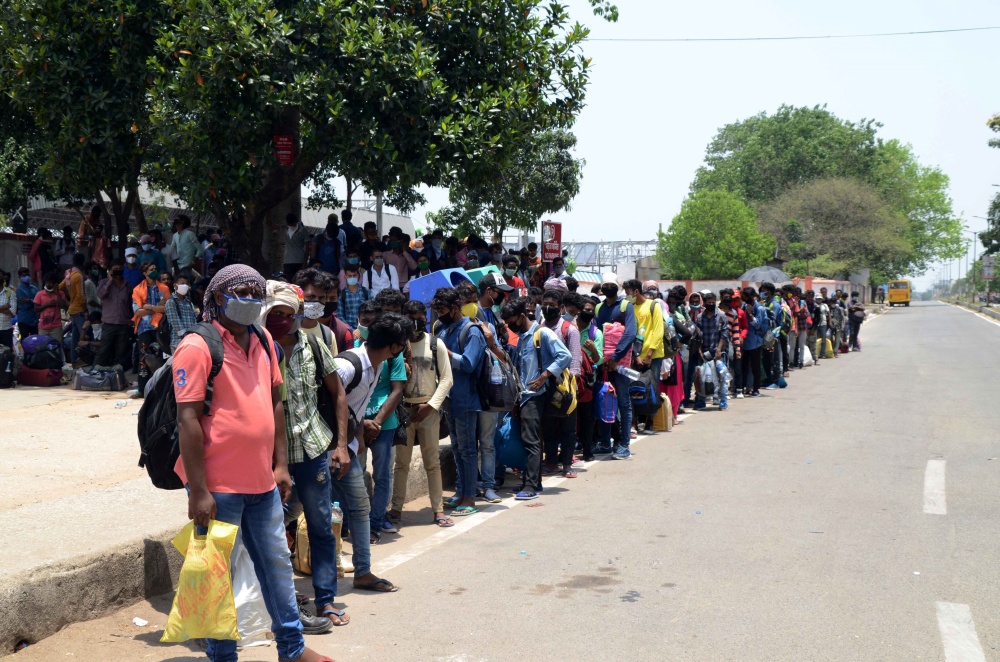 Migrant labours waiting for a bus at Hatia railway station in Ranchi
Picture by Manob Chowdhary
---
Ranchi
|
Published 31.05.20, 06:07 PM
|
---
Can the state ensure gainful employment for the lakhs of migrant workers who are now returning to their homes in Jharkhand and are not willing to venture out again?
Over 3.5 lakh migrant workers have returned to Jharkhand state since the first special train meant for them reached Hatia station in Ranchi from Hyderabad. Besides, hundreds of others also reached home by other means – some hitchhiking or simply walking.
Many more among the over 9.5 lakh migrant workers who are scattered across the country are also willing to return and earn their livelihood in the state itself.
"I have been working as a fitter in a small steel plant in Bastar district of Chhattisgarh. But now I want to stay here," said Kuddus Ansari, a resident of Bokaro district.
"See the irony. I was working at a lower pay so far away from home when my district has one of the best public sector steel plants," Ansari said, referring to Bokaro Steel.
Soumen Chandra Mandal of Dumka is a computer games designer who was working in Pune. But he came back as the company he was working with closed down during the lockdown.
"I want to work in my own state but I am not sure if I can a job here," he said, adding that he already initiated talks with two interested firms and was now awaiting a response from them.
"It's too early to say," he sighed when asked if he would go elsewhere if he did not get something in Jharkhand.
Shashi Kumar of Ramgarh who was working as a fashion designer with a garment manufacturing company near Delhi has returned. He is now determined to stay back.
"I explored if there was a chance of my working as a fashion designer here but nothing has materialised so far," Kumar said, adding that offers that came his way were not related to his work.
Kumar has had enough of the lockdown. He said he wouldn't mind venturing into an entirely different field and work in the state rather than go back to Delhi.
Anand Kumar Shah of Sahebganj, who has a diploma in electrical engineering, was still stranded at Gurgaon in Delhi and wanted to return home immediately after the lockdown was lifted.
"I will now try to explore if I get a job within Jharkhand so that I don't have to stay so far away from home and face such problems again," he told The Telegraph Online from Gurgaon.
Like Kumar, Shah also said he was ready to do anything so that he would not have to go back to Gurgaon again.
But not all workers are hopeful of getting a job within their home state of Jharkhand.
"I am from Garhwah. I had a job with a construction company there but work stopped during the lockdown. Then I was shown the door," said Ramashish Paswan, a civil engineer with a BTech degree.
Paswan said he would now look for a job in Ranchi. "It's a bigger place with better scope. Moreover, we also have an establishment in the city," he said, explaining why he chose Ranchi.
If professionals and skilled workers faced such difficulty, the prospects looked equally grim for other unskilled labourers. According to a survey conducted by Centre for Monitoring Indian Economy, a private research group, rural job crisis deepened in the third week of May (2020).
While the national unemployment rate went up from 24.01 to 24.34 per cent, every fourth Indian was unemployed, the survey found.
The urban unemployment rate reduced from 26.95 to 22.72 per cent during that week, possibly because some factories and shops started opening in the previous week but the rural rate went up from 22.79 to 25.09 per cent.
Many felt village job schemes under Mahatma Gandhi National Rural Employment Guarantee Act could be a saviour and help scores of migrant workers who have returned home.
"Let's hope for the best as the Union government promised to inject funds into the rural job schemes," said James Herenj, convener of Jharkhand NREGA Watch, a forum of concerned citizens.
"There are 29.19 lakh people already registered under MGNREGA in the state," he said, adding that the forum had already written to the joint secretary to Union rural development ministry for raising the number to 40 lakh.
"There could be other works, like plantation drives, that can continue," Herenj replied when told that rural job schemes are normally suspended by mid-June due to monsoon.