MGM principal, sweeper get first jabs in Steel city
No one should have any misgivings about vaccine, says Barla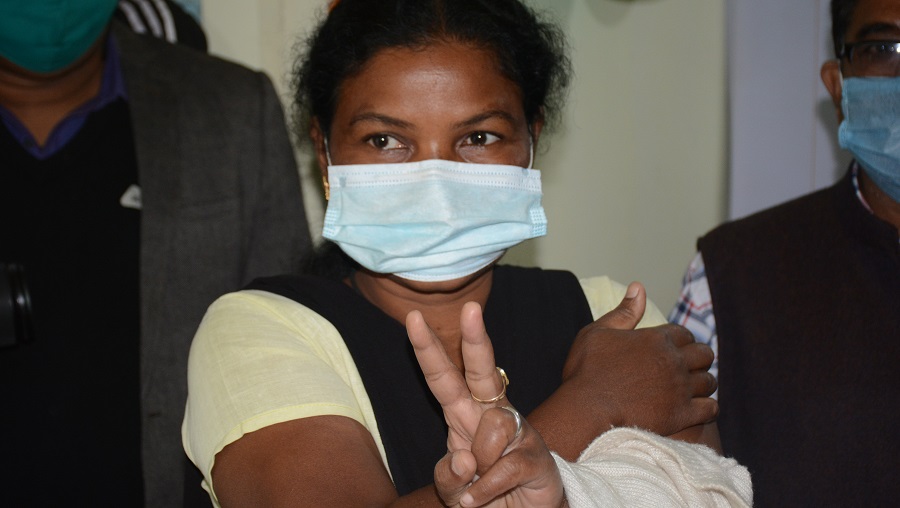 Alice Biswas Banra, the first health worker to receive the vaccine in Jamshedpur, shows the victory sign after receiving her shot at MGM Medical College in Dimna on Saturday.
Bhola Prasad
---
Jamshedpur
|
Published 16.01.21, 05:36 PM
|
---
B.K. Barla was the first doctor and sweeper Alice Biswas Banra the first health worker to get a shot of Covishield in Jamshedpur on Saturday at their place of work, the MGM Medical College at Dimna.
In all, 49 doctors and 51 other health workers, including nurses, para-medics and sweepers, were administered the vaccine and allowed to disperse from an observation room where they had to wait for about 30 minutes after receiving their jabs.
"I was waiting for a Covid-19 vaccine and finally I got it today. I am absolutely OK, feeling fine," said Alice (50), a mother of two, who got the job at MGM on compensatory grounds after her husband died in 2007.
Principal Barla was upbeat, saying no one should have any misgivings about the vaccine. "I was always optimistic about Covishield and none in the medical fraternity has any suspicion or fear about it," he told The Telegraph Online an hour after he received his shot.
District civil surgeon R.N. Jha, who was monitoring the vaccination drive at both MGM Medical College and Tata Main Hospital, said 70 people were vaccinated at MGM and 50 people at TMH by 4pm. He expressed the hope that by 7pm, all 200 registered beneficiaries would have got their jabs.
"Those vaccinated on Saturday will have to be vaccinated after 28 days.  Immunity against the Covid-19 will kick in two weeks after the second dose of the vaccine is administered," said Jha.
The civil surgeon pointed out that half of the 8,000-plus vials of Covishield had been kept in reserve for use after 28 days. This way, only 4,000 vials would be used in the first phase of vaccination.
"As of now the vaccination drive will continue at MG and TMH till fresh stocks reach the district. Vaccination will be conducted four days a week, starting from Monday and 200 health workers -- 100 at MGM and 100 at TMH -- will be vaccinated each day from now on," he said. 
East Singhbhum deputy commissioner Suraj Kumar also monitored Saturday's exercise closely at MGM. He interacted with the health workers as well as doctors.