MGM Hospital staff protest alleged botched operation
Doctor refuses to do dressing on the wife of a staff member who underwent tubectomy surgery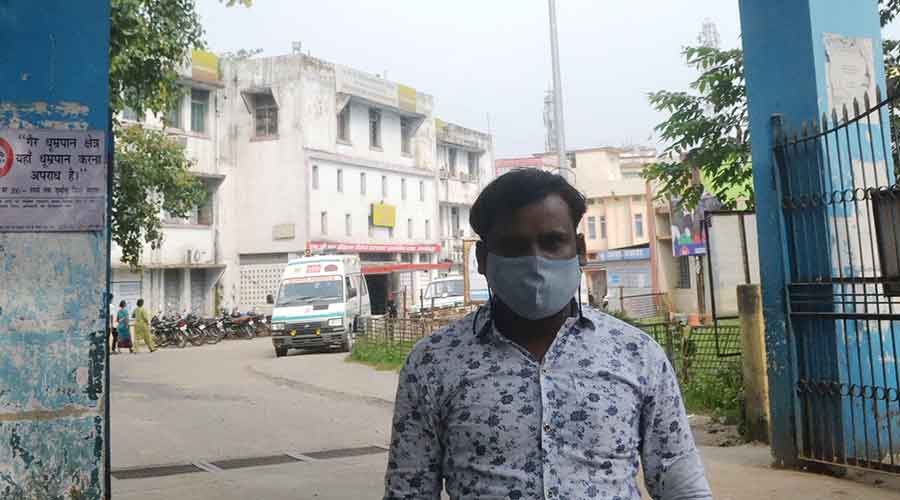 Staff member Suru Patro at the entrance of the MGM Medical College Hospital on Wednesday.
Animesh Sengupta
---
Jamshedpur
|
Published 30.06.21, 07:09 PM
|
---
A group of staff at MGM Medical College Hospital held a protest at the superintendent's chamber on Wednesday against alleged negligence in treatment of a 32-year-old woman whose tubectomy surgery went wrong.
The unpleasant situation cropped up after the gynaecologist, Dr Shikharani, under whose unit the patient was being treated, had refused to get a dressing done of the patient identified as Rani Patro. 
Rani's husband Suru Patro, who is a subordinate staff of the medical college hospital, had pressed the gynaecologist to get the dressing done in a proper manner. 
Revealing about the matter, Patro, 38, pointed out his wife had undergone tubectomy surgery at the hospital in 2017.
"But a month ago, Rani conceived despite having the sterilisation surgery. After the consultation with the gynaecologists, Rani who is a mother of two had to undergo tubectomy for the second time after an abortion on June 14," narrated Patro to The Telegraph Online.
Patro said he became concerned since over a fortnight had elapsed since the second tubectomy was done, the wound did not heal up. 
"As there was no improvement in the wound, I had urged the gynaecologist concerned to see the dressing is done properly. My request had angered her and she refused to do the dressing. Then only I mobilised support of my fellow employees and went over to meet the hospital superintendent, demanding action against Shikharani," Patro pointed out. 
The subordinate staff said four years ago gynaecologist Mridula Shrivastav did a wrong tubectomy surgery and another gynaecologist refused to get the dressing done for the wound caused due a failed sterilisation surgery. 
While approaching the superintendent, Patro along with about 30 supporters had shouted slogans against the gynaecologist in question. 
Sanjay Prasad, superintendent, MGM Medical College Hospital confirmed about the protest by a section of subordinate staff over alleged negligence in treatment. 
"I have received the complaint and will get it investigated, "said Prasad to The Telegraph Online, adding that he would ensure that the patient in question will receive proper treatment.