Mega ran-o-thon in Ranchi on Sunday
Over 10,000 to take part in 3 categories, 21km, 10km & 5km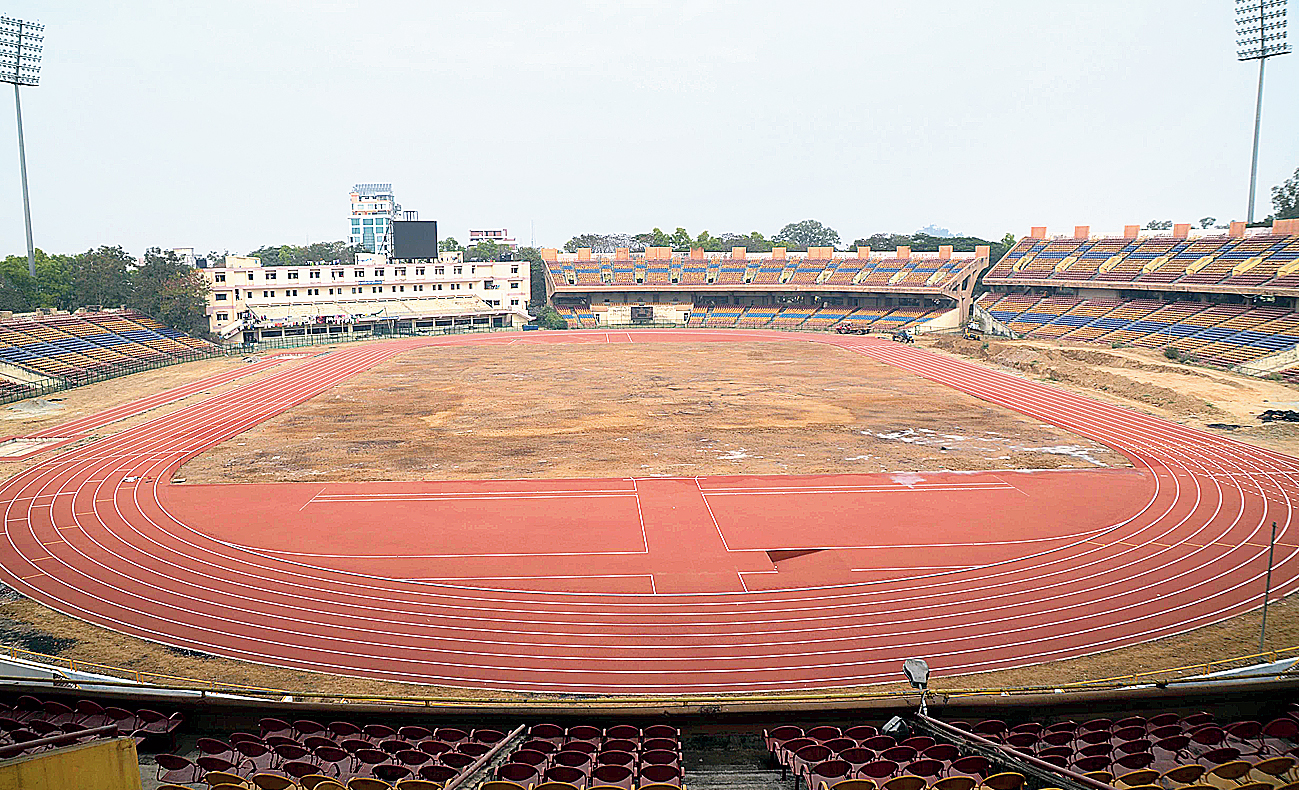 Birsa Munda Football Stadium where the Ran-O-Thon will be held
The Telegraph file picture
---
Ranchi/Jamshedpur
|
Published 08.03.19, 07:36 PM
|
---
Over 10,000 people from across the country and abroad will put on their running shoes as they take part in the fourth edition of Ran-O-Thon at Morabadi grounds in Ranchi on Sunday.
To be jointly organised by the state tourism, art, culture, sports and youths affairs department, a private telecom company and NGO Roundtable India, the event will be held for three causes — to pay tribute to our brave soldiers, to promote healthy living and encourage people to vote.
"There will be attractive cash prizes for winners. We have allowed free registration for state-owned schoolchildren and trainees at state-owned training centres," said state sports secretary Rahul Sharma.
The event will be held under three categories — 21km, 10km and 5km. Besides, there's also a non-Indian section under 21km category.
"All the races will be flagged off by state sports minister Amar Kumar Bauri from Birsa Munda Football Stadium at Morabadi grounds. The first race will begin at 5am," said sports director Anil Kumar Singh.
Top three winners in the 21km Indian men and women category will get cash prizes worth Rs 2,00,000, Rs 1,00,000 and Rs 50,000, respectively, while the winner in the non-Indian men and women's categories will get Rs 1,00,000.
In the 10km men and women category, first, second and third position holders will get prize money of Rs 75,000, Rs 50,000 and Rs 25,000, respectively.
"This year we will also hold a special event for people above 55 years of age in the 10km category and top three winners will get prize money of Rs 25,000, Rs 15,000 and Rs 10,000, respectively. Similarly, for children below 14 years in the 10km category, top three position holders will get prize money of Rs 10,000, Rs 5,000 and Rs 2,000, respectively" said the sports director.
The winners in the 5km category will only get a medal and a certificate but no prize money.
"All the races will conclude at Morabadi grounds and the prize distribution ceremony will be held in the evening," added Singh.
The sports department has already held talks with Ranchi traffic police to ensure snarl-free roads and deputation of ambulances and drinking water alongside the race routes.
"Traffic police will man the route of the run while health unit will provide ambulances and RMC will supply drinking water," said an official.