Meet quiz whizzes in business suits
TCS, Chennai, win corporate Q&A hands down in capital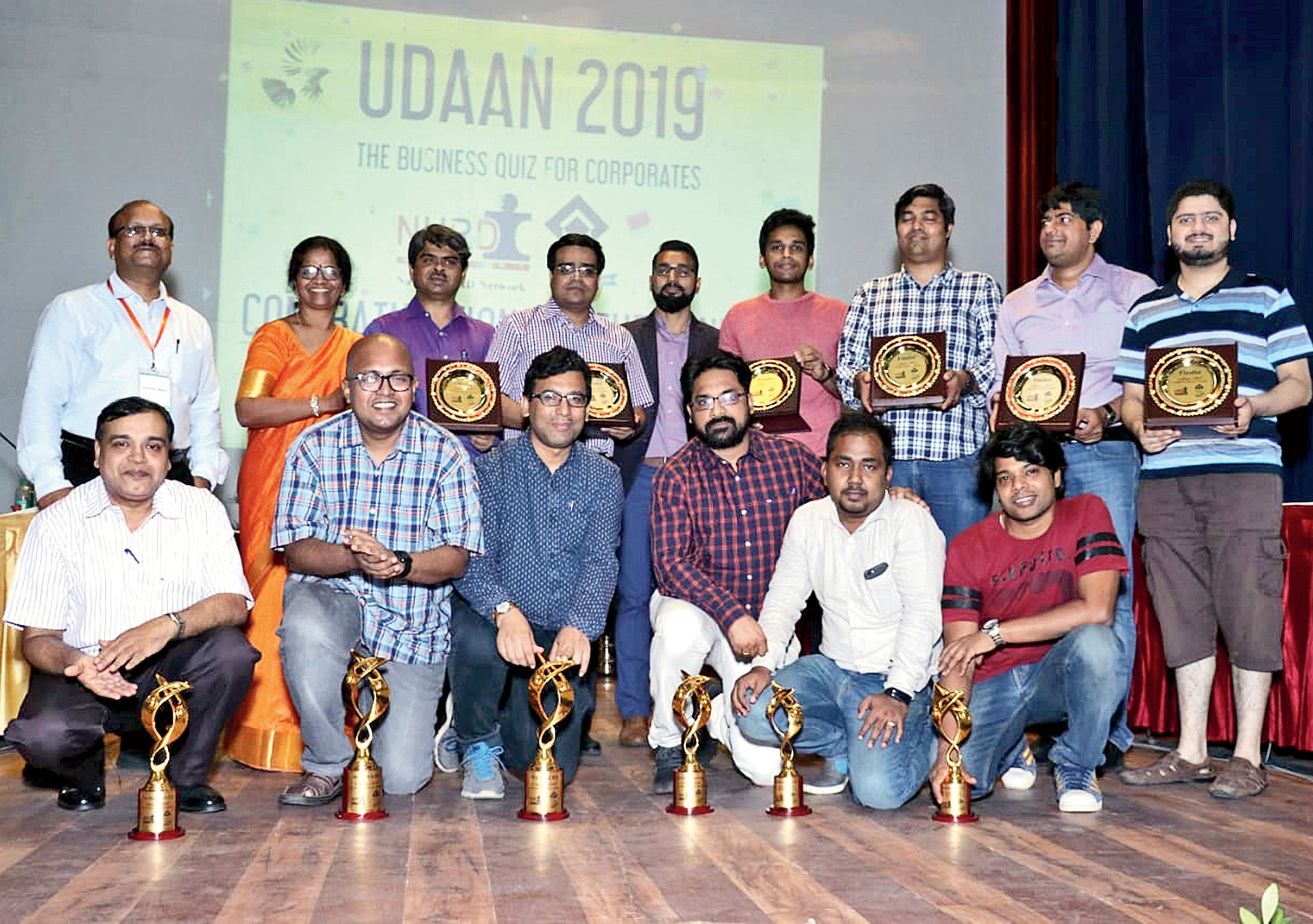 The winning teams of the corporate quiz in Ranchi on Sunday.
(Manob Chowdhary)
---
Ranchi
|
Published 23.06.19, 06:33 PM
|
---
Which company made toilet soap with a huge lump and why? Who are anchor babies? What is a String of Pearls? Why do those on the topmost floor of Dubai's Burj Khalifa, the world's skyscraper with 163 floors, break their Ramadan fast later than those in lower floors?
Curious? Such interesting questions were part of the 9th edition of Udaan, annual business quiz for corporate entities, hosted by National HRD Network (Ranchi) at the auditorium of the capital's Management Training Institute (MTI) on Sunday.
Competing with 77 other two-member teams from corporate houses and PSUs from across India, the Tata Consultancy Services team of Jayakanthan R. and Aniruddha Dutta from Chennai won the quiz by a wide margin.
While TCS clocked 96 points, first runner-up Rourkela Steel Plant comprising team mates Sampad Mishra and S.S. Panda finished their tally at 53. Second runner-up Capgemini with R.S. Saha and Sethu Madhavan from Calcutta scored 50.
Management Training Institute executive director Kamakshi Raman handed over Rs 75,000 to TCS, Rs 35,000 to RSP and Rs 25,000 to Capgemini. All three teams received trophies, too.
These three apart, others who reached the final round were Reserve Bank of India, MJunction and Ernst & Young. The quiz was sponsored by SAIL, NALCO, NTPC, IIMM, Siemens and Midhani.
TCS had won the quiz last year as well, smiled Jayakanthan. "I was a member of the winning team last year too but found the quiz more competitive this time," he said.
Agreed quizmaster Ajay Poonia: "The standard of this business quiz is going up as the companies are sending really well-prepared teams."
As to answers of the questions above, they are as interesting as the questions. Lux manufactured special-edition soaps with massive lumps to spread awareness on breast cancer for distributing in health camps. Anchor babies are those born to non-citizen mothers in countries that have birthright citizenship. String of Pearls is the geopolitical theory on potential Chinese intentions in the Indian Ocean region.
And, if you are somewhere in the region of the 163rd floor of Burj Khalifa, you can see the sun set a couple of minutes later than those in the lower floors, thanks to the angle at that height. That's why people on the top floors break their Ramadan fast a little later.