Medical trash safety to bin epidemics: JSPCB's event shows the way
Workshop on biowaste tracking to aid health facilities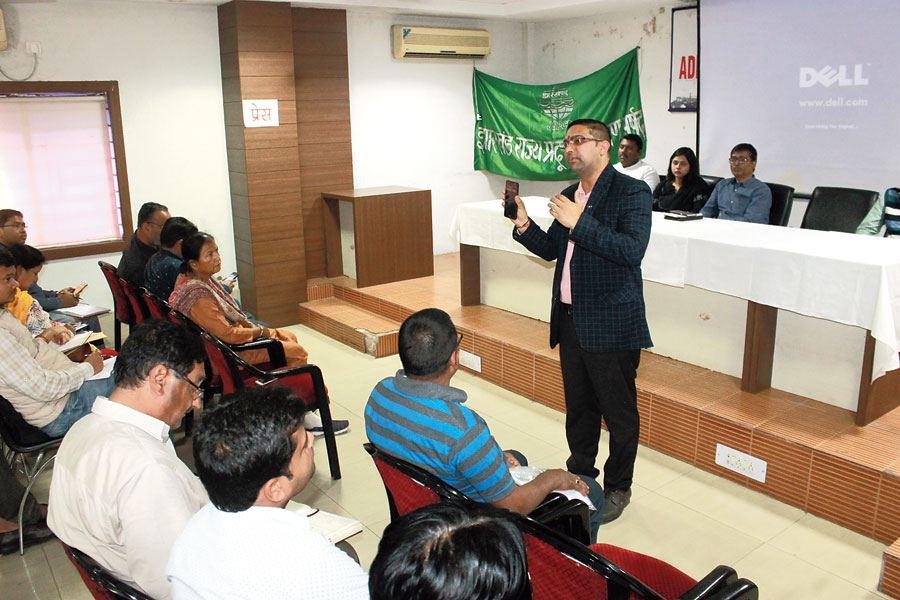 Ashok Kumar, the founder of Safe Bio, speaks at the ASIA hall in Adityapur on Thursday.
Picture by Bhola Prasad
---
Jamshedpur
|
Published 27.02.20, 06:50 PM
|
---
Biomedical waste can be one of the prime reasons for epidemics. That's why, it should be tracked, monitored and safely disposed of.
The Jharkhand State Pollution Control Board (JSPCB) regional office organised a workshop on Effective management of biomedical waste and implementation of QR code at the Adityapur Small Industries Association (ASIA) hall on Thursday.
Officials of JSPCB, including its regional officer Suresh Paswan, attended the workshop held with around 150 healthcare facility representatives in the three districts of Kolhan.
Hospital representatives were told how to weigh everyday waste using digital platform Safe Bio.
Founder of Delhi's Safe Bio Ashok Kumar, who has partnered with the JSPCB for tracking and monitoring of biomedical waste, explained the process to the representatives.
"Many hospitals are not following a method to safely dispose of the biomedical waste and thus this tracking system is necessary. Everything will be managed digitally. From picking up the waste to its disposal. Everything will be tracked and reported on every day basis. In fact, biomedical waste needs to be disposed of within 48 hours," said Paswan.
The healthcare facilities will need to first register themselves on a particular link given on the JSPCB website after which they will receive four different QR codes through courier. These QR code stickers will be put on the biowaste baskets of four colours — yellow, red, blue and white. They will also have to download and register on the Safe Bio mobile app to get a login ID and password.
After the waste collection per day, the QR codes need to be scanned before it's picked up by the Common Bio-Medical Waste Treatment Facility (CBMWTF). The JSPCB shall charge Rs 7 per bed for each healthcare facilities for the service.
"Everything will be managed online till the disposal. The whole system is to track the waste till it is disposed of. This will improve the system in health services and have a positive impact on the environment," said Ashok Kumar, who has already conducted workshops in other districts, including Ranchi and Dhanbad.
The Kolhan division has around 357 healthcare facilities, which will need to follow the new system.
"It is a welcome step which should have been introduced long ago. Odisha and Maharashtra have already done it. It's better late than never," said S.K. Behera, the chief medical officer of Railway Hospital, Tatanagar.