Maximum focus on digital marketing
First-of-its-kind conclave at XLRI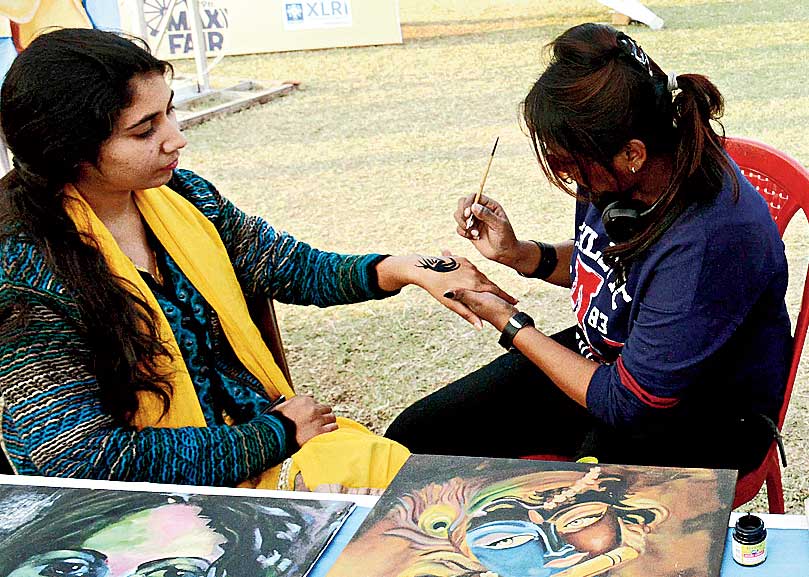 Students paint tattoos at Maxi Fair in XLRI in January this year
Telegraph picture
---
Jamshedpur
|
Published 23.12.18, 06:37 PM
|
---
The 40th edition of Maxi Fair, organised by the Marketing Association of XLRI to conduct a survey to read consumer behaviour, will be held on the B-school campus on January 12 and 13.
With "trends in digital marketing" as the theme, the popular Maxi Fair will organise a first-of-its kind marketing conclave this time.
Around 30 former business management students of XLRI, who were also members of the Marketing Association, are expected to be on the campus on the first day of the event.
To acknowledge marketing as a skill, Maxi has decided to confer two awards to its past Maxi members — one for overall marketing achievements and another for brand sustainability.
"We are expecting around 30 former members. Initially, the number of students on the campus were less. Therefore, Maxi, too, had lesser members, but they are they people who have steered it forward. So it is going to be special this time," said Anuvab Banerjee, a senior executive member of Maxi.
The Maxi members will conduct marketing research in disguise for companies such as ITC, HUL, Coca Cola, Nestle and Havells.
For the last few years, students have been conducting surveys for five to six companies to ensure that the quality of research is not compromised.
At the fair, participants have to play fun games that are based on their choices in real life situations as students collect data and come up with specific solutions for companies.
"There have been times when we conduced eight research activities for eight companies, but that affects the quality of research. Therefore, we have decided to work for five to six firms. We have already designed the games for the research," Banerjee said.
Over 10,000 visitors are expected at the fair this time.
Maxi Fair will also offer recreational activities for youngsters such as paintball, zorbing, video games, merry-go-round and fancy dress competition.