Masks distributed, peace meets held as Daltonganj gears up for festive season
Toothy grins greet Sri Kendriya Durga Puja Mahasmiti workers and traffic police as they distribute masks to bikers and pedestrians flouting Covid norms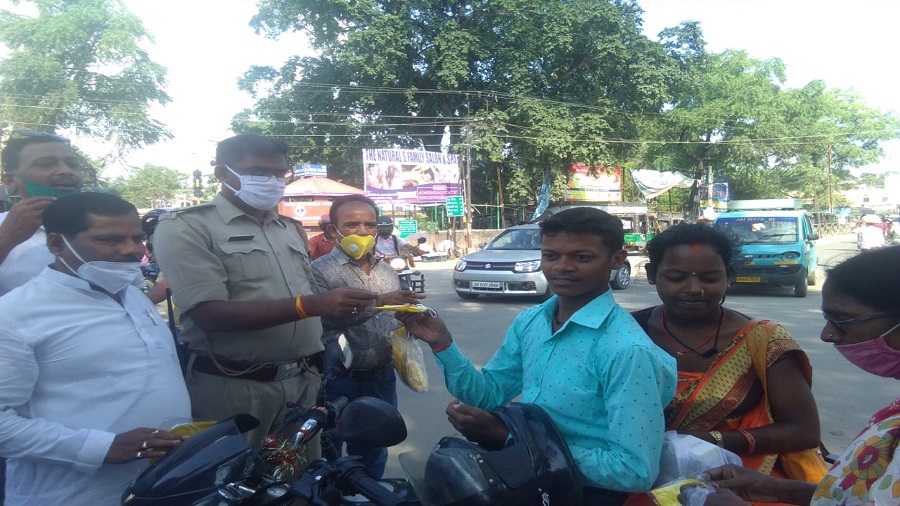 ---
---
The Sri Kendriya Durga Puja Mahasamiti in Daltonganj has set an example here on the very first day of 9-day festival of Durga Puja on Saturday, when the club's president and other members in collaboration with traffic police distributed masks among pedestrians and bikers who were found not wearing them.
Sources said the Mahasamiti members and cops asked people to live every moment of life while following health protocols, so as not to contract Covid-19.
BM Pandey, a member of the Mahasamiti and chief train ticket examiner at the East Central railway said, "Our president Durga Johri and our team, along with traffic police-in-charge Saras and his team distributed masks among pedestrians and bikers who were without masks and looked most unconcerned about Covid-19."
"It hurt us to find people throwing caution to the wind when there is no room for any complacency in this pandemic," he said.
"When we asked them why they weren't wearing masks, they just grinned toothily!" Pandey added.
No puja organizations here have launched such a drive to make people aware of the lurking health hazards that come with flouting Covid norms.
The Mahasamiti has taken this bold initiative in creating Covid awareness before the onset of Saptami, Ashtami and Navami, when hordes of people come onto the street to see the pandals.
"Last year we went hopping from one puja pandal to another to see which one is the best decorated, but this time we will be moving around to find which of the puja pandal here in our town is most simple," said English Honours student Sweetie Kumari, adding that the background to the Pujas this year is most austere.
There was a tinge of deep sadness in her voice when she made this comparison.
The Telegraph Online spoke to SP Palamau Sanjeev Kumar who said that police along with civic officials have conducted peace meets of people drawn from both Hindu and Muslim communities in all of 25 police stations.
"The two communities have resolved to have an incident-free Puja here in this district," he said.
DC Palamau Shashi Ranjan said, "We are soon going to have a central peace committee meeting with Sri Kendriya Durga Puja Mahasamiti to drive the point home and also to hear from them at length."
Sources said Palamau district, which has seen frequent bouts of communal eruptions during Durga Puja in the past, ironically has a good tag about it as well.
During Muharram, the Mahavir Nav Yuvak Dal, popularly known as the Ramnavami Committee, holds a reception in honour of the members of the Muharram Inteezamiya Committee and felicitates them with shawls and mementoes.
Similarly, during Ramnavami, the Muharram Inteezamiya Committee reciprocates in the same fashion and warmth.
On Sunday a peace committee meeting was held under the joint venture of SDO AS Baraik and SDPO Sadar Sandip Kumar Gupta, where members of the two social outfits, besides elites of the town, participated and reiterated to celebrate this Puja in a restrained manner.