Marandi seeks justice for Rupa Tirkey, says Hemant government shielding culprits
BJP leader flays state govt for not registering FIRs in connection with the police officer's murder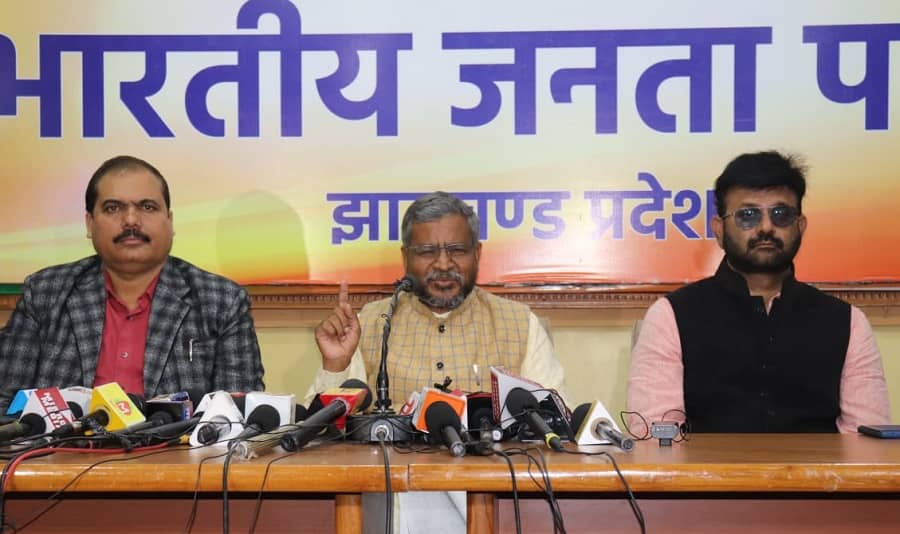 Babulal Marandi (centre) at a news meet at the party office on Friday
The Telegraph Picture
---
Ranchi
|
Published 10.12.21, 06:48 PM
|
---
BJP leader of the Opposition Babulal Marandi on Friday lashed out at the Hemant Soren government for sitting on a court order to file FIRs against the chief minister's political representative and three police officers in connection with the murder of Rupa Tirkey, a woman police officer. 
"Ironically, 10 days have passed but no FIR has been filed. The Hemant Soren government doesn't even care about a court order. What is shocking is that this state under a tribal CM is increasingly reporting atrocities on tribals. The tormentors of the tribal family are moving freely in utter contempt of court," Marandi said.
"People who speak ill about a woman after her death don't even deserve to be in public service. The DSP, city SP and others must immediately be arrested and sent to jail. They can't be guardians of the public, specially  tribals in this state," he added.
On November 26, a special court ordered the SC/ST police station in Ranchi to lodge FIRs against Ranchi City  SP Saurabh, Sahebganj DSP Pramod Mishra, CM's political representative (in his constituency of Barhet) Pankaj Mishra and SC/ST officer in-charge Radhika Minz, in connection with the murder of  Rupa Tirkey.
Rupa, who was posted as officer in-charge of Mahila thana in Sahebganj, was found dead under mysterious circumstances in her quarters in May. The incident triggered a massive uproar among tribal organisations. Suspecting murder and involvement of "influential"persons, her parents demanded a CBI probe. 
While the CBI is currently probing the case following a Jharkhand High Court order, Rupa's mother Padmavati Orain approached the court in November seeking action against Pankaj, Pramod and others. She accused them of character assassination and using social media to tarnish her daughter's name after her death. 
Orain told the court that despite approaching the SC/ST police station in Ranchi to lodge a complaint, her plea was not entertained. Last month, the court ordered the state police to file FIRs against the accused officials, including Ranchi City SP Saurab.  
On Friday, Marandi also criticised the state government for becoming arrogant. He said that despite the Election Commission of India's diktat to remove Deoghar deputy commissioner Manjunath Bhajantri, Hemant and his party (JMM) were trying to cover-up for him.
 "ECI is a constitutional body and it's order is very clear. It asked that the Deoghar DC be removed immediately and not assigned any poll related work. He (Deoghar DC), who has been acting as an agent of a particular party, is not fit to be a public administrator," said Marandi.