Marandi poser for JMM govt on rising crime
'Maoist extremism had almost vanished under the BJP government, but has resurfaced across the state'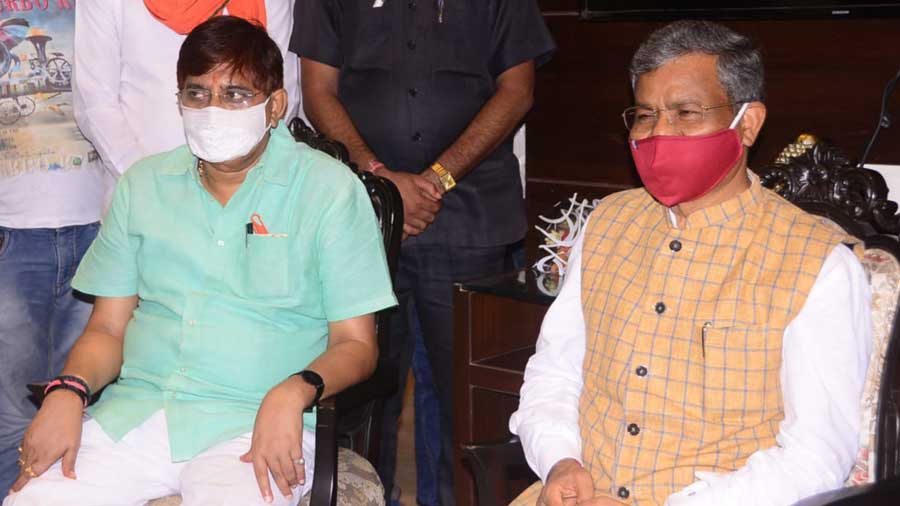 BJP leader Babulal Marandi (right) with Dhanbad MLA Raj Sinha in Dhanbad on Wednesday evening.
Gautam Dey
---
Published 16.09.20, 10:40 PM
|
---
The leader of the Opposition, BJP leader Babulal Marandi, on Wednesday blamed the Jharkhand Mukti Morcha (JMM) government in the state for deteriorating law and order triggered by a rise in Maoist violence, growing crime rate and flourishing illegal trade of minerals. 
Marandi alleged that in nine months of the JMM's rule, the government has failed to perform in every front.
The JMM government had the opportunity to bolster law and order and make healthcare available to coronavirus patients at government hospitals; however, it never focused on these areas, Marandi said. 
As a result, crime and Maoist violence are on the rise, and mismanagement at government hospitals is making Covid-19 patients suffer, he said. Private hospitals are charging exorbitantly high rates which the poor or middle class cannot afford, he added.
Marandi said: "Maoist extremism had almost vanished under the BJP government, but has resurfaced across the state. At least 85 minor and major incidents of Maoist violence have taken place during the JMM's rule." 
According to Marandi, Maoists who had left the state have returned.
Marandi, while talking to reporters at the Circuit House here, said that during the JMM's rule, theft, dacoity, loot, murder and other crimes have increased manifold. Women and girls are insecure because of the rising cases of rape, he said. 
"It is noteworthy that criminal incidents have increased when compared to the situation under the BJP government. Why would police fail to deliver under this government?" Marandi asked. 
He also stated that the districts on the border have seen a rise in illegal trade of coal, stone and other minerals. These are being smuggled to other areas and government leaders are crying for funds, he said. 
Development projects have been badly affected. Central government funds for MGNREGA and other schemes are reaching the ground, but there are high levels of corruption. 
The BJP also condemned the JMM's land mutation bill. The party will oppose the bill in the Assembly as well. The bill is not favourable to the people of Jharkhand, Marandi said.