'Maoist-turned-tormentor' lynched in Gumla
There have been several complaints of Sandeep Tirkey harassing villagers with firearms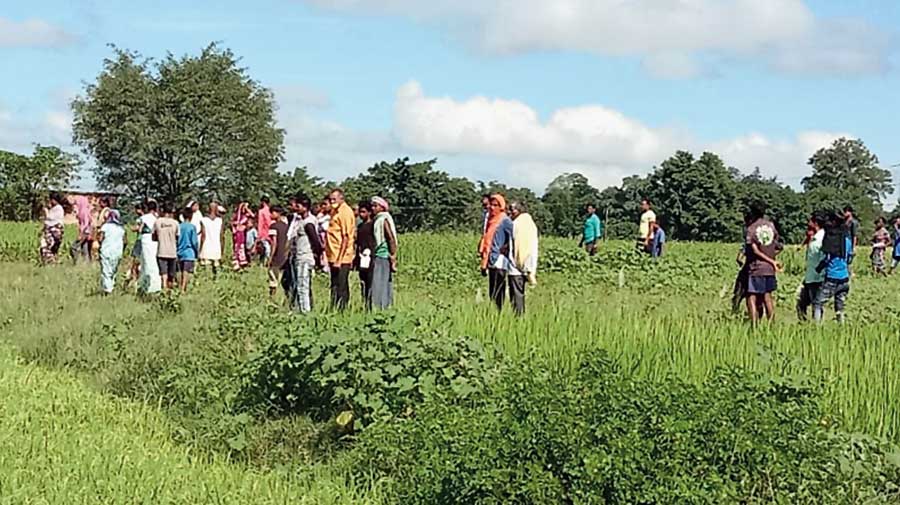 Villagers show policemen the scene of the lynching at Gumla on Monday.
Bhola Prasad
---
Jamshedpur
|
Published 15.09.20, 02:25 AM
|
---
A former Maoist cadre was allegedly beaten to death with sticks by a mob of over 80 people at a village in Jharkhand's Gumla district on Monday morning
The incident took place at Tesera village under Sadar police station of Gumla district, around 100km southwest of state capital Ranchi.
According to police sources, Sandeep Tirkey, 32, was associated with the People's Liberation Front of India (PLFI) — a splinter group of CPI Maoist — and had been to jail in this connection a few years ago and was released on bail a year back.
They said Tirkey had as many as four murder cases in his name.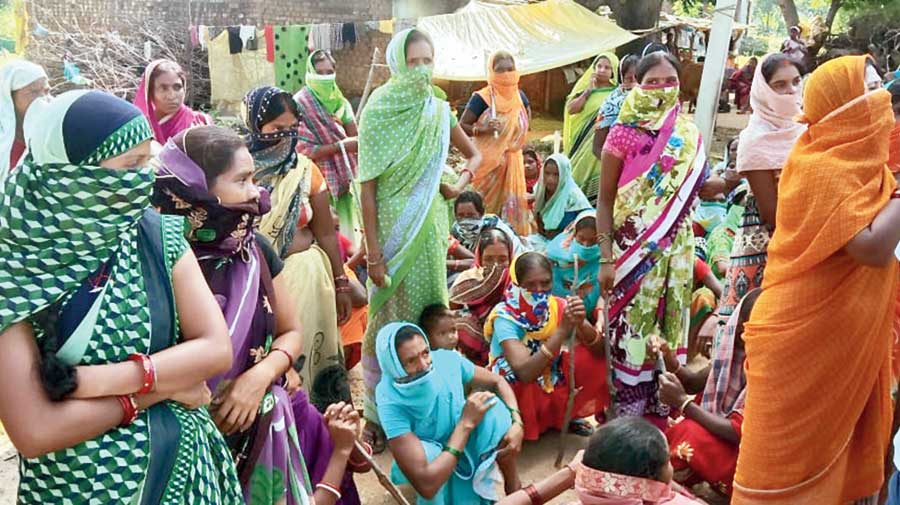 "After his release from jail, he left the PLFI and joined hands with a local criminal Basant Gope and used to extort local businessmen and also harass villagers for money.
"The police had been searching for him but during a raid at his house in Tesera he escaped. Villagers who were fed up with his harassment had been keeping an eye on him. Yesterday (Sunday) evening when he came to his house, the villagers held a meeting at night and decided to eliminate him," said a constable at the local police station preferring anonymity.
Gumla superintendent of police Hrudeep P. Janardhanan confirmed the lynching incident.
"It is difficult to identify the villagers who had taken part in the lynching as almost the entire village was involved. We have also heard about a meeting held by villagers. Had the meeting been held at the panchayat level, then we would have got a tip-off and prevented this incident.
"It might have been a spontaneous meeting by the villagers as they had been harassed for long by Tirkey who had as many as seven criminal cases against him, including four murders. There have been several complaints of him harassing villagers with firearms," the officer said.
He, however, said the police have been asked to trace out the villagers involved in the crime by lodging an FIR against unidentified persons.
"He (Tirkey) had been associated with the PLFI but after release from jail had joined hands with local criminals and used to threaten villagers causing resentment among them. However, there have no complaints of eve-teasing or molestation against the deceased," Janardhanan said.
Tesera residents, however, claimed that on Sunday evening Tirkey reportedly went to neighbouring village Baragaon and assaulted a youth.
The villagers then decided to teach him a lesson and gheraod his house on Monday morning but could not find him.
However, they found him at a roadside shop at a distance and after a chase in a field caught him and lynched him with sticks.
According to data available with Jharkhand Janadhikar Mahasabha, a human rights front, 24 people have been allegedly lynched by mobs in the state between March 2016 and June 2020.