Mandar Assembly byelection sees 60 per cent turnout
Congress candidate Shilpi Neha Tirkey, daughter of tribal leader Bandhu Tirkey, heads for a close fight with BJP's Gangotri Kujur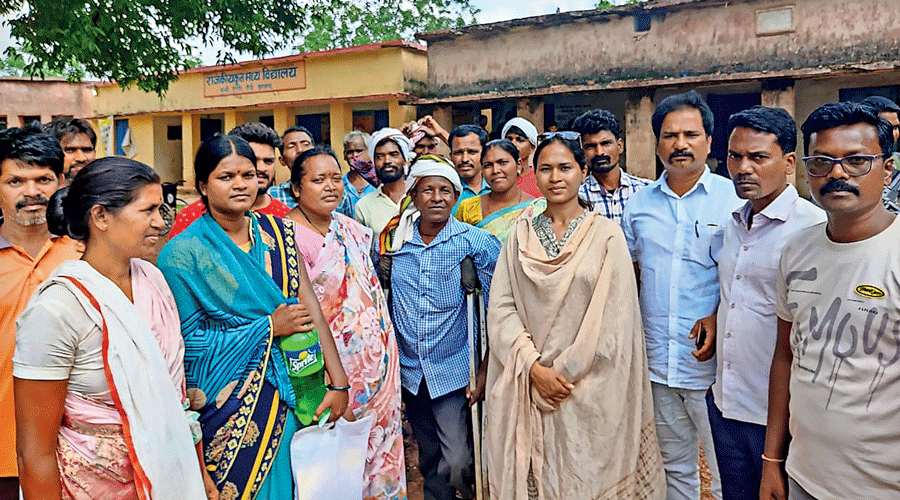 Congress candidate Shlipi Neha Tirkey (centre) at a polling booth in the Bero block of Mandar constituency on Thursday.
Manob Chowdhury
---
Jamshedpur
|
Published 24.06.22, 01:04 AM
|
---
Congress candidate Shilpi Neha Tirkey headed for a close fight with BJP's Gangotri Kujur as over 61 per cent of the 3.54 lakh voters exercised their franchise in the byelection to Mandar Assembly in Jharkhand's capital Ranchi district on Thursday.
Incidentally, Shilpi is the daughter of tribal leader Bandhu Tirkey who has been winning all elections in Mandar constituency since the state formation, except in 2014 when Gangotri Kujur won on BJP ticket.
In 2019, Bandhu had won on JVM party but had switched over to the Congress in 2020 after JVM chief Babulal Marandi decided to shift alliance to the BJP. Bandhu was disqualified following his conviction in a disproportionate assets case earlier this year by a CBI court in Ranchi, necessitating the bypoll.
Though it is headed for a one-to-one fight but entry of Dev Kumar Dhan who had contested on BJP ticket in 2019 has thrown his hat into the election from the All India Majlis e Ittehadul Muslimeen (AIMIM) ticket and might turn to be spoilsport for both the BJP and the Congress.
"The intensive campaigning by Congress and JMM leaders in the last week have managed to stop split in Muslim votes to a large extent especially after the rally by AIMIM president Asaududdin Owaisi blaming both the BJP and the JMM-led UPA government for the killing of two Muslim youths in Ranchi violence. We are confident of retaining the seat after analysis of booths in all the four blocks — Itki, Chanho, Lapung, Bero and Mandar — under the Assembly constituency," said a close confidante of Bandhu.
Shilpi sounded upbeat. "I am more than confident of winning the election," she said.
BJP state chief and Rajya Sabha MP, Dipak Prakash exuded confidence of a comprehensive victory for their candidate.
"Tribals are solidly with us and have decided to teach the corrupt government a lesson this time. We are going to win the Mandar seat by a comprehensive margin," said Prakash.
Meanwhile, Jharkhand chief electoral officer K Ravikumar said that election has been held peacefully.
"No untoward incident has been reported from anywhere in the assembly constituency. Though elections were to be held between 7 am and 4 pm, in some polling booths there were people in queues even after 4 pm and they were allowed to cast votes. The data available till 5 pm indicates 61 per cent voting," said Kumar.
He also said that there were some complaints about names not being found in the electoral rolls which are being investigated by the election commission.
Voting took place in 433 polling stations, with 141 booths having been declared hyper-sensitive, 218 as sensitive, and 55 as vulnerable.
Over 3.54 lakh voters, including 1.75 lakh women, are eligible to exercise their franchise in the by-election to decide the electoral fate of 14 candidates in the fray. The votes will be counted on June 26.
More than 3,000 security personnel, including Jharkhand Armed Police (JAP), CRPF, and SSB, have been deployed.
"We have made elaborate arrangements as the constituency borders rebel hit districts of Gumla, Simdega and Khunti," said a senior Ranchi police official.
Chief Minister Hemant Soren tweeted, "Voting for the Mandar assembly by-election is underway. This is the fourth bypoll in the state in 2.5 years. I am sure that the people of Mandar will give priority to public welfare by defeating lies and arrogance in this by-election. The ideology of Jharkhandi and Jharkhandiyat will be further strengthened."
मांडर विधानसभा उपचुनाव हेतु आज मतदान हो रहा है। 2.5 वर्षों में राज्य आज यह चौथा उपचुनाव देख रहा है।
मुझे विश्वास है मांडर वासी इस उपचुनाव में झूठ, दम्भ और अहंकार को हराकर लोक-कल्याण को प्राथमिकता देंगे। झारखण्डी और झारखण्डियत की विचारधारा और सशक्त होगी।
जय झारखण्ड!

— Hemant Soren (@HemantSorenJMM) June 23, 2022
BJP national vice-president and former chief minister Raghubar Das in a Twitter post said, "There is a by-election to the Mandar assembly seat today. I appeal to all the voters of Mandar to vote against dynastic politics and corruption and help the BJP's development and good governance win."
आज मांडर विधानसभा का उपचुनाव है।

मांडर के सभी मतदाताओं से अपील करता हूं कि बड़ी संख्या में परिवारवाद और भ्रष्टाचार के खिलाफ मतदान कर भाजपा के विकास और सुशासन को जिताएं।

मतदान अवश्य करें। pic.twitter.com/hA8zyNXeFE

— Raghubar Das (@dasraghubar) June 23, 2022