Man tries to greet zoo tigress, dies at Bhagwan Birsa Biological Park
Eyewitnesses saw the man folding his hands and bowing low in front of the tigress seconds before she leapt at him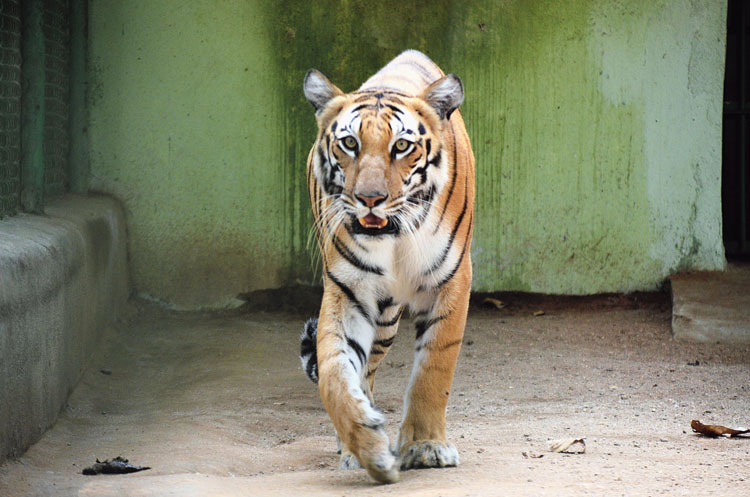 Police and forest officers inspect the incident spot at Bhagwan Birsa Biological Park at Ormanjhi near Ranchi on Wednesday
---
Ranchi
|
Published 04.03.20, 06:54 PM
|
--- A 27-year-old man was mauled to death by a tigress at Bhagwan Birsa Biological Park here on Wednesday morning when the man got too close for comfort in the first incident of its kind at the 26-year-old zoo spread over 87 hectares that has only six security guards.
Motor mechanic Wasim Ansari a.k.a. Babloo managed to jump inside the tiger enclosure to catch the attention of nine-year-old tigress Anushka around 11.20am.
Eyewitnesses saw Babloo folding his hands and bowing low in front of the tigress seconds before she leapt at him.
The 200kg-plus tigress grabbed Babloo by his neck and almost chewed it up.
Babloo died swiftly owing to profuse bleeding and a badly damaged windpipe and neck bone.
By then, visitors and park staff started pelting stones at the tigress. When she retreated, Babloo's body was brought out. Ramjeet Oraon and Afzal, two employees at the zoo, were among the eyewitnesses of the incident.
"We were working in the Garuda enclosure (for birds) situated in front of barricaded enclosure of the tigress. We shouted at the youth when he scaled the first net barricade, said kya kar rahe ho, niklo (what are you doing, get out of there)" Oraon said.
"It was a weekday morning and there were a few other visitors, but everyone who was present shouted at the youth. It seemed he did not listen.
"He scaled the knee-high concrete wall of the moat, which was dry, and jumped into the moat and got up to the stone stairs near where the tigress was pacing. She charged at him. It was all over in seconds."
Another eyewitness claimed Babloo had greeted the tigress with folded hands.
Park director Venkateswarlu said that the deceased seemed to be a "little mentally unsound".
"No sane person can make such attempts. There are boards all across the park warning people not to enter the restricted area or tease animals or throw pebbles or edibles at them. As per CCTV camera footage he bought entry ticket from the counter at 10.55am," he said.
The park entrance has six CCTV cameras but there is none inside the premises. Also, there are only six security guards for the sprawling 87-hectare zoo.
Asked if these were enough, the director said there was a proposal to install CCTV cameras at strategic locations inside the park.
Venkateswarlu said the park was divided in two sections, the 87-acre zoological section and the botanical section on the opposite side of the adjoining highway that is spread over 23 hectares.
About the deceased youth, his friends Babu Khan and Md Sarfaroz Ansari later told The Telegraph that Babloo had gone to the zoo alone in the morning.
"He lived in Khiju Toli area and worked as an auto mechanic at a garage in Booty Mor. He was the eldest of four children, he got divorced a couple of months ago. His marriage lasted only five months. He was pretty stressed and upset about that," Babu said.
Both the friends denied that Babloo ever did drugs.
"He would smoke now and then," Sarfaroz said.
The friends added that Babloo was "childish".
"He was childish and simple. And yes, he was disappointed about his divorce. But he never exhibited any symptoms of suicide. We chatted with him last evening too (Tuesday). He was okay then," Babu said.
Sarfaroz added: "It's amazing that there were no guards at the zoo to stop him from taking such a step."
The tigress Anushka has been placed under observation.
Birsa zoo currently has four tigresses, Anushka, her daughters Lakshmi and Saraswati, as well as the fourth, Gauri.
The zoo also has three tigers — Mallick, Java and Shivam.
Among the seven, Java is the lone white tiger.
A tiger caretaker said the big cats were ferocious animals and needed to be attended to very carefully, even when they are being fed.
"This is their mating period and apparently no male tiger is showing Anushka any interest. I feel she is annoyed over this," he said.