Mahua took the cake at Van Mela in Ranchi
3-day indigenous fair in Jharkhand capital draws 20,000 visitors, sales touch Rs 20 lakh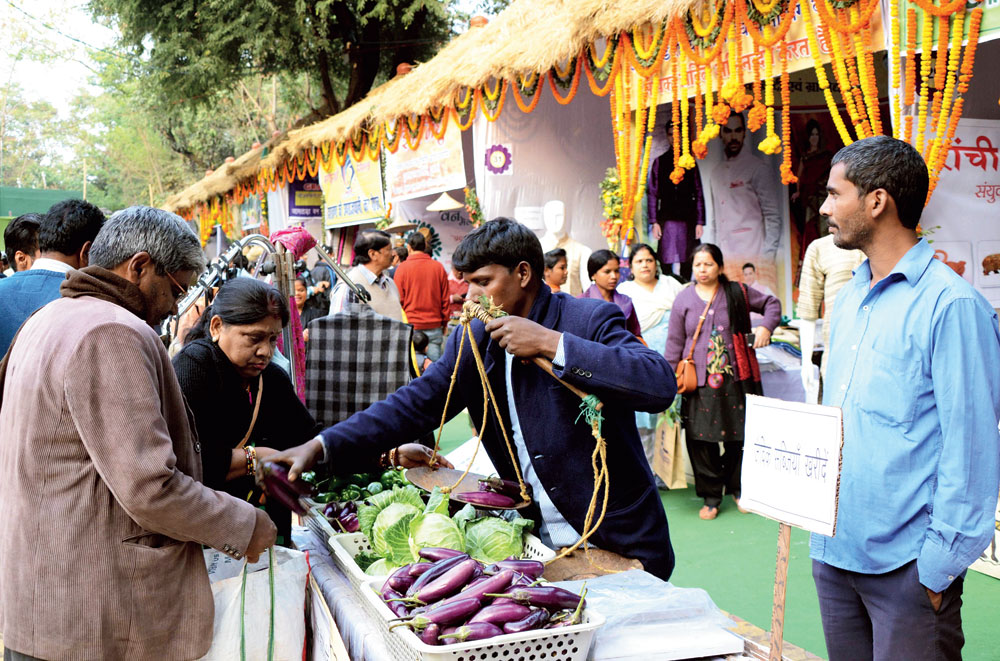 Healthy Buy: Visitors at an organic vegetable stall at Van Mela in Doranda, Ranchi, on Monday.
(Manob Chowdhary)
---
Ranchi
|
Published 03.12.18, 05:36 PM
|
---
If happiness is a piece of cake, heady happiness can sure be a piece of mahua cake — the unusual dessert variety that was available at the three-day Van Mela, which concluded in Doranda on Monday with cumulative sales touching Rs 20 lakh.
Not just remarkably indigenous cakes and biscuits made of mahua or khejur gur (date molasses), the fair at the forest department's Palash complex displayed several other exemplary skills of woodland dwellers. For instance, hats made of sisal straw instead of cane. The former is both lighter on the head and looks dandier.
The 40-plus kiosks have been facilitated by various forest divisions of the state. While the stall of Dumka forest division offered delicacies like mahua and gur cakes and biscuits, the Jamtara one stocked up bamboo décor items.
The stall from Simdega had caps and baskets made of leaves — rustic charm at its very best. The sisal hats, made of fibres extracted from the tropical plant, was the USP of the Latehar forest stall.
Terracotta from Santhal Pargana and snake repellents made of mahua were also among crowd magnets.
The three-day fair saw a visitor count of 20,000.
Amit Roy, who was supervising the Dumka stall, said mahua was the key ingredient for their cakes and biscuits, besides flour. "The recipe is indigenous and hence, you won't find it anywhere else," he said, tempting government officials with a few slices, which the latter vouched was nothing like they had ever tasted.
A handful of entrepreneurs also showcased their products at the fair. "I make jackfruit pickle, which is not as common as mango and berries. Visitors seemed to like it," said Vimla Devi who came from Basia block of Gumla.
A small food court was an added attraction, whetting appetite with bhetki fry and chicken momos. One stall even sold juices, including those made of bitter gourd and ginger.
"We want to bring forest dwellers to the main stream by displaying their skills and finding them a market for their products. We are overwhelmed by the response," principal chief conservator of forests Sanjay Kumar said.
Regional chief conservator of forest A.P. Mishra said three stalls were awarded on the concluding day.
"The palm leaf stall from Seraikela came first, followed by Dumka's mahua cake kiosk. The third prize went to Hazaribagh's sohrai painting stall. The cash prize was same for all — Rs 5,000 each," Mishra said.
He added that the three-day fair grossed sales of Rs 20 lakh. "The maximum of Rs 1.7 lakh was recorded at the lac bangle stall."
Ashish Singh, an employee of a private organisation, swore by mahua biscuits and sisal hats. "A-one stuff! So unique!" he said.
Santoshi Kumari from Doranda beamed while bagging organic vegetables. "I was on my way to the market, but took a detour. I am so glad to get these fresh produce," she said.