Lost in cheer, key to health care
Government cites infrastructure boost, but thousands of doctors are needed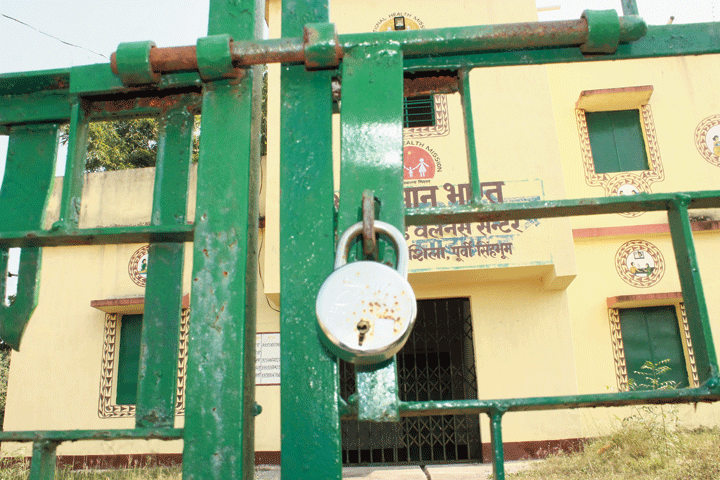 The locked Ayushman Bharat health and wellness centre at Jorisa in Galudih, Ghatshila, on Monday.
Picture by Bhola Prasad
---
Jamshedpur
|
Published 25.11.19, 08:46 PM
|
---
Deepak Das, 33, a contract worker in Jorisa panchayat under Galudih thana of Ghatshila block in East Singhbhum district, around 40km east of Jamshedpur, had to take his wife, who had a miscarriage, to a private nursing home this March paying nearly Rs 12,000. The Jorisa primary health centre, which was upgraded into an Ayushman Bharat health and wellness centre in September last year, was under lock and key due to lack of doctors.
Banmali Mahto, 48, a landless farmer in Putru village under Bada Kurshi panchayat in Ghatshila block, had no option but to undergo medical check-up for persistent cough while standing despite having dizziness few days back at the primary health centre of Kharia Colony which runs from an anganwadi centre because it does not have a of its own. The primary health centre and anganwadi centre does not even have electricity connection and its tube-well is lying defunct.
The government's report card on health care has a few distinctions, but old problem areas persist.
The Niti Aayog this year ranked Jharkhand third in the country for improving health service and 14th in the country for its health services. The state has built new hospitals, but lack of doctors is foiling the attempt to boost healthcare delivery in rural areas. To cite just an example, during this rainy season RIMS in Ranchi was overflowing with dengue patients from the villages.
As the two cases cited above show, most people in rural areas have no choice when it comes to health care.
"I had no option but to take my wife in an auto-rickshaw and get her treated in a private nursing home nearly 5km away in Galudih as the hospital in my village is always locked due to lack of doctors," said Deepak Das, who works at a shop in Mosaboni in Ghatshila.
The Jorisa primary health centre, a two-storey structure, was "upgraded" into an Ayushman Bharat health and wellness centre in September 2018. It is supposed to have a doctor, an auxiliary nurse midwife, a multipurpose worker and an anganwadi sahiya. But the doctor posted at the centre has to do duty at the Ghatshila community health centre as well. The result, the Jorisa health and wellness centre is mostly under lock and key.
Even the infrastructure boast has its problems, as the Putru village facility shows.
"We had to treat patients somehow as we do not have a building of our own since 2015 and are working from an anganwadi centre," said Dr Rashmi D. Bara, in-charge of the Kharia Colony primary health centre at Putru in Ghatshila.
"The anganwadi centre has only one room and a kitchen. When it is filled with children we have no option but to treat patients in the balcony. We refer serious patients to the Ghatshila sub-divisional hospital or Ghatshila community health centre. We face problems during summer season as there is no electricity. Neither is there water, as the tube-well is dysfunctional."
The state government cites the opening of three new state-of-the-art medical college and hospitals — in Hazaribagh, Dumka and Palamau — as a vast improvement compared to only three such facilities — in Jamshedpur, Ranchi and Dhanbad — before.
However, lack of appointment of doctors has put paid to the government's efforts.
"It would take decades to meet the doctor-patient ratio of 1:1000 set by the World Health Organisation (WHO)," said a senior state-level executive member of the Indian Medical Association and Ranchi-based general physician, requesting anonymity.
"At the moment there are around 10,000 doctors in the state which has around 3.25 crore people. The estimated shortfall of doctors is more than 22,500. Lack of planning and low budgetary allocations are to be blamed for this poor state of health care.
"There are nearly 1,500 doctors engaged in state health services — apart from medical colleges — which is far below the required strength. The problem becomes even bigger when more than 200 doctors are deputed for administrative positions creating a shortage of doctors," the senior physician added.
State director-in-chief of health, Dr V.N. Khanna, admitted that lack of doctors was a problem but claimed that things would improve soon.
"Earlier, we had medical colleges only in Jamshedpur (MGM Medical College and Hospital), Ranchi (RIMS) and Dhanbad (PMCH). Now we have new medical colleges functioning in Hazaribagh, Dumka and Palamau which would produce more doctors and enhance the pool of physicians. Construction work has also begun for two more medical colleges and hospitals at Chaibasa and Koderma which would further boost doctor and technician strength.
Construction of AIIMS has also begun in Deoghar," said Khanna.
He was also hopeful that fresh recruitments of doctors would happen soon.
"So far recruitment of doctors have been undertaken through National Rural Health Mission but hopefully there will be recruitments by the state government too," Khanna said.
He cited achievements of the health department.
"We started the 108 free ambulance service in November 2017 and so far 160 ambulances are functional and tagged with medical colleges and district hospitals and catering to bring patients to hospitals as early as possible after being contacted over the phone," he said.
The government also got Tata Trust chairman Ratan Tata to lay the foundation stone of a 300-bed Ranchi Cancer Hospital and Research Center at Sukurhuttu in the state capital in November 2018. The first phase is supposed to be operational from 2022 with 150 beds.
"Once operational, it will help patients of Jharkhand who now have to visit to big cities for cancer treatment," said Khanna. "We have also started earlier this year 39 mortuary vans across all 24 districts for ferrying dead bodies of poor people whose relatives cannot afford to pay the cost of private vans."
He cited improving maternal mortality — the number of registered deaths due to birth or pregnancy related complications per 100,000 registered live births — and infant mortality — the number of deaths per 1,000 live births of children under one year of age — rates.
"In the year 2000, the maternal mortality rate in Jharkhand was 400, which decreased to 165 in 2018. Infant mortality rate was 72, which decreased to 29 in 2018. Institutional deliveries, which were only 13.5 per cent, have increased to 80 per cent and complete vaccination has gone up from 9 percent to 87 per cent. These facts indicate that the state is on the path of reform in the field of health," said Khanna.
The government also claims that nearly 39,13,000 people have got golden cards under the Ayushman Bharat Yojana and a total of 2,26,000 beneficiaries have taken benefit of the scheme. The state has 429 private and 219 government hospitals empanelled under the scheme.
However, Opposition leaders said the cheer is mostly on paper.
"The government has only indulged in building infrastructure but doing practically nothing to solve the manpower crisis especially doctors and paramedics at the ground level," said state Congress spokesperson Kishore Sahdeo.
"The situation can be visible at any of the sub-health centres at panchayats. More than 60 per cent of the sub-health centres, the first point of contact between a patient and the government healthcare system, are either locked or running without trained doctors or paramedics. The situation is the same in government medical colleges and hospitals be it in Jamshedpur, Dhanbad or Ranchi. There are regular reports of patients dying due to poor health facilities at such centres. For example, the death of over 200 newborns at MGM Hospital and RIMS in 2017."
Even the new medical colleges are not all that they are billed to be. In October this year a crow pecking on the body of a week-old girl at the Palamau Medical College Hospital had shamed the state.