Lone woman bicycle tyre-repairer in Jharkhand is an inspiration for villagers
The Chatra resident and sole breadwinner of her 7-member family, can fix flats in a jiffy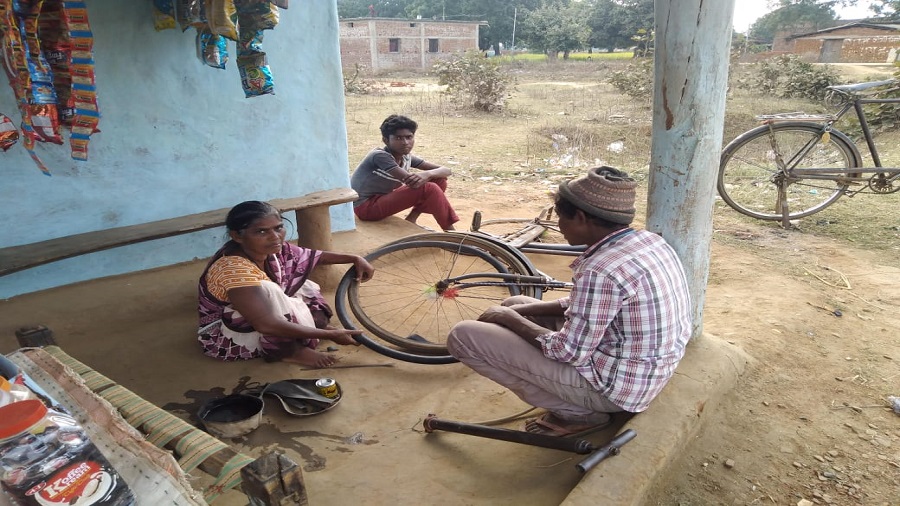 Shanti Kumari repairs a flat tyre in Chatra on Thursday
Vishvendu Jaipuriar
---
Hazaribagh
|
Published 16.07.20, 06:53 PM
|
---
Forty-five-year-old Shanti Kumar, a resident of the remote Hutaru village in Chatra, has become an inspiration for others, being the only woman in Jharkhand to be involved in the profession of repairing flat tyres of bicycles.

Shanti, who has trouble walking, had learnt the trade from a villager known for repairing tyres.
Her farmer father had passed away, her mother soon followed, her elder brother was taken mentally ill, and with nothing to eat at home, Shanti worked under the tyre repairer for five years, following which she opened her own shop outside her house in Lawalong road.
Today, she is not only an expert in repairing flat tyres but can also fix bicycle problems in seconds.
Shanti said she earns Rs. 200 to Rs. 250 daily and is the sole breadwinner of the family, which comprises of his mentally ill brother Babu, his wife and their four children.
Shanti said she never thought of getting married, as she wanted to take care of her brother.
"He got married but was not able to earn money so I stand like a pillar for him", she said.
Shanti helped two of Babu's daughters pass their matriculation exams and assisted them in their marriage.
The other daughter and son are still studying.

Shanti said she did not get any government benefits and moved ahead in life anyway with the strength of willpower.
"Maine agar pitaji-ma ki maut ke bad tut gayi hoti to aaj mera pura pariwar hi bikhar gaya hota (If I had given up after my parents died, then my family would have been lost)", she said.

Shanti admitted that the circumstances she faced after the death of her parents was enough to break anyone.
"We are living in male-dominated society where men commit suicide if they get trapped in such situation", she said.
"Par main himmat nahi hari aur apni ek alag raah bana payi (But I did not give up, and was able to pave a different road for myself), she said.
Shanti said that she wanted to study but never got the opportunity to go to school due to her family problems.
"But whatever I got in life, I am happy," she said.
"Mera bhai ka pariwar hi mere liye sabkuch hai, meri duniya hai (My brother's family is everything to me, they are my world)", she added while fitting the repaired tube of a bicycle tyre.
"Meri zindagi ki gadi sahi se chal rahi hi (The vehicle that is my life is working right)", she said revolving the tyre of the cycle to check a faultless finish.
Villagers said Chatra is a backward district, worst affected from extremism for long.
"We lacked job opportunities here, which made youth migrate. But Shanti proved that if you have the guts to take up challenges, all problems will subside automatically", added Arun Yadav, a villager.