LIFE promises to help green crusaders in their legal battle
Rakesh Kumar Singh said that they would be hosting workshops in Ranchi and in Dhanbad which is ranked among the cities with the worst air pollution in the country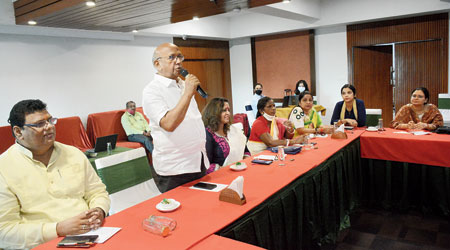 ---
Jamshedpur
|
Published 06.10.21, 12:12 AM
|
---
An environmental outfit, Legal Initiative for Forest and Environment (LIFE), has promised to help green crusaders of Jharkhand in their legal battle against violators of environment laws.
During a workshop on environmental challenges before Jharkhand, organised jointly by LIFE and local environmental outfit Yugantar Bharti in Jamshedpur on Sunday, Delhi-based trustee and scientific adviser to LIFE, Rakesh Kumar Singh, said their organisation was ready to provide legal assistance to crusaders against violators of environmental norms.
"The objective behind hosting such a workshop in Jamshedpur, the country's first planned city, was to make those individuals who have an inclination for an environmental cause, aware about the glaring environmental violations by corporate houses. Now if the crusaders want to take up the issues we are ready to provide them legal assistance at the appropriate forum," said Singh, who hails from Jamshedpur and has lodged cases against several instances of violation of environmental norms in Saranda and other parts of Jharkhand.
He said that they would be hosting similar workshops in state capital Ranchi and in Dhanbad which is ranked among the cities with the worst air pollution in the country.
One of the early successes of LIFE, one of the recipients of the 2021 Right Livelihood Award (to be presented in Stockholm in December) has been a case against the mining giant Vedanta in Odisha, which became a precedent-setting judgment. The Supreme Court recognised that the local community's consent was required for such a project to commence.
"Environment clearance compliance status is very poor for big corporate houses operating in Jamshedpur. As per Environmental Clearance (EC) norms, the compliance report should be easily displayed in the website. Even online emission data is also not present, which as per the EIA notification, should be put up on the websites of corporate houses. It also not present on the Jharkhand State Pollution Control Board website," said Singh.
The workshop also pointed out that corporate houses have violated environmental clearance norms by extending their area of operation.
"We also found that corporate environmental responsibility (CER) expenditure is not in the public domain. As per the government notification, CER expenditure should not be used for pollution control as work done for pollution control comes under environment management plan. Unfortunately, there is no transparency shown on this front by the corporate units in Jamshedpur," alleged Singh.
The participants were also informed about the difference between CER and corporate social responsibility (CSR).
Jamshedpur East MLA and former cabinet minister Saryu Roy, who inaugurated the workshop, spoke about the poor air quality in Jamshedpur and prevailing conditions of the Subaranarekha and Kharkai rivers. He once again reiterated the urgent and dire need for restoration of the environment in this region, without which it will be difficult for the people to survive. He also raised the issue of illegal constructions being carried out by government departments, which according to him, needs immediate attention.