Left parties, tribal activists join 'Nyay March for Swamy's release
Over 1,000 people take part, write out memo to Governor during Raj Bhavan dharna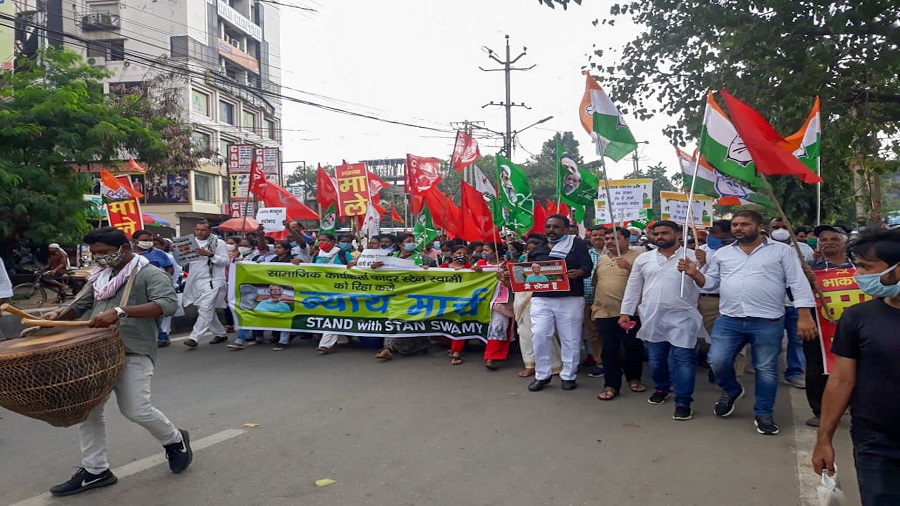 Representatives of various rights groups and members of Left and ruling alliance parties on a 'Nyay March' to demand the release of Stan Swamy and other political prisoners in Ranchi on Saturday
Manob Chowdhury
---
Ranchi
|
Published 17.10.20, 07:26 PM
|
---
Representatives of rights groups, Left parties and parties belonging to the ruling alliance took out a 2km-long long "Nyay March (march for justice)" on Friday to demand the immediate release of Stan Swamy, the 83-year-old priest and social worker of Ranchi, and other political activists.
The march that saw the participation of over 1,000 people began around 11.30am with protestors walking with banners and posters against the Union government and culminated into a dharna at Raj Bhavan around two hours later.  
A delegation of protestors also sent a memorandum addressed to the governor during the dharna. The memorandum demanded the immediate release of Stan Swamy and all political prisoners. It also called for the "closure of the  Bhima-Koregaon case and revocation of false cases related to Delhi riots filed against CAA-NRC activists, and repealing of sections 124A (sedition) & 499 (criminal defamation) of the Indian Penal Code, Unlawful Activities (Preventions) Act (UAPA) and National Security Act (NSA) against all of them."
On Friday, several members of the Catholic Church formed a 5km-long human chain seeking the release of Swamy, who was arrested by National Investigation Agency (NIA) on October 8 in connection with the Bhima Koregaon violence in Pune in 2017. The NIA has accused Swamy of having links with CPI (Maoists).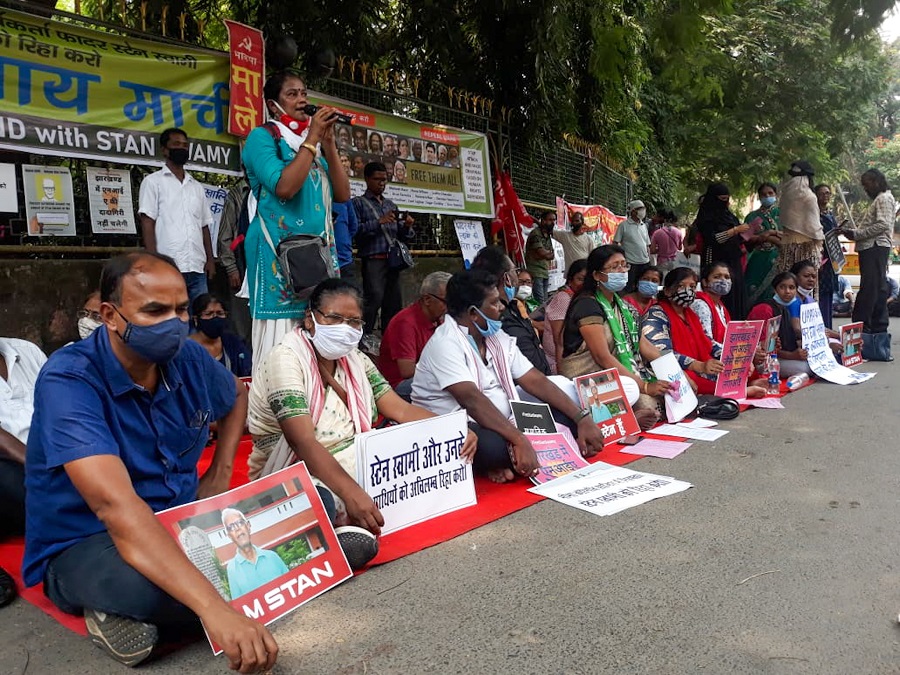 Praful Linda of Adivasi Adhikar Manch said, "Swamy is in prison amid inhuman conditions without having access to basic rights." Sanjay Pandey, the district Congress secretary, added, "Swamy's arrest is part of the Union government's strategy to increase its loot of Jharkhand's natural resources. He has been a leading voice for the oppressed which earned him the Centre's ire."
Former chairperson of the state women's commission and JMM member Mahua Manjhi condemned Swamy's arrest. "NIA could have interrogated him at his residence in Bagaicha. What was the need to keep him behind bars?" she said.
CPI(ML) MLA from Bagodar Vinod Singh spoke of "growing attacks" against human rights activists, intellectuals and others who speak up for people's rights. "On the lines of Bhima Koregaon, the government is now accusing political and student leaders opposing CAA-NRC of inciting the riots in Delhi," he said, appealing to all Opposition parties to join hands to demand the release of Swamy and others in the Bhima Koregaon case.
Ratan Tirkey, a former member of the state's Tribal Advisory Council, said that until the Modi government came to power, no political leader stooped so low as to accuse Swamy with fake charges. "The BJP government has created an atmosphere of fear, but there is an uprising happening against it everywhere now."