Leaning power poles pose peril in Jamshedpur
The anomaly is abundant in areas like Parsudih, Muckdampur and Bagbera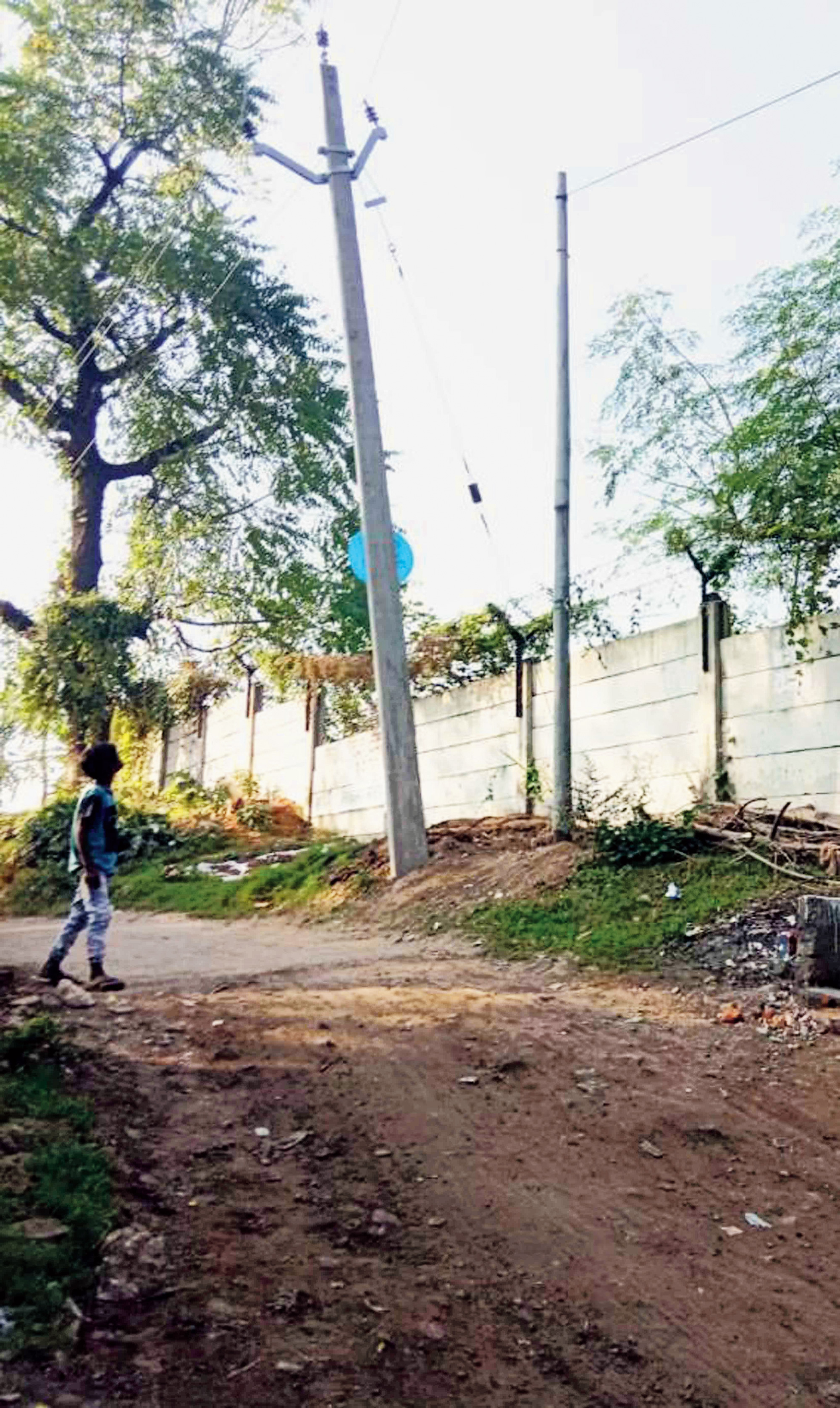 A tilting pole in Parsudih, Jamshedpur, earlier this week.
Animesh Sengupta
---
Jamshedpur
|
Published 16.11.18, 07:34 AM
|
---
The Centre and the state may be pumping in crores into electrification projects under the Integrated Power Development Scheme, but the quality of work at ground level remains suspect.
In Jamshedpur circle of Jharkhand Bijli Vitran Nigam (JBVNL), for instance, electricity poles are not being grouted with concrete. Instead, they are being docked into pits without any reinforcement. As a result, most poles are bending over instead of standing erect, thereby posing a constant threat to life and property.
The anomaly is abundant in areas like Parsudih, Muckdampur and Bagbera, where leaning poles are barely able to hold up in place 11KV overhead transmission lines.
A JBVNL insider said private company Voltas was entrusted with the task of fixing poles and drawing the high-tension power lines. The company has fixed over 3,000 poles in the city, many of which now stand inclined.
"The agency has been fixing the concrete poles in 4ft-deep pits and plugging the gap with soil. But, the work order specifies grouting the base with concrete, which it clearly is not doing. If a pole is bending over when the weather is dry, it is likely to topple in rainy and storm," the source said.
More than Rs 230 crore is being spent under the Integrated Power Development Scheme (IPDS) to ensure every household in Jamshedpur circle, which includes Adityapur industrial area, Adityapur residential area, Bagbera, Parsudih, Govindpur, Birsanagar, Mango and Ghatshila subdivision, have electricity.
Project manager of Voltas (Jamshedpur) Chittaranjan Kumar admitted that erecting of power poles without concrete grouting was against the rulebook. "If there are any such poles, we shall mend them right away," he promised.
Superintending engineer of JBVNL (Jamshedpur circle) Sudhanshu Kumar, who is also nodal officer for implementation of the scheme, feigned ignorance about the shoddy way poles were being planted.
"The agencies engaged under IPDS have standing instructions to strictly follow guidelines. If there are poles that need fixing, let us know. We will take care of them," he told this newspaper, agreeing nonetheless that concrete base was mandatory for concrete poles.