Language rights activists take out 135 km foot march, hope to meet Hemant Soren
Agitators protest against the inclusion of Bhojpuri, Magahi and Angika in regional language list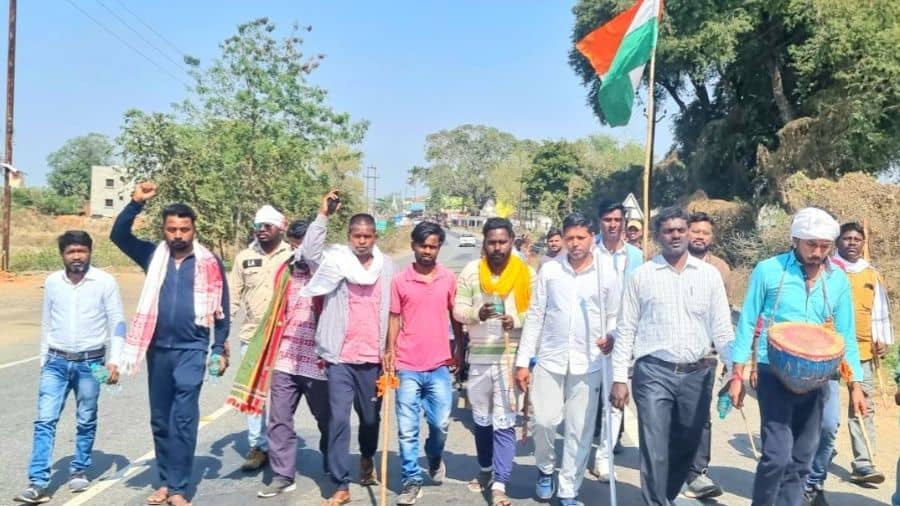 Vikash Mahto (2nd from left) and other activists during the march in Bokaro
Shabbir Hussain
---
Dhanbad
|
Published 22.02.22, 05:11 PM
|
---
Local language rights activists protesting against the inclusion of Bhojpuri, Magahi and Angika in regional language have termed the recent state government step to exclude these languages from the regional language list as an 'eyewash'.
They claimed that the government announcement is meant for only 3rd and 4th grade recruitment exams and will not benefit those graduation level 2nd grade recruitment exams conducted by Jharkhand Staff Selection commission or Jharkhand Teachers Eligibility Test Exam.
A group of over 35 such activists are on a 130 km march under the banner Jharkhandi Bhasa Bachao Sangharsh Samiti from Mahuda on Dhanbad Bokaro border to Ranchi since yesterday in the hope of having a meeting with chief minister Hemant Soren.
Vikash Mahto Mukhiya of Topchanchi block of Dhanbad, who led the protesters in the 2nd day of their march from Bahadurpur in Bokaro to Ranchi,  said,  "The chief minister during his recent Dumka rally claimed there will be no advantage of taking to streets without holding discussion with the government so we have launched the foot march to meet him."
"Our demand is to extend the regional language list advantage to local language speakers for the graduation level exams conducted by Jharkhand Staff Selection Commission (JSSC) and JTET as large number of local language speakers preparing for the graduation level recruitment exams will be deprived of the benefit of exclusion of Bhojpuri and Magahi from the regional language list," said Mahto.
Mahto further said, "We decided to take out the foot march as we wanted to experience the pain experienced by our forefathers in the fight for the creation of the separate state of Jharkhand," and added that they made the first halt at Bahadurpur in Bokaro yesterday.
In a related development former Silli MLA of JMM, Amit Kumar who recently resigned from the primary membership of JMM to protest against the failure of the state government to implement the 1932 Khatiyan based employment policy, today visited different parts of Dhanbad including Baliapur, Jorapokhar, Putki, etc and addressed public meetings.