Land dealer in SUV shot
He was gunned down by five men in two motorcycles; One caught and detained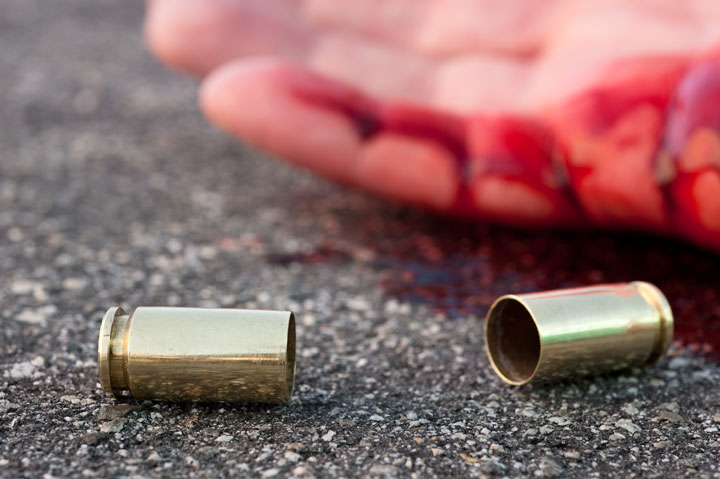 A gunman on a bike came close to the SUV and shot Imtiyaz on the temple
Representational image from Shutterstock
---
Ranchi
|
Published 14.01.20, 06:42 PM
|
---
Mobin Ansari is 71, but that has not stopped the Wasseypur resident from being part of the indefinite agitation against the citizenship matrix that completed its 13th day on Tuesday.
The demonstration is being held at Ara Mor, around 5km from the Dhanbad district headquarters, round the clock since January 2. Even in the cold nights, four to five of the roughly 50 protesters sit on.
The protest, they insist, is not by any political party although politicians including state youth Congress vice-president Abhijeet Raj and town Congress president Vaibhav Sinha have extended their support to the agitation.
The protesters sit holding placards and ensuring that their agitation does not affect traffic. They are of all ages, from school students to septuagenarians like Mobin Ansari.
"I worked as a chemical engineer in Dhanbad Chemicals Limited for more than 30 years and celebrated Holi, Diwali and Id with colleagues, but I feel the atmosphere of harmony and amity has been vitiated across the country following a number of steps, above all due to bringing of the CAA, NRC and NPR," Ansari said. "Not only at my workplace but also at my native village, Kamardih, around 20km from Wasseypur, where I was born and brought, up people of Hindu and Muslim communities lived in perfect harmony."
He said he could not comprehend the logic behind compelling people to prove citizenship at the very place where their ancestors were born and died.
Gulam Rabbani, 66, another protester, said: "Our country has attained freedom from British rulers after sacrifices made by thousands of people, including over 60,000 Muslims. But in same country we are being told to show proof of our citizenship. Thus, it is our right to protest. I have worked as a trade union leader in BCCL for more than 15 years under the leadership of former Jharia MLA the late Surya Deo Singh fighting for the justified rights of workers irrespective of their caste and religion," he added. "But if anybody will seek proof of my loyalty for the nation and citizenship documents then I have the right to protest."
Shibli Ahmed, 70, a tea-stall owner, said: "I have never asked people their religion before offering them tea but when somebody will ask me to submit the proof of my citizenship on the basis of my religion or caste, I will object."
Mukhtar Ahmed, 65, another protester, who contested the Assembly election from Sindri on a Trinamul ticket last month but lost, said: "During our school days inJharia, we celebrated Saraswati Puja together
collecting material like dhoti, sari and even prasad material from our house and never felt that we belong to any other religion, but an at attempt is being made to compel us to trace our ancestry."
Shadab Alam, 30, who is doing his masters in social work from Indira Gandhi National Open University, is one of the seven persons named in the FIR lodged by Dhanbad police along with 3,000 unidentified people for taking out a protest march against the on January 7 in Dhanbad. The FIR had included sedition (Section 124A of the IPC) charges which were dropped when senior police officers and chief minister Hemant Soren came to know and intervened.
"We are waiting for Supreme Court decision on NRC on January 22 and will chalk out our future course of action after the SC's decision," Alam said.