Lake crusaders slam concrete facelift
This would enable walkers to get a feel of flowing water of the lake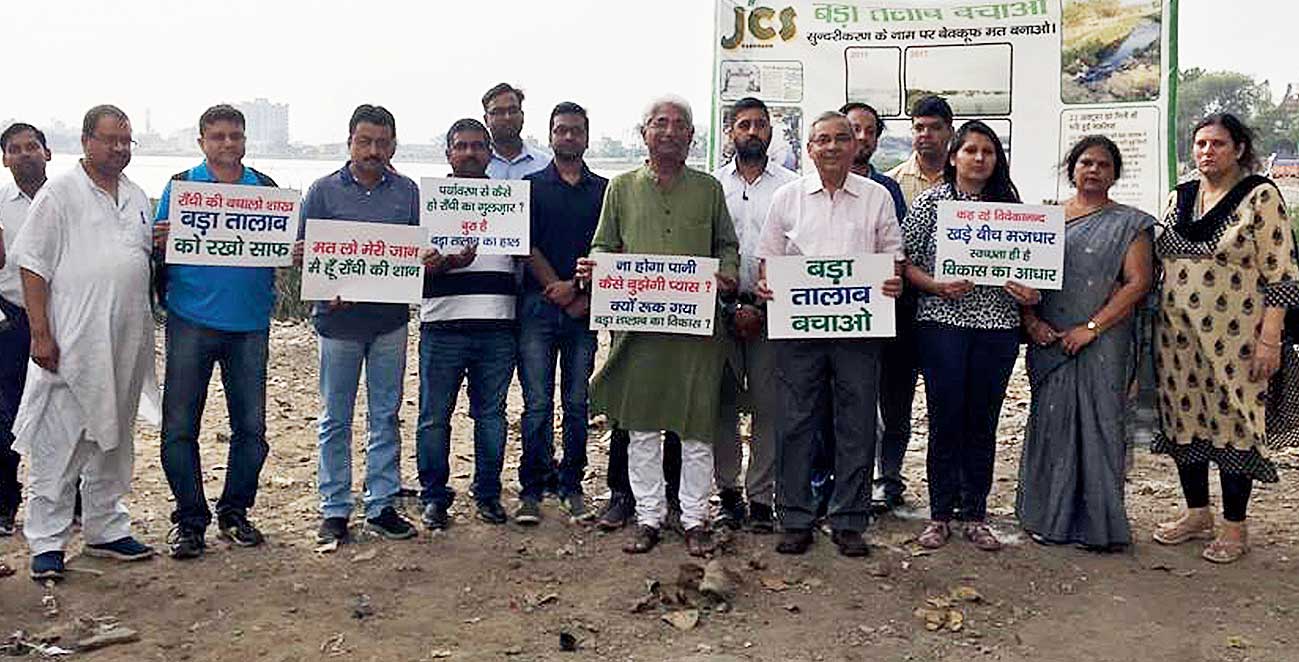 Jharkhand Civil Society members demonstrate near Ranchi Lake on Saturday.
Picture by Manob Chowdhary
---
Ranchi
|
Published 06.04.19, 06:48 PM
|
---
Influential citizens under the banner of Jharkhand Civil Society on Saturday staged a demonstration near the landmark Ranchi Lake, accusing the capital's municipal body of dirtying and shrinking the reservoir in the name of beautification.
Lawyers, businessmen and social workers, among the protesters on Saturday said ambitious beautification amounted to nothing but encroachment and excessive concretisation of the reservoir, even as basic issues of cleanliness and rejuvenation were ignored.
Recently named Vivekanand Sarovar and popularly called Bada Talab, the British-era reservoir, where a 33-feet high statue of Swami Vivekanand has been installed, is in the process of getting 2km-long and 10-feet-wide landscaped pathways around it with vintage lamps, and guarded by railings, thanks to a Ranchi Municipal Corporation concept.
This, on the lines of Marine Drive in Mumbai, would enable walkers to get a feel of flowing water of the lake, the authorities had claimed .
Standing with placards such as 'Mat Lo Jaan, Main hoon Ranchi ki Shaan', 'Bada Talab Bachao', 'Kyun Ruk Gaya Bada Talab ka Vikas', 'Na Hogi Pani Kaise Bujhegi Pyas' among others, around 30 citizens demanded real action to save the lake, including sewage treatment plant, and not fancy trimmings that they said added to the water body's woes.
A member of Jharkhand Civil Society and Jharkhand High Court lawyer Khushboo Kataruka who was at the protest said they aimed, through Saturday's demonstration, to draw the attention of the masses towards the over 150-plus-years-old lake that was gradually being encroached from all sides in the name of development.
"Jharkhand Civil Society has raised its voice against unwanted concretisation and excessive delay in beautification of Ranchi Bada Talab. While sewage keeps flowing into the lake unheeded, contaminating groundwater, JCB machines (read earthmovers) are seen filling up the lake and drying it up for encroachment and reducing the lake area (for constructions). If all this is not stopped in time and water is not cleaned, the entire ecosystem of the lake will collapse," Kataruka said.
Noted blood donor and activist and fellow member of the social outfit Atul Gera echoed Kataruka. "The lake, which everyone in Ranchi loves, is in dire straits. Only installing the statue of Swamiji is not enough to restore its health. The lake requires clean water and a clean periphery at the least," the social worker said. "I want to know what's being done about these pressing concerns."
Former president of Federation of Jharkhand Chamber of Commerce and Industries, Vikas Singh, also a member of the society, chipped in: "Beautification of lake should never be done at the cost of its existence. But this is what's happening here."
Ranchi Lake is spread over 52 acres. It was created by a British agent, Colonel Onsely, way back in 1842 with the help of prisoners in order to maintain the groundwater level of the capital, which is located more than 2,100 feet above sea-level.