Ladies' buses on Ranchi's Main Road today
Two buses would be plying between Kutchery Chowk and Rajendra Chowk, a 4.2 km stretch on Main Road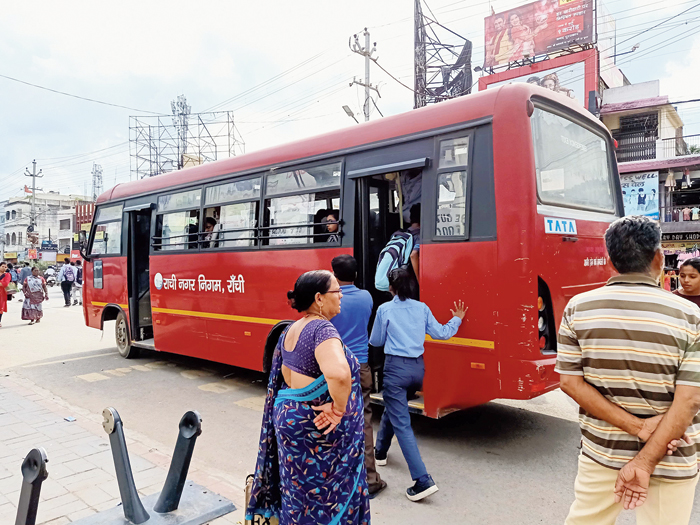 ---
Ranchi/Jamshedpur
|
Published 18.09.19, 07:17 PM
|
---
Ranchi Municipal Corporation (RMC) is launching special buses exclusively for women commuters from Thursday on the lines of the pink auto service already in place in the state capital.
Two buses would be plying between Kutchery Chowk and Rajendra Chowk, a 4.2 km stretch on Main Road. The first bus will leave at 9am on Thursday.
"The service will be available from 8am to 8.30pm everyday," said RMC deputy mayor Sanjeev Vijayvargiya.
RMC city manager (transport and enforcement) Saurav Kumar Verma said they would increase the number of buses during the festive season next month, depending on the response and feedback.
"The 32-seater buses will have women conductors and support staff. Only the driver will be male. At no cost will men be allowed in the bus. In case anyone tries to enter by force, conductors have been told to inform the nearest traffic station or our enforcement teams," he said.
Jharkhand Tourism Development Corporation (JTDC) had launched a similar initiative in 2013 but could not run it as it did not prove top be commercially viable.
"At the time, the initiative did not attract many women passengers and the buses did not ply unless they had enough passengers. This led to delays, ultimately leading the authorities to disband the service," said a senior RMC official.
This time, however, RMC has issued necessary directives to ensure that buses do not wait for passengers.
"We have drawn up a schedule in such a manner that the entire 4.2km stretch will be covered in less than 25 minutes. The staff have been asked not to wait for long to ensure the buses are full. Our estimates suggest that nearly 70 per cent of e-rickshaw and city bus passengers are women. And if we provide a good alternative, then it the service will be commercially viable," reasoned Verma.
The fare for the ladies special buses has been fixed at a flat Rs 5.
RMC banned the movement of e-rickshaws on Main Road and started launched 18 city buses on the same route earlier this month. Each city bus can seat 32 passengers.
Women passengers welcomed the move to have a special bus service.
"We face a lot of problems in crowed buses with men often behaving inappropriately. Such problems will not occur in ladies special buses," said Smita Kumari, a student of St Xavier's College, Ranchi.
President of Pink Auto Women Drivers' Association Arti Behra also welcomed the RMC's decision.
"In Ranchi, there are 26 pink auto rickshaws exclusively for women. But that is not enough. RMC has taken the right step the safety and security of women passengers," she said, adding that the need for a dedicated transport service for women was being felt for a long time.