Once known for mica and making the maximum number of song requests on popular radio programme Binaca Geetmala, Koderma definitely moved on. It has now earned the status of being 'Goa' for the people of Bihar.
An accidental firing from the service revolver of Bihar DSP Ashutosh Kumar, which resulted in the death of his friend has once again highlighted the fact that Koderma has turned into a hot destination for the Bihar people.
DSP Kumar, had reached Koderma with his friends and checked into a hotel before going to the banks of Tilaiya Dam for celebration where one of his friends got killed in accidental firing.
According to sources Jawahar ghat - kown for its mind blowing beauty and greenery, was the spot selected by the DSP to party with his friends in seclusion.
With no proper road to reach the spot, he took the help of a local villager. From the spot the police have seized liquor bottles and also gathered evidences that indicate that food was cooked by the DSP and his friends.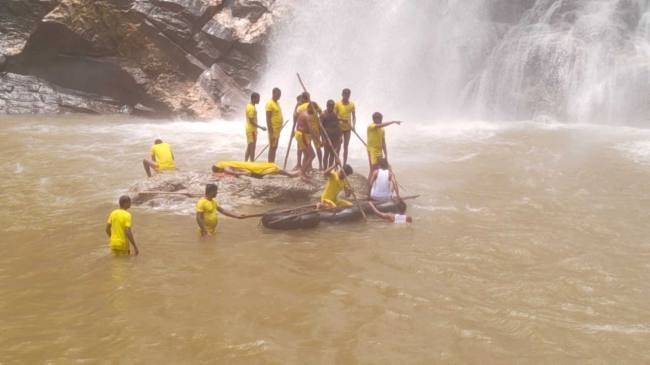 Expert divers searching for the bodies in Vrindaha fall in Koderma on Saturday. Vishvendu Jaipuriar
Another incident that took place at the dam area yesterday, was the untimely death of two youths - Karthik and Siddharth. The duo had come from Bihar with their third friend Sunny Raj to enjoy their day. But they got drowned, expert divers took six hours to fish out their dead bodies yesterday.
Many believe that Koderma situated along Bihar-Jharkhand border, has quickly transformed into a hot spot for celebration and liquor parties for the people of Bihar. Given the fact that alcohol was banned in April 2015 in Jharkhand's neighbouring state, many have been flocking the district simply because of easy access to liquor. This in turn has made the mica district earn the name of Bihar's Goa.
Sources maintained that the 2015 decision of the Bihar government to ban alcohol in the state, has made the mica district a hotspot for people to party. With the influx of people from the neighbouring state for parties has made many roadside dhabas come up in Ranchi-Patna highway which has alcohol on offer. Visitors from well-to-do-families, often come to the Tilaiya Dam for a break along the banks of this picturesque reservoir.
Excise department officials on condition of anonymity said sale of alcohol is up by mainfold in Koderma in comparison with districts like Hazaribagh, Bokaro, Dhanbad and Ramgarh. They admitted that people not just coming for booze parties but are also planning weddings. Even many remote villages of the district are engaged in manufacturing country liquor, which is often supplied to Bihar. "We cannot stop anyone from coming to Koderma or going to any other districts," said excise officials. "But we are carrying regular raids at illegal liquor making units and destroying it. Even raids also taking place regularly in roadside dhabas to stop them selling liquors without having the license," added they.
Coming back to the DSP case, Koderma superintendent of police Ehtesham Waquarib visited the spot where they had partied when the accidental shooting took place. He talked to local villagers and passed instructions to his team to collect samples from the spot including the empty bullet. He said an FIR lodged against DSP and his friend under sections 302, 120B and 27arms act of the IPC. He said probe going on to reach to the facts of this case.