Kashmiri garment sellers beaten up in Ranchi, file police complaint 
We are being attacked on the streets, asked to chant Jai Shri Ram and anti-Pakistan slogans, say garment sellers who visit every year in winter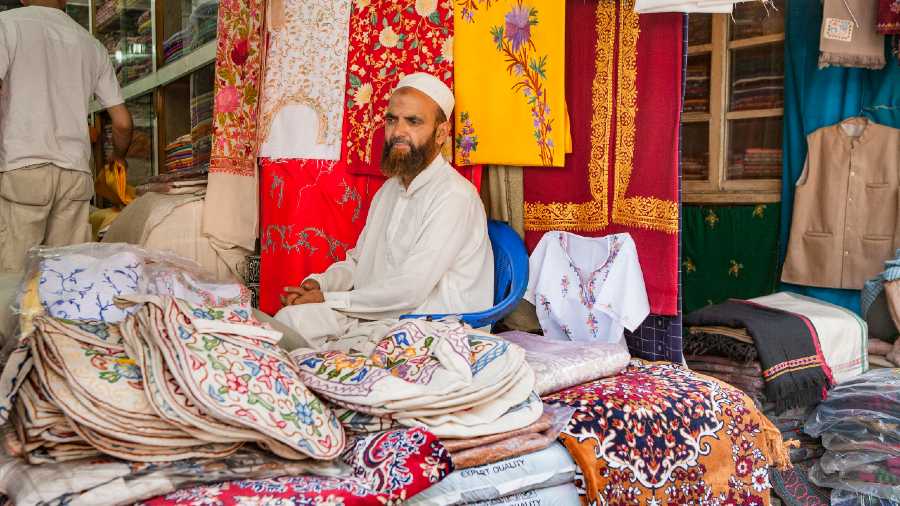 Representational Picture
File Picture
---
Ranchi
|
Published 11.11.21, 07:18 PM
|
---
A group of Kashmiris, many of whom said they come to Ranchi every year to sell woollens in winter, have complained to police alleging that they were being heckled and beaten up by a group of people who are demanding they chant "Jai Shri Ram" and even shout anti-Pakistan slogans.
In their complaint, which was yet to be converted into an FIR at the time of filing this report, they said that many of them had been thrashed badly on the road in the last week with the attackers calling them "anti-nationals" and demanding that they return to Kashmir immediately. 
Bilal Ahmed (35), who is a signatory to their complaint lodged at Doranda police station on Thursday afternoon, said that a few youths and middle aged men were constantly heckling them on the streets. He sought their immediate arrest. Doranda police station in-charge Ramesh Kumar Singh said they were looking into the complaint. "No one will be allowed to take the law into his own hands. We are looking into the case. The culprits will be held soon," he promised. 
Ahmed told The Telegraph Online that he was beaten up near Kali Mandir in Doranda on Thursday morning after  which he decided to seek police help. "On Diwali, this same group of people in Doranda, hit a few of us at Kadru while we were seeling garments on the streets. They stopped us, slapped us and asked us to chant Jai Shri Ram and Pakistan Murdabad," he alleged.
"This morning (Thursday), I was hit and threatened by a 30-year-old man. He asked me to leave Ranchi immediately. His parents and cousins who came to the spot backed him up rather than tell him that he wasn't doing the right thing," he said, adding that he was facing such "hateful sentiments" for the first time in a decade that he has been coming to Ranchi to sell winter garnments.
This winter, around 400 garment sellers have come to Ranchi so far. They live in various parts of Ranchi, including Hindpiri, Morabadi and Chutia. 
 "What is wrong if we are Kashmiri," asked Md Afzan, another Kashmiri garment seller. "I am an Indian too. If my saying 'Pakistan murdabad' and 'Jai Shri Ram' will do good, I don't have any problem. But why attack us? We are here to earn a livelihood but we are being branded anti-national," he said.
The Kashmiri garment sellers have decided to stage a dharna near Doranda police station from Friday if the culprits weren't arrested by Thursday night.