Karate kid wins gold & praise
7-year-old packs a punch at Jharkhand State Goju Ryu Karate Championship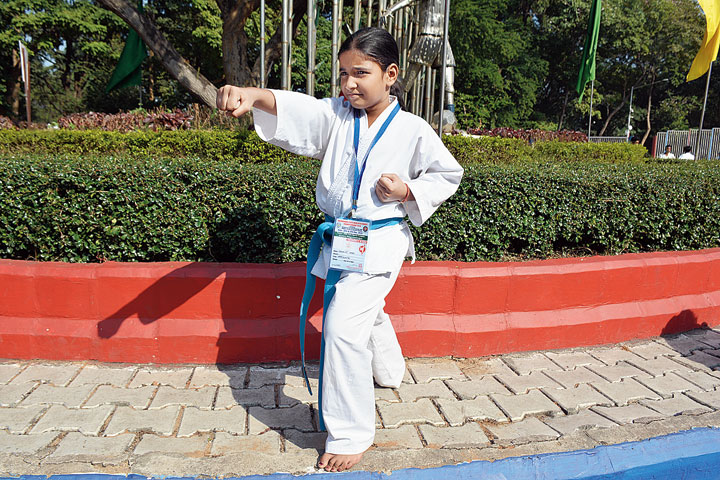 ---
---
She is only seven years old but possesses excellent reflex action, one of the key qualities for success in any martial art.
Meet promising karate kid Yashashvi Yadav, who claimed gold on the opening day of the Jharkhand State Goju Ryu Karate Championship at the eastern wing of JRD Tata Sports Complex on Saturday.
This is not the first time that Yashashvi has won a medal. She had bagged a bronze at an invitational international karate meet held in Kathmandu, Nepal, last year.
She has pocketed gold medals in inter-school competitions as well.
"I am happy to win gold. I love karate, roller-skating and dancing," said Yashashvi, a student of Class II at Narbheram Hansraj English School in Bistupur.
Yashashvi, a resident of Gamharia in Seraikela-Kharsawan district, unlike other kids of her age is not too fond of watching TV or playing games on mobile phones.
"Karate is my first love," she said.
Yashashvi lives with her father Vivek Yadav, who runs a hotel in Gamharia, and mother Renu, a homemaker.
Jharkhand Goju Ryu Karate Do Association secretary L. Nageshwar Rao vouched for Yashashvi's talent.
"She (Yashashvi) started karate at the age of three. She is training under me and has improved a lot. The girl has the right talent and is very disciplined," said Rao, a black belt holder who has mentored national teams in international competitions.
He pointed out that Yashashwi was in her formative years and karate needs hard work and regular training. "The girl is showing a lot of promise and rarely skips training sessions. She has good reflex action and is a fast mover," the highly experienced karateka added.
Yashashvi trains at a cradle run by Tata Steel's sports wing at JRD Tata Sports Complex.