Justice march in Stan's memory
Memorandum will demand release of all human rights activists arrested in Elgaar Parishad and revocation of the UAPA cases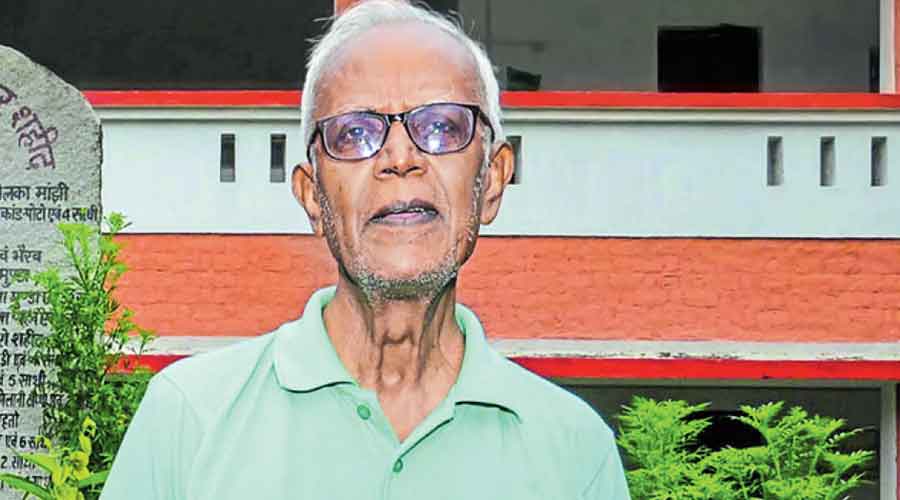 ---
Jamshedpur
|
Published 03.07.22, 01:01 AM
|
---
Civil rights outfits along with like-minded political outfits will take out a Nyaya March (march for justice) in Ranchi on July 5 to mark the first death anniversary of octogenarian Jesuit priest and human rights defender Stan Swamy.
The Nyaya March will be taken out under the banner of the Shahid Father Stan Swamy Nyaya Morcha and will begin from Shahid Chowk to Raj Bhavan. A memorandum will be handed over to Jharkhand governor Ramesh Bais.
"It will have right activists and civil society organisations but several political leaders critical of the manner in which Father Stan Swamy was arrested have also expressed desire to take part in the march. We are expecting participation of senior Congress leader and state finance minister Rameshwar Oraon, CPM MLA Vinod Singh among others in the march," said Aloka Kujur of Adivasi Adhikar Manch, one of the founder members of the Morcha formed last year.
Aloka, who had been closely associated with Stan Swamy and had been raising voice against atrocities on women and tribals in the state, said that through the memorandum, they would demand a judicial probe into the "killing" of  Stan Swamy.
"Through the governor, we would like to appeal to the President of India to ensure that a judicial probe is conducted on the killing of 84-year-old Father Stan Swamy who was denied basic rights in Taloja Prison (Mumbai) and got infected with Covid and finally died in a private hospital. We want action against all those authorities responsible for the killing of Father Stan and also want the name of the Father Stan Swamy should be cleared from the Elgaar Parishad case in which he was arrested by NIA in 2020," added Kujur.
The memorandum will demand release of all human rights activists arrested in the Elgaar Parishad and revocation of the UAPA cases against them and also release of human right activist Teesta Setalvad who was arrested by Gujarat police last month.
The NIA had accused Stan Swamy of being a member of the banned CPI (Maoist) and conspiring to overthrow the Indian government. Stan Swamy was arrested in the case in October 2020 from Bagaicha in Namkum near Ranchi.
Suffering from Parkinson's disease and several other ailments, he was shifted to a private hospital in May last year, where he died. He had also contracted Covid-19 while in prison.
Despite his multiple ailments and requests to the courts that he be allowed to be with his own people, Stan Swamy was not granted medical bail.
The  Jamshedpur Jesuit Province's (JJP) writ petition is pending in Bombay High Court to allow proceedings in the trial of Stan Swamy even after his death. Bangalore-based Indian Social Institute (ISI) director Father Joseph Xavier said that the Jesuit province wants Stan Swamy's name to be cleared of the accusation labelled by NIA.
"Usually, after a person dies, the proceedings in his case are abetted in the court. We have through our legal counsel petitioned the high court in January this year to allow the trial to proceed so that Stan Swamy's name can be cleared and it can be proved that he was falsely implicated in the case by the NIA," said Father Xavier.
Senior advocate Mihir Desai, who has filed the petition on behalf of the Jamshedpur Jesuit Province, said: "The petition will come up for hearing soon."
The Jesuit Province had sought that Mumbai-based priest and Swamy's associate father Frazer Mascarenhas be considered his next of kin for litigation.
"Article 21 (Right to dignity) of the Constitution equally applies to deceased persons and just as the appellant (Stan Swamy) would have had a right to clear his name if he were alive, similarly those closest to him would have a right to clear his name," Desai had said in the petition before the high court.
Stan Swamy died in a private hospital in Mumbai on July 5 last year, waiting for the trial in the case to begin.