Jharkhand High Court on Thursday came down heavily on traffic management in the state capital and grimly observed that commuters were left at the mercy of the Almighty after a judge was caught in a bottleneck in the heart of the city.
A snarl at Karamtoli Chowk stalled Justice Rajesh Kumar for 30 minutes. The judge who could not reach court on time had to delay the day's proceedings, scheduled from 10.30am, by 10 minutes.
Annoyed with the way vehicular flow is handled in Ranchi, Justice Kumar summoned traffic SP Ajit Peter Dungdung to court by 4pm. He also asked advocate-general Ajit Kumar to appear in the case to assist the bench. Dungdung appeared in person and explained measures that would be taken to ease congestion. The judge was anything but convinced.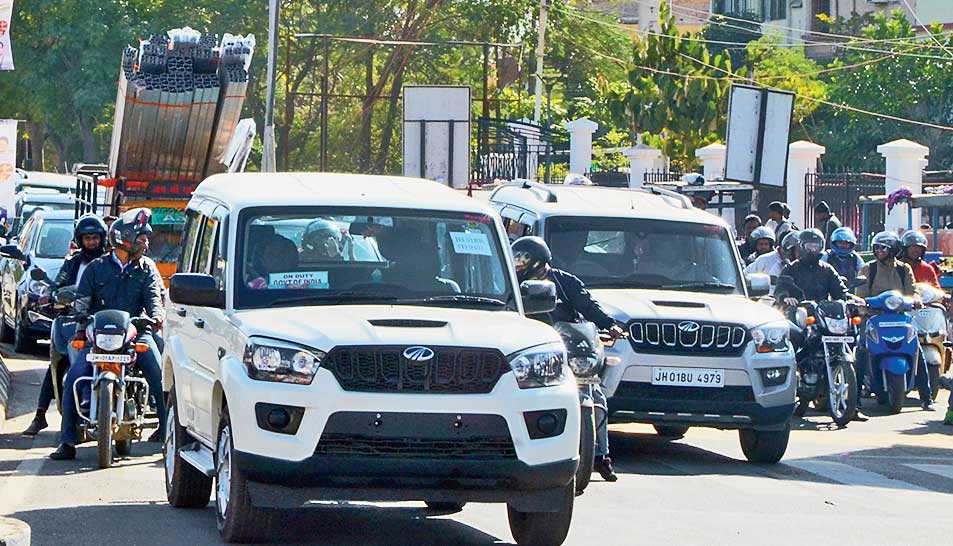 A traffic jam at Argora Chowk in Ranchi on Thursday. Picture by Prashant Mitra
"Data need to be generated to understand peak-hour traffic situation and traffic lights should be adjusted accordingly. There is no point in showing the green light to a road with no vehicles while another artery is choking," Justice Kumar observed.
The judge also advocated a "dynamic system" for traffic lights. "The lights must not be static. There should be time variation in signalling at different places depending on the rush," he observed.
Justice Kumar emphasised that traffic snarls were not stray incidents, but happened with frustrating regularity. "Precious hours are wasted. Both people and police get angry. A proper system will ensure free flow of traffic and will be comfortable for all," he said.
Dungdung said he would personally monitor bottleneck zones, mostly busy roundabouts in the capital, and devise a plan to ensure smooth flow of traffic. The case will again be heard by the court on January 17 on which day Dungdung has to come up with "plausible solutions" to Ranchi's traffic problem.
The SP informed court that traffic police were about to upgrade the existing signalling system to an "intelligent traffic management system", which he claimed would ease congestion on the roads.
"Traffic lights are currently programmed to change every 45 seconds across the city. Once the new system is commissioned, the timing can be tailored for different areas," Dungdung said.
Justice Kumar rhetorically asked the senior traffic officer whether any data had ever been compiled on the traffic flow in the city. In absence of data on vehicular load on a particular road, the traffic signals are working on a uniform pattern without any practical use, the judge said.
How can traffic congestion in Ranchi be busted? Tell ttkhand@abpmail.com