JPSC releases cut-offs, responds to allegations of protesting candidates 
Qualifying marks for the general category was 260, for ST & SC 230 and 238 respectively, for economically backward category and backward class 252, for economically weaker section 238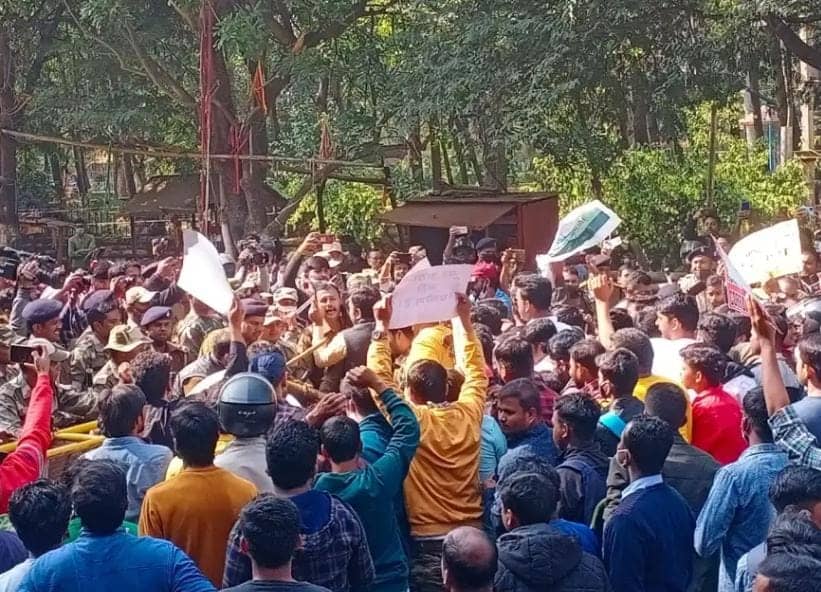 Candidates protest at JPSC
File Picture
---
Ranchi
|
Published 25.11.21, 07:57 PM
|
---
The Jharkhand Public Service Commission (JPSC) on Thursday released cut-off marks for the recently-held preliminary tests for JPSC 7 to 10, and responded to over 20 queries raised by aspirants during days of protests against alleged anomalies in the exams.
According to a notification shared on the official website of JPSC, the cut-off for general category was 260. The cut-off for ST and SC categories were 230 and 238 respectively, while the cut-off for Economically Backward Category and Backward Class was 252. For Economically Weaker Section, the cut-off was 238.
Several thousand JPSC aspirants staged protests across Jharkhand in the past couple of weeks citing favouritism and other anomalies in the exams. The protesting students claimed that some students could not clear the tests despite scoring more marks than the ones who passed.
The protesting students had alleged that one aspirant did not clear the test despite scoring 266 marks. On this, JPSC stated that the aspirant in question actually secured 240 marks, and thereby failed to clear the cut-off, which was 260 for his category.
In reply to the protestors' accusations that many students who appeared for the tests at the same classroom and sat in sequence passed the tests, JPSC clarified that only two such instances were reported across Jharkhand.
"It is to be noted that 3.7 lakh candidates appeared for the examination. Given the scale of the examination, unforeseen circumstances arose in two of 15,000 classrooms, for which the candidates cannot be held responsible," the JPSC stated, adding that the unforeseen circumstances were not due to any malpractices or cheating. Such students have been declared successful provisionally.
The protesting candidates had also alleged that no specially-abled candidates were declared successful by the JPSC. In reply, JPSC on Thursday stated that at least 107 physically handicap candidates cleared the test against seven vacancies.
The JPSC also rubbished protesting candidates' claim that all the candidates appearing for the tests in some classrooms have passed.
A series of incidents in the past couple of days led the JPSC to release cut-offs and respond to queries of students. JPSC chairperson Amitabh Chaudhary was summoned by Governor Ramesh Bais on Wednesday, a day after some protesting JPSC aspirants were lathicharged at Morhabadi. Chaudhary, however, was not available for his remarks on Thursday.
Many candidates had demanded cancellation of the recently-held exams, but the JPSC chose not to comment on this. 
JPSC exams have been riddled with controversies since 2016. The prelims test for JPSC 6 was conducted way back on December 18, 2016 and its result was declared in February 2017. On June 7, 2021, The Jharkhand High Court cancelled the merit list of the 6th JPSC after years of protests by aspirants. The court also directed the state government to identify the officials responsible for the mistake in the merit list and take action against them.