Jobs for youths will be govt focus in 2021, says Hemant
15,000 to be recruited, promises CM; JMM to fight Bengal elections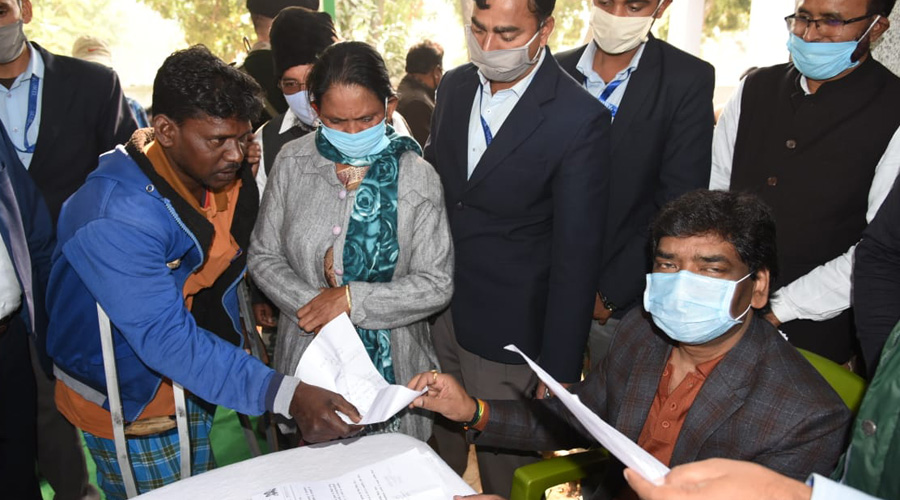 ---
|
Ranchi
|
Published 21.12.20, 05:47 PM
---
Chief minister Hemant Soren said on Monday said that one of the key agendas of his government for 2021 will be to generate employment opportunities for the youths
Set to complete a year in office by the end of the month, Hemant unveiled his future plans to the media in Dumka. "To begin with, we have decided to recruit about 15,000 youths across different departments through special drives in the first phase to fill the vacant posts," he said.
Currently, on a tour of Santhal Parganas, the chief minister said the decision to accelerate recruitments had been taken following an exhaustive fortnight-long review meeting of the government's functioning earlier this month.
"The idea was to take stock of the government's progress in the last one year and set future targets. Our first year mostly went in tackling the global pandemic, which is still not over. Despite many shortcomings and challenges, we rolled out several measures to reduce distress among people. Now, we have decided to accelerate our efforts to provide jobs and employment opportunities to youths both in urban and rural areas.
"At the same time, focus is also on rebooting every sector that had suffered problems due to the Covid-19 lockdown for the overall development of the state," he said, adding that the government would launch several new schemes and initiatives on the occasion of completing a year in office on December 29.
Hemant also criticised the Opposition BJP for being irresponsible towards the well-being of the state. "They are still in shock after being voted out of power and hence have no other job than to criticise the government. If it (BJP) cared about the state then it would not have been silent when the Centre blocked our funds, or auto-debited money from our account in the Reserve Bank towards pending payments to DVC.
He said it was because of the BJP's wrong policies, that Jharkhand was steeped in debt. "The BJP is also silent about the Union government banning admissions to three of our medical colleges. All that the BJP is interested in is to topple governments through misuse of power, money and resources," he said.
With Bengal scheduled to hold Assembly polls next year, Hemant said his party, the JMM, would fight elections in the neighbouring state in all seriousness.
"JMM has been fighting elections in Bengal. We will do so, this time too. Our teams are undertaking field visits to assess the ground situation to be able to finalise the number of seats we will contest," said Hemant.
On Sunday, the chief minister visited Tarapeeth with his family to offer prayers.
He indicated that the JMM wasn't averse to forging alliances with like-minded Opposition parties. "If the situation demands, we shall obviously go to alliances. I also learnt through the media that the West Bengal chief minister Mamata Banerjee is planning to call a meeting of non-BJP parties in view of the elections. We too shall take part, if invited formally," he said.